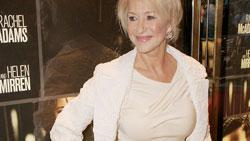 Dame Helen Mirren (my #1 girl crush) is currently starring as Phèdre at the National Theatre in London (my #1 arts institution crush). Stuck Stateside this summer? You're in luck: Starting on June 25, the National will be beaming the production to cinemas around the world.

Filmed theater is always a little bit dicey, but I'll chance it for the opportunity to see La Mirren play the iconic Athenian queen who's crazy in love with her stepson. (Let's see, would Cristina Nehring approve?)

Click here to see a list of venues around the U.S. that will be showing Phèdre . Act fast: Tickets are already sold out for the first New York performance .
Photograph by Dave Hogan/Getty Images.
---