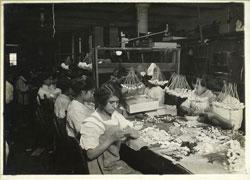 Rarely is the public let in on how clothes actually get made-the gritty world of sourcing, manufacturing, cross-ocean container shipping, distribution and slick marketing that goes into supplying that perpetually regenerating stock of textile novelties we call fashion.
That may change. On June 7, the New York Times ran a story about the new barcode sticker called GS1 DataBars . DataBars store information that is useful to retailers, the kind of tidings that are meaningless to shoppers: inventory stats and sales data. I marveled at the possibilities of an enhanced version. What if we could scan any object in the marketplace for "behind the label" information-how would that change the way we shopped? Could we influence what got made, and how? Could DataBars be used as a tool for consumer empowerment deployed in thwarting Madison Avenue fictions and promoting cleaner manufacturing?
This concept is already being applied, albeit in a hokey manner, by a few companies that claim to be socially and environmentally responsible. Jewelry by Love Earth , sold at Wal-Mart and Sam's Club, can be scanned for a "chain of custody," which traces an ornament from the Windexed-shined, velvet-lined display case all the way back to the diamond and gold mines of origin. Icebreaker , a fashion company specializing in woolens, labels each sweater with a "Baacode." You can enter the code on the Icebreaker website and trace the garment along the supply chain to-you guessed it-the sheep.
One of the reasons why women want to buy fashion from local purveyors is that they can "see" who made their clothes and "trace" how items were produced. This plays into social pressures (and status) associated with "ethical consumption" while feeding the desire to reacquaint our cubicle-drone selves with lost crafts and useful domestic arts, the feminine version of Shop Class as Soulcraft ( Home Ec as Soulcraft ?). But, if a barcode could let us "see" the steps of industrial production it might usher in a retail revolution, one whose impact goes far beyond the confines of the merely local, nostalgic and handmade: Think factoryspun rather than homespun.
Photograph of factory girls courtsey of the New York Public Library.

---