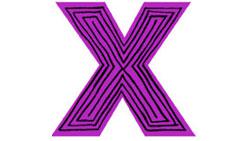 Welcome to Double X , a new website written mostly by women, but not just for them. As you scroll through the site, you'll find pieces about politics, culture, fashion, friendship, parenting and much more. Since we're just getting started, and we want to make sure the lay of the land is clear, let us walk you through the site.
At the heart of the site is the XX Factor blog. You'll find it in the center column at the top of the site. As some of you already know from reading the blog on Slate , XX Factor is a place for animated conversation among Slate and Double X women writers about politics and culture. It's also where the idea for this magazine came from. The home page features only the first paragraph of the most recent posts on the blog. To read the blog in its entirety, just click on XX Factor at the top of the column or the words "More XX Factor" midway down the page.
In the window pane you see on the upper left-hand side of the site, we'll promote our regular essays and features. (Use the little pink arrows to scroll up and down.) You can also find our features and pieces posted, in reverse chronological order, on the table of contents, located below XX Factor in the center column as you scroll down.To the right of the blog, we'll be highlighting our favorite photo, video, and quote of the day. On some days, the video will be one Double X has produced. Other days, it'll be the viral YouTube clip we think you'll want to know about. (Elizabeth Edwards on Oprah , anyone?) The photo of the day will often come from other sites, magazines, or ads we think feature some unintentionally revealing depiction of women. We'll be counting on you, our readers, to send us photos and videos you think everyone else will want to see. (You can send your nominations to doublexletters@slate.com.) Last but not least, the quote of the day will feature favorite lines from Double X columnists and commenters. We want to bring the blog's spirit of conversation to the entire site, and we're going to need your help to do it-post your witty, penetrating comments!
Further down on the left, below the windowpane we mentioned above, you'll find two sections called "We're reading" and "We're talking about." These are our aggregators. We know Double X readers are busy, so we created a section of the site where you can get all the news you want to read. Consider it one-stop shopping. "We're reading" is a rotating list of stories we spotted and compiled for your attention. "We're talking about" is a continuously updated feed of women's news from around the web, powered by Google News. It's the first of its kind online; we hope you'll like it.
The On-Ramp, located further down the left-hand column, is Double X 's guide to navigating work, life and the recession. It's full of useful data and tips, including a daily crib sheet of everything you need to pay attention to in the financial news. We'll also feature first-person accounts from our readers, about how you're weathering the economic downturn, and interviews with successful women who've made it to the top in a wide range of careers.
Below the On-Ramp , Xxtra Small is our home for kids' fare-coverage of movies, books, video games, and television shows for children. We want to review kids' culture from a modern grown-up perspective, and so we created our own rating system, which we hope will be more relevant to parents than the G or PG movie ratings. Is Wall-E too depressing for kids? What's the hidden message of Wolverine ? Find out more when you click here.
In addition to a host of columns, we'll be hosting two blogs, Nick's Dream House, about decorating on a budget, and the Oyster's Garter, a wonderfully whimsical take on biology and ocean science and how it might inform your life.
Questions? Comments? Feedback? We're eager for them. Just email us at doublexletters@slate.com.
Enjoy!
-Emily Bazelon, Meghan O'Rourke, and Hanna Rosin
---