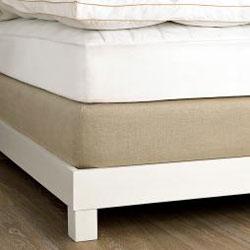 According to Wikipedia , the purpose of a box-spring, that rigid, hollow-sounding polyester-covered wood thing under your mattress, is threefold:
to help raise the mattress's height, making it easier to get in and out of bed;
to help absorb shock and reduce wear to the mattress; and,
to help create a perfectly flat and firm structure for the mattress to lie upon.
Right now I'll testify to the first: even though I'm not elderly or infirm, after having slept on an Ikea Malm bed for three years I'm loving the lack of bend-and-hoist with my current harvard frame + b-s + mattress setup. As for point #3, I think the Malm or any other simple platform could firmly and evenly support the mattress, no? My real query lies in #2. How many folks out there have lugged a prematurely aged Sealy ("Lohanpedic 5000") out to the streetcorner muttering "doggone this worn out piece; I shoulda used that box-spring all along" ?? Have there been studies on the subject? Even Consumer Reports doesn't recommend ditching the box-spring to save money.
Futon mattresses are another story. Ikea makes their own, special-Swedish-size version for each bed (explains why I hurt my mincing fingers every week making up the Malm with a standard spring mattress), but I've never been comfortable on those gushy things. So I want to know: who out there ditches the undercarriage and sleeps on a traditional mattress on a platform bed? Does anyone really miss the box-spring? This is not craven comment-whoring … I've wondered about it for years!
Aesthetically I'm split. I love the low-slung, box-free BoConcept look just as much as the traditional height headboard-only or four-poster variety. But one thing I can't abide is the exposed box-spring – major decorating faux pas! Traditionalists among us have a ton of inexpensive bedskirts (a.k.a. "dust skirts" or "dust drops") to choose from but I know people who'd rather sleep on the bare floor than decorate with anything called "skirt." For the Venn Diagram overlap representing Modernists and Box-spring Aficionados West Elm offers this linen cover (above) for $59-$99, depending on size. It's tailored and neutral and almost disappears. Sure, some beds have upholstered siderails for the same purpose, and decorators will often have professionals cover the springs to match a headboard or curtains … but on my budget? I just spent four nights on a friend's Aerobed in L.A. to save $$ for margaritas and I. AM. PROUD.
---