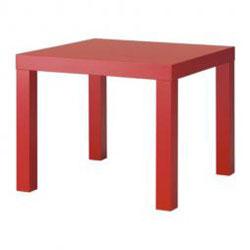 I believe it was Maria von Trapp who said, "Let's start at the very beginning, a very good place to start." As a thrifty decorator (one who would totally make playsuits out of old curtains), I think said beginning has to be the classic Parsons table. According to Mitchell Owens' NYTimes Q&A , we can credit French luxe-modernist master Jean-Michel Frank with its design, a uniformly square or rectangular table with top and legs of the same thickness, named for the French outpost of the Parsons School of Design where it was conceived. However some crafty janitor whipped up the first concrete example right here at Parsons New York - victory for the style proletariat! - and the rest is history. Forgive the cliched comparison but it's the little black dress of decorating.
Why it works: at any height or function (cocktail, side, game, dining, console…) the table's pure geometry either acts as a foil for antique or sculptural pieces in its midst or else blends in with more austere surroundings. Plus, consider the frame as a blank canvas, ready for any decoration (paint, paper, veneer, etc.) to suit every style/color palette. The Parsons is in fact a very good place to start for any room. But where to turn when even late-midcentury versions by Paul Evans and Karl Springer sell for megabucks?
Anywhere you look, really. West Elm is the clear winner here: their expandable dining table ($549) boasts hardwood contstruction and a robust lacquer finish … I've assembled one – its leaf mechanism has the pleasing, weighty thud-click of a Cadillac door. And their two-drawer desk is now so ubiquitous it deserves a place in MoMA's permanent collection. CB2 also gets the proportions right with the Runway console (on sale for $199; I covered two-thirds of mine with grasscloth, leaving the espresso veneer to show underneath). Room & Board will do the customizing for you but I'm not sure I like how the contrast top breaks up the line. What would J-MF say?? Finally, Ikea wins (as usual) in the "practically free" category: when was the last time you bought dinner for $12.99, much less a side table (pictured at right)? Love that.
Now back to art class. Toxic VOC's be-danged, oil-based high gloss paint is your best friend when it comes to plastic Parsons furniture. Sand lightly and one coat looks like lacquer! Marbleized and woven papers also make these babies sing but require a bit more crafting skill. I say channel that janitor and get creative! Okay, I want to end with a "parsimonious" pun but it's only my second post … I'll summon the J-M-Frankian restraint.
---