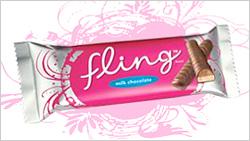 Does the idea of a candy bar with pink girlie wrapping, a sexualized name, and a marketing promo urging women to "pleasure yourself" by eating said candy bar seem annoying as hell to anyone else?
When I heard this piece on NPR yesterday about the new Fling candy bar , also known as a chocolate finger, I thought it was a joke. When I realized it was a real news story, it made me so mad that the only finger I thought about was the middle finger I'd like to give to the person who came up with the idea. I so hope it wasn't a woman.
A few lines from the NPR piece:
The Snickers bar has a new sibling, and it's a girl. She's sexual, uninhibited-and only 85 calories. The Fling is the first new chocolate bar Mars has introduced in more than 20 years. Wrapped in a shiny pink and sliver package, this delicate chocolate finger is intended for women. The word finger is an industry term for a long, slim confection, Mars spokesman Ryan Bowling says, but with ads that invite you to "Pleasure yourself" in pink lettering, consumers might come to other conclusions.

The tag line on the package is "Naughty, but not that naughty." A TV spot starts with what looks like strangers having sex in a store dressing room. Currently the candy bar can be bought only in California and online, but if all goes well, Mars is hoping women will be having Flings all across the country.
What's up with this marketing trend that rests on the assumption women will buy anything wrapped in pink or that has an implied orgasmic result? It seems so retro and reminds me of these once very popular shampoo commercials ?
Funny how the marketers of Viagra and Cialis didn't similarly see fit to promote their products as self-pleasuring tools for men. Seems to me they could have wrapped these erectile dysfunction products in manly dark blue packaging and named them Hump or Tryst, or simply marketed them as the "ultimate man-handle," the medical antidote for the busy man who has no time for dating and needs to handle his business by himself.
---