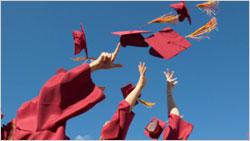 Last weekend I watched my sister graduate from the same college I attended. When I walked the stage a couple years ago, it felt like I was the only person I knew without a job or solid plans. And after a few self-loathing weeks of watching Kicking and Screaming and Reality Bites on a loop in my parents' house, I lucked into one without moving myself too far from the DVD player. Now, though, almost none of the graduates I talked to this weekend seemed to have a gig lined up, and all described the deep frustration of trying to find one in this economy, competing against more experienced workers thrown back into looking for entry-level jobs. Almost no one will "luck into" a job this summer.
If you're a college senior graduating into this recession, we'd love to hear your story-the difficulties of looking for open positions, how many resumes you've emailed out into the ether, the options you're considering. Send me an e-mail , and we'll serialize the responses on Double X next week. Unless you specify otherwise, we'll identify you by your first name on the site.
Photograph of graduates by Digital Vision/Getty Images.
---