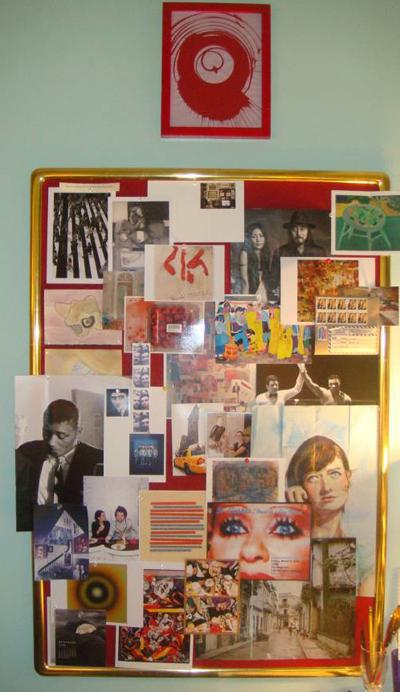 Greetings, gentle readers. I'm Nick Olsen, interior decorator and former 'Deal Hunter' on the dearly departed Domino magazine website. (Full disclosure: EIC Deborah Needleman, wife of Slate 's Jacob Weisberg, gave me the gig and let me call a "fugly" spade a spade. Grateful!) I'm here to write about my Dream House, the irony being that I rent a rat-trap tenement apartment in downtown Manhattan- La Leopolda with a fire escape. Then of course there's this giant bummer of recession and housing crisis and now 'swine flu' and OH MY GOD HOW I CAN EVEN BEGIN TO THINK ABOUT DECORATING?! Well, it's still my day job , where I regularly encounter closets the size of my bedroom and tables worth more than my life.
But don't gag just yet: this blog will be about style, not aspiration. I've seen gorgeous apartments in Bushwick and hideous ones on Park Avenue, and I could care less about fetishistic, design-y junk (who really wants a bedazzled skull teapot anyway?) or trends in the luxury market. I just like pretty rooms and pretty stuff! And if I can't afford what I want, I'll make or fake it myself. So that's my Dream House in a nutshell: decorating inspiration, deals, DIY chutzpah, and deep thoughts. If you think something is tired or fugly or just think I'm a total charlatan, please say so in the comments! I won't be offended.
Time for some pretty pictures? If you have a dream or a house or both I suggest making a bulletin board of everything you love at the moment, just like a real-deal decorator/fashion designer/creative type! Even in the post-scrapbooking Flickr era there is no substitute for a hysterical New York Post clipping tacked next to a swatch of beloved, discontinued fabric. The challenge, of course, is translating it all to your pad, but that's where I come in. Click here for a gallery of some of my favorites, beginning with our office board at Miles Redd, pictured at right (a group effort) and ending with an image from Todd Selby . I'll leave you with a link to Albert Hadley 's fantastic bulletin board (he's the Triscuit-serving, chain-smoking, utterly awesome dean of American decorators). Here's to living large on the small!
---