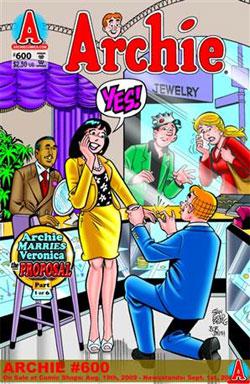 One of America's longest-running love triangles is about to come to an end: According to the official Archie Comics blog , Archie Andrews-hapless ginger kid and proto- Zack Morris -is getting married. ( Via CNN .)
In the 65-year-old serial's 600th issue-on sale in September-Archie and the gang have hurtled into the future. They've graduated from college, and Archie's now preparing to take the marital plunge. According to Veronica's blog -which, strangely, reads like it was written by a spammer from Singapore-it seems Archie has chosen her over sweet, loyal Betty:
I am so excited, I am getting Married to Archie. There is so much to do, so many plans to make. I wonder if Betty wants to be my Maid of Honor? I bet she is so happy for me!
(((Hugs)))
Ronnie
Betty, predictably, is sad . Jughead will be best man . And Reggie, that scamp, plans on scooping up Archie's sloppy seconds .
Of course, you should never trust bloggers. With a little more than three months till pub date, we might see a Graduate -style switcheroo at the last minute.

I was always a Veronica girl myself-mostly because she had black hair, like me, but also because the girl knew how to Get. Things. Done. But I have a feeling she might not have nabbed him for long. Is it too much to hope for an eventual Archie- Moose pair-off?
---