Hey Nora: I found us the perfect house ! Again !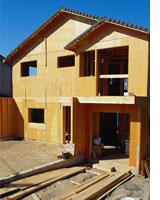 It's in a great location — good schools and just a few blocks from the subway. It's right near a spacious park that includes the highest point in the city (and maybe a little lead ). It's cheap: only $550,000 for three bedrooms and 3.5 baths. It even has two garages.
OK, so there's one tiny little problem. Click on "Street View" or " Bird's Eye View " in the listing, and you will see that it is not quite — not to put too fine a point on it — finished. No windows, no doors, no shingles on the roof. No front porch. No yellow paint. On the plus side, there is lots of lumber in the yard, and a lovely chain-link fenced topped with barbed wire.
The other day, you saw a run-down bungalow for $629,900. I took that price as the best evidence yet that this market still has a ways to go before it reaches bottom. Then today I looked at a pile of lumber for more than half a million dollars. We now have better evidence.
But don't just take my word for it: There is statistical support for my anecdotal drive-by reporting! (And I didn't drive by the house, I walked.) Here are two of my favorite charts.
This one shows the year-over-year changes in housing prices both nationally and in the top 20 markets, based on the Standard & Poor's/Case-Shiller index. (Maybe we should move to Vegas. We can use the money we save buying a house on safer, more predictable investments, like roulette.) In Washington, prices peaked in the spring of 2006, and right now they're at the same level as they were in the spring of 2004.
This one also comes from Robert Shiller by way of the New York Times . Though it's now three years old, it is the best single illustration I have seen of America's real estate madness. (It also appears on Page 13 of Shiller's book Irrational Exuberance .) Where are we now on this graph? If you go to the Web site for Shiller's book , you can get the updated data. Not to get too technical, but as of 2008 the index was at 137 — more than 30 percent down from the peak of 2006, but still quite a bit higher than the average that reigned for most of the second half of the 20 th century.
---