First things first: I saw the house on Maple Avenue . Went over at 8:30 last night and felt awkward, as the current owners were there with their newborn and had to make themselves scarce while I examined crown moldings and turned the kitchen faucet on and off. (I always do that at an open house. Don't ask me why. If Nora were there, I would have nodded to her and said, "Faucet works.")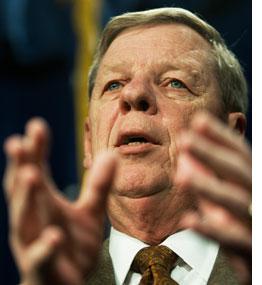 The owners were very, very nice, as is their house, as is their neighborhood. There were fresh cookies. It was quiet. There were no nuclear weapons . Still, on the way home, talking to Nora as I drove through Rock Creek Park, I knew that we were not going to live in this place. For one, as Nora said yesterday, it would have been a stretch to be able to afford it. For another, and more to the point, we are just not ready to make an offer on a house overnight. Practically speaking.
Partly that has to do with the insanely complicated transaction that is buying a house. And partly that has to do with my own trepidation and dread about the mortgage industry. (I know this is a standard anxiety for first-time homebuyers. Still. That's what we are. And after browsing through stuff like this , can you blame us?) So when Denise asks me, as she does regularly, "Have you talked to a mortgage broker yet?" I have a twofold response: 1. "Not yet. But soon! I promise! I've left messages!" 2. "I need to talk to my lobbyists on the Hill."
I am not being entirely facetious about No. 2. Buying a house is the largest purchase you will ever make, which everyone seems to like to tell you. And the larger your purchase — of anything, really, but especially real estate — the more the government is involved. Over the last few weeks, especially, as this proposal and this proposal show, the federal government has been working overtime on our behalf. The central question now before Congress is simple: What do we need to do to get you in this house today?
Sen. Johnny Isakson of Georgia has proposed a tax credit of up to $15,000 for homebuyers. Sen. Mitch McConnell wants the government to underwrite mortgages at 4 percent. I don't know what chance these proposals have. But I'm not averse to waiting a little while as members of Congress compete with one another to help out first-time homebuyers like us.
What do you think, Nora? I notice that the house on Maple Avenue, as Denise predicted, is under contract. I'm sorry. But maybe we can get a member of Congress to sponsor a bill giving a special tax credit to any family selling a yellow house with a porch.
P.S. I just talked to a mortgage broker!
---