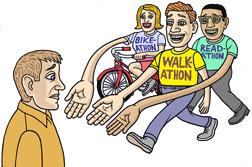 Dear Patty and Sandy,
I recently participated in a local five-kilometer race in which the $25 entry fee went to the Save Darfur organization, which raises awareness about the genocide in Sudan. Would my money/time be better spent on a different organization?
Adam
Patty:
We all wonder whether or not participating in or giving to these blankathons (bike, ride, walk, knit …) is worth our time or money. Before deciding to give to your cousin, or colleague, or neighbor's blankathon, you should use a four-part test. If you are uncomfortable at any stage of this test, say, "It's great you're involved, but, no thank you, my own giving plans point elsewhere right now." (This gentle turndown is what I affectionately call the "hug and release," and we all need to practice it in order to focus our own efforts.)
Here is my test:
Is the mission of this organization one I would put on my Top 20 list? If not … just hug and release. Life is short.
Has this organization demonstrated progress pursuing its mission? If it's new, is it probably destined for success? To me, this second element is the most important question in all gift-giving. Don't just ask: "Is Darfur something I should be concerned about?" Ask: "Has the Save Darfur Coalition  been successful in drawing attention and pushing progress on the critical issues?" (I think it has been.) If those involved can't answer this question for you, move on.
Is the individual asking for the pledge—or the organization arranging the fundraiser—worth supporting? Do you want to encourage their social efforts? Do you want them to represent you and your intentions? If not, bow out gracefully.
What do this organization's finances look like and why? Please remember that many reputable and important organizations lose money on the effort to get your first gift. They are hoping that once you've started giving, you will continue to give them support—your time, voice, or money—and that you will be a profitable partner in the future. Now, this doesn't mean that any organization should be spending 50 percent of its resources on fundraising. A rule of thumb for an established organization would be between 5 percent and 15 percent. But there are wide variations, so before you give, you might want to dig a bit. Spend a few minutes and see what this organization says on its own Web site, or check out one of the top nonprofit watchdog sites (Charity Navigator, Better Business Bureau  or Guidestar). 
Sandy:
My mom gives a pretty thorough answer to this question, but in some ways I think she is being too nice. I distrust the efficacy of these events a lot more than she seems to. If I question black-tie fundraisers that strike me as more for the see-and-be-seen than for the cause, why should I feel any better about these blankathons?
Charity Navigator produced a report to answer just this question. They found that nearly half of all charities use special events as a way to raise money—and that the charities they ranked spend an average of $1.33 to raise $1 at special events, whereas they spend only $0.13 to raise a $1 in their overall funding. In other words, they actually seem to lose money on their blankathons or black-tie dinners. But before you swear never to pledge again, you should know that five of the best-known events do a lot better (and some are even more efficient in their special events than in their overall fundraising): the American Cancer Society (Relay for Life), the Muscular Dystrophy Association (Jerry Lewis Telethon), the Leukemia and Lymphoma Society (Team in Training, Rock 'n' Roll Marathon), the March of Dimes (WalkAmerica), and the Juvenile Diabetes Research Foundation International (Walk/Ride To Cure Diabetes). Unfortunately, it looks as if Save Darfur isn't rated by Charity Navigator, but you could try to do your own analysis using its publicly available 990 form.
Of course, as both my mom and the report say, there are other reasons organizations hold events like these: to raise awareness, to cultivate donors, to get press, etc. While there are many explanations about why big charities might do better than your local high school's race, it's important to understand that not all special events are created equal. If you decide that you can forsake efficiency for supporting a cause or an individual you care about, then go for it, just know where your dollar is going. 
Do you have a real-life do-gooding dilemma? Please send it to ask.my.goodness@gmail.com, and Patty and Sandy will try to answer it.
In our ongoing effort to do better ourselves, we're donating 25 percent of the proceeds from this column to ONE.org—an organization committed to raising public awareness about the issues of global poverty, hunger, disease, and the efforts to fight such problems in the world's poorest countries.
---