Not long ago, I received an ominously official-looking correspondence from the Minneapolis/St. Paul branch of the Federal Bureau of Investigation. *  The enclosed letter informed me that I had recently been the victim of identity theft, but an agent was there to help me sort my life out.
The letter raised a few questions. First off: Why the Twin Cities, a place I had visited once on a post-collegiate road trip and otherwise had exactly zero connection to? Second: If my identity had really been thieved, why hadn't I noticed? Why no long-distance phone charges to Sierra Leone, purchases of front-load washers in Singapore, or warrants for my arrest in New Zealand?
I ignored the letter and its several follow-ups, feeling rather sorry for the hapless criminal who had taken the trouble to swipe a financial profile as slender as mine. It was only after hearing several more consequential identity-theft stories from friends that I decided to get serious about protecting my personal information. I opened a new bank account, changed all my online passwords, and—once those hassles were out of the way—went in search of the highest-security paper shredder on the market. Never again would I blithely drop a glossy NO INTEREST PAYMENTS UNTIL MARCH 2010 offer into the recycling bin … not without first obliterating all personal information displayed thereon.
Methodology
For several months now, I have been collecting junk mail so assiduously that I came to fear ending up like Harlem's legendary Collyer brothers, who were buried alive under piles of their own garbage. It's true: I was staggered by the volume of paper that got stuffed through my mail slot every day, and that's after I repeatedly declined unwanted Pottery Barnclearance catalogs at CatalogChoice.org. The only upside of getting all this unwanted junk is that it allowed me to put the six shredders I selected to the test.
Capacity (10 points): The shredders I tested were all light- to medium-duty, designed for home use, and capable of shredding from eight to 12 pages at a time. Could these machines really take on as many pages as the manufacturers claimed?
Design (10 points): Always a crucial factor in assessing an object that will adorn your work space. Is it pretty? How much room does the shredder take up—is it compact or unwieldy? Other relevant considerations: How easy is it to empty the trash can? Are there any noteworthy design extras, like an LCD screen or a "basket full" indicator, and do these extras make much of a difference?
Efficiency (10 points): How loud is the shredder? This question mattered more than I'd anticipated, as some shredders made such an ungodly racket that I couldn't bring myself to switch them on without pregaming a couple of Excedrin first. Other points: Are the shreds small enough to effectively obliterate personal information, foiling even the most energetic meth addict's attempts to piece the pages back together again? How quickly does paper jam, and how easily can jams be undone? Last but not least, are these shredders, which ranged in price from $39.99 to $164.99, worth the money?
The results, from functional to phenomenal …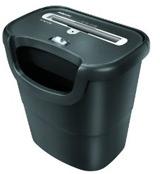 Fellowes Powershred 8-Sheet Shredder, $46.99 (originally $119.99)
"Powershred" is right, in that this eight-sheet machine sounds like an arsenal of power tools all in operation simultaneously. (Imagine being trapped in a small bathroom with a weed whacker, a chain saw, and a welder, and you will have some sense of this shredder's high-level clamor—really excruciating stuff.) The pluses: I like that you can throw CDs and credit cards in the same slot that takes the paper. Some other models require you to switch slots depending on what you're shredding. But once I started feeding material into those machines, I didn't want to pause. The Fellowes also has some useful safety features, and you certainly can't beat the price. But unless you plan to shred wearing noise-canceling headphones and/or aspire to drive a family of raccoons out of your home office, you might have trouble with the decibel factor here. I also didn't like having to remove the hefty top to empty the bin. Next.
Capacity: 6
Design: 5
Efficiency: 4
Total: 15 (out of 30)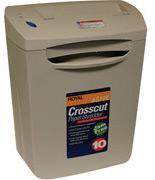 ---