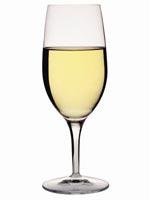 This weekend, we're throwing the kids, the beach towels, and the bathing suits in the car and heading to Cape Cod. We're also packing plenty of Muscadet. A bone-dry, zesty white wine, Muscadet makes a toothsome après-plage aperitif and goes smashingly with seafood, which is pretty much all we've got on the menu for the next two weeks. Produced in France in the Pays Nantais, where the Loire Valley bumps up against the Atlantic Ocean, Muscadet has traditionally been considered a modest wine with much to be modest about. But the region does have a few very talented and ambitious vintners who are turning out excellent Muscadets, wines whose prices—$10 to $20 a bottle—aren't nearly commensurate with their quality.
Muscadet is made from a grape bearing the peculiar name melon de Bourgogne. I'm not sure where the melon comes from; the Bourgognereflects the grape's Burgundian origins. The grape was brought to the Loire coast in the 17th century. Local winemakers needed a varietal that could better withstand the harsh winters, and the Dutch traders who supplied much of their business were keen on melon de Bourgogne because it was good for distillation. The grape was planted in and around the city of Nantes, near the mouth of the Loire River, and the maritime setting proved fortuitous: There is an undeniable synergy between melon de Bourgogne and the sea, right down to the pronounced saline note that is present in many Muscadets and can leave you feeling as if you just sucked an oyster shell dry.
The Loire churns out greater quantities of Muscadet than any other wine, white or red. There are several Muscadet appellations; the largest, Muscadet Sèvre et Maine, accounts for around 80 percent of total Muscadet production, and while much of its output consists of industrial swill, it is also the source of most of the good Muscadets. Because melon de Bourgogne yields wines that are inherently light on flavor and character, crafting even just a mildly interesting Muscadet requires a cellar process called sur lie (a phrase that normally appears on the labels of Muscadets that are made this way). After fermentation, the wines are kept on their lees, sediment comprised mainly of dead yeast cells, through the winter, which gives them richness and complexity they would otherwise not have. Because this is done in the fermentation tanks, the wines are also left with a residue of carbon dioxide, which imparts a slight, refreshing fizz.
There are vintners who elevate Muscadet into something that is more than just passable—who turn out genuinely appealing wines. They've set themselves and their juices apart by restricting crop yields, leaving the grapes on the vine until they are fully mature, harvesting by hand rather than machine, and using indigenous yeasts instead of commercial strains. Some of the better winemakers practice organic farming, and a couple have gone one step beyond that and embraced biodynamic viticulture, a holistic, quasi-mystical approach to vineyard management that generates a lot of controversy but often yields wines of uncommon vigor and character.
Thanks to the efforts of these producers, critics are starting to take Muscadet more seriously, and a few of the wines have garnered impressive scores. Still, melon de Bourgogne is a grape with limited possibilities, and while it is great to see Muscadet getting some attention, consumers who think they are buying the equivalent of a top Chablis or Vouvray may be in for a letdown; even the choicest Muscadets don't attain those heights. Some Muscadet aficionados claim that the wines improve with cellaring, but I am not persuaded that they've got the substance or depth to warrant extended aging. I think Muscadets are best drunk young and should be taken for what they are—crisp, cleansing wines that make an excellent lubricant for parched palates and a perfect foil for simple seafood preparations. After a day spent chasing my kids through the surf with fiddler crabs nipping at my heels, sucking down a good Muscadet with a dozen raw cherrystones is my idea of bliss.
So, which Muscadets can be counted on to induce dockside rapture? I'll get no points for originality—this seems to be everyone's favorite—but the Domaine de la Pépière Muscadet Sèvre et Maine Sur Lie Clos des Briords Cuvée Vieilles Vignes is the one I most often uncork. Vintner Marc Ollivier is arguably the brightest light in the Muscadet region, and the Clos des Briords is his finest offering, a single-vineyard wine sourced from 60-year-old vines (hence the Vieilles Vignes). An unusually rich and refined Muscadet, the 2006 Clos des Briords ($20 is the suggested retail price, although it can be found for much less in some places) is marked by tart peach, citrus, and chalk flavors, along with a pinch of salt, a bit of effervescence, and a gentle whiff of petroleum. In addition to being a seriously good wine, it is also thoroughly refreshing—my mouth was still watering five minutes after I took my last sip.
The 2006 Domaine de la Quilla Muscadet Sèvre et Maine Sur Lie ($13.99) opens with a gust of briny ocean air, with grapefruit and floral scents filling out the bouquet. Crisp, tangy citrus flavors roll across the palate, backed by bracing acidity; this is Muscadet at its lip-smacking, raw-oyster-complementing best. The 2006 Chéreau CarréChâteau de Chasseloir Muscadet Sèvre et Maine Sur Lie ($12) doles out a sensational medley of aromas that includes lime, green apple, talc, saltwater, and a sprig of herbs. It is a medium-bodied wine but with loads of ripe fruit, abundant richness and concentration, some of that telltale Muscadet fizz, and a generous shot of salty minerality. This wine impressed me—enough that I might just have to include a few bottles in the stash of wines that I'm hauling up to the cape. The 2006 Domaine de l'Ecu Muscadet Sèvre et Maine Expression de Gneiss ($13.99) is a biodynamic wine made by Guy Bossard, another prodigiously gifted vigneron. With its chalky texture (imagine a little rock dust sprinkled in your glass), the Expression de Gneiss is as much about feel as it is flavor. Along with all that great tactility, the wine offers honey and citrus notes, brisk acidity, and a very sexy herbal kick—all in all, an excellent advertisement for Muscadet and biodynamic winemaking. (There is no Sur Lie on this label, but the wine was aged on its lees.)
The 2006 Châteaude la Ragotière Muscadet Sèvre et Maine Sur Lie Sélection Vieille Vignes ($17.50) puts the hook in with a seductive nose evocative of grapefruit, petroleum, steel rods, and wet stones (smell it—you'll see what I mean). The wine is not quite as interesting on the palate, but it has good fruit, density, and structure, and will sing in the company of bivalves, crustaceans, and assorted other edible sea creatures.
---