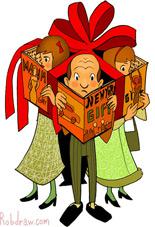 With Christmas less than two weeks away, millions are beginning to rue their procrastinatory ways. With nary a gift purchased, panicked shoppers are often tempted to take the easy way out with gift cards, neckties, and bottles of cheap perfume. Such presents might technically fulfill your holiday obligations, but they're unlikely to score you much love: Don't expect any impromptu lingerie shows, for example, if you plan on giving your girlfriend an oven mitt.
Lucky for you, magazines are bursting with gift ideas. In an editorial ritual seemingly as old as Good King Wenceslas, glossies festoon their December pages with products that will allegedly make your friends and family swoon with glee. The key word, though, is allegedly—some inevitably disappoint by suggesting presents that only a tycoon could afford, or by favoring organizational schemes that are as parseable as Finnegan's Wake. So, which magazines will help you gain renown as a gift-giver nonpareil, and which deserve lumps of coal? Slate perused this year's print guides to separate the dreck from the handy.

Condé Nast Traveler, December 2007 The Pitch:"Items for the peripatetically inclined"Target Audience: 28-year-old investment bankers who insist that you haven't lived until you've tried the divine coq au vin at this fabulous bistro in the Seventh Arrondissement, where … what? You don't visit Paris six times a year? You poor thing—take this $20 bill. Organizational Spirit: Lazy and underwhelming. Despite an emphatic cover tease, this gift guide is woefully slim on ideas—just a dozen, and only three under the $100 mark. The simple gridlike layout is disappointing, too: The one-page "guide" resembles an advertising insert more than a legit feature. Standard Absurdity: A $1,559 satchel complete with Champagne cozy is recommended for "The Sybarite."Bright Idea: A stylish steel compass from Dalvey for a mere $66. Bottom Line: Condé Nast Traveler is more egalitarian than its gift guide indicates; in the very same issue, there's a sharp feature on semiaffordable family vacations and a primer on finding Belgium's finest beers. For some reason, however, the editors saw it fit to only recommend gifts for five-star travelers. If your loved ones prefer more carefree travel, steer clear—the last thing you need while backpacking across Laos is a $28,000 Joan Hornig necklace. Naughty-or-Nice-O-Meter: 2 (out of 10)

Gourmet, December 2007 The Pitch: "55 Fabulous Foodie Gifts"Target Audience: Devotees of cucumber foam. Organizational Spirit: Disjointed, with another alluring cover tease that doesn't deliver inside. There's no coherent gift guide, per se, just a series of front-of-the-book gift pages. The editors also chose the irksome fashion-spread approach, with dishware and kitchen gadgets crammed into full-page photos, then described in run-on captions. Standard Absurdity: A section dedicated to ridiculously expensive cruises, the most egregious of which is a 114-day, around-the-world voyage that starts at $20,999. Bright Idea: The guide's one redeeming feature is an inventory of special tipples, like Flaming Heart, an $85 blended Scotch from Compass Box. Bottom Line: No one likes to be jerked around, least of all when holiday stress makes life more difficult. If Gourmet is going to flaunt its gift guide on the cover, it shouldn't force its readers to sift through the entire magazine before realizing where those gifts reside. And cruises? Stick with what you know, and recommend some meat pies instead. Naughty-or-Nice-O-Meter: 2.5

Outside, December 2007 The Pitch: "What Every Man Wants This Year"Target Audience: Software engineers whose affection for heli-skiing is obvious by virtue of their perpetual goggle tans. Organizational Spirit: Maddeningly fashion-spready. Full-page shots of male models sporting an array of gear feature cramped captions. Aesthetically pleasing at first glance, perhaps, but ultimately more trouble than it's worth. Not helping matters: The captions occasionally obscure the product shots, much like those black bars that TV networks use to obscure naughty bits. Standard Absurdity: For "The Jet-Setter," a TAG Heuer Carrera Automatic Chronograph Tachymeter for $2,895. Bright Idea:"The Luddite," by contrast, is said to favor a $93 forest axe from Sweden's Gränsfors. Great for chopping wood and, one presumes, teaching varmints a lethal lesson. Bottom Line: Beauty can be the enemy of efficiency, and Outside's handsome-yet-baffling guide is a case in point. Gift guides work best when they're unabashedly servicey, rather than treading the fine line between journalism and art. Outside's good suggestions are too often lost amid the attractive clutter. Naughty-or-Nice-O-Meter: 4.5

Town & Country, December 2007 The Pitch:"More than 170 presents that will keep smiles bright this holiday season"Target Audience: The direct descendents of feudal lords, particularly those who enjoyed foxhunting and oppressing their serfs. Organizational Spirit: Sprawling and slightly cheeky. You get the feeling that whoever put this guide together got a subtle kick out of recommending gifts that only 0.00001 percent of the population can afford. Standard Absurdity: Where to begin? How about the $5,250 stuffed polar bear from Steiff —what better way to tell your child, "You're not one of the little people, dear." The $17,920 watch from Chopard, meanwhile, screams out, "Thank you for being my trophy wife."Bright Idea: An ash sled from designer Wolfgang Sirch, for a relatively affordable $390. Bottom Line: Unless you and yours are bigwigs on the Palm Beach charity circuit, Town & Country's guide won't help with your gift quest. But it's an entertaining read nonetheless, if you like chortling at the delusional pretensions of the fabulously wealthy. Take the $8,350 python biker jacket from Giorgio Armani—I dare any owner of this garment to show up at a Mongols meeting and announce their desire to join. Naughty-or-Nice-O-Meter: 5.5. Not useful by any means, but a fascinating peek at a very peculiar, Botoxed brand of decadence.

Consumer Reports, December 2007 The Pitch:"201 Best Gifts"Target Audience: Geeky dads who wouldn't dream of buying so much as a garden trowel without first checking the online reviews. Organizational Spirit: Cold and efficient. Unlike its more glamorous newsstand competitors, Consumer Reports considers plainness a virtue—it's the Amish farmer of the magazine world. As a result, only a tiny fraction of the recommended products are actually shown; the rest are just listed under headings like "Food choppers" or "Portable table saws." Good values are noted with "CR BEST BUY"; there's also a handy "Tops for $200 or Less" box at the end. (Skip the clip-and-save compendium of shopping tips—you already know those extended warranties are scams, right?) Standard Absurdity: The $3,300 L7 Series Pro Sports Trainer from Landice. Bright Idea: For weak-wristed amateur chefs, a KitchenAid hand mixer for $80. Bottom Line: Eminently useful, provided that the folks on your list are OK with prosaic gifts. Save for a few wine and chocolate recommendations, almost everything here requires electricity—no chic knickknacks, no semiprecious stones. Consider this guide, then, perfect for folks who blanche at the mawkishness of those ubiquitous Kay Jewelers ads: Sometimes a miter saw says "I love you" more effectively than a sapphire-encrusted brooch.  Naughty-or-Nice-O-Meter: 7

Plenty, December/January 2008 The Pitch:"79 Earth Friendly Gifts"Target Audience: Your friend who flips out and screams, "Pigs!" whenever she sees a Hummer limousine. Organizational Spirit: Earnest, but not annoyingly so. Like a lot of magazines, Plenty breaks down its gifts by intended recipient—"The Outdoor Adventurer," "The Homebody." Brief captions explain why each product represents a shout-out to Spaceship Earth, a helpful addition since the green attributes are often hard to guess by merely looking—an eco-friendly water bottle, for example, doesn't visually differ from its planet-killing peers. Standard Absurdity: An $850 pair of diamond earrings from Brilliant Earth, a purveyor of conflict-free gems. Bright Idea: An "ecologically thinned" cedar briefcase by Japanese designer Takumi Shimamura, for $325. Bottom Line: A helpful roundup with some nifty, concise writing that makes clear the environmental angles. But you'll probably want to save these gifts for people you'll see in person so that you can pass along the back stories. For example, the belt buckles featuring Indian chiefs—if you aren't around to explain they're made of "lead-free pewter and ten layers of nontoxic sealant," the recipient might just think you have exceedingly gaudy taste. Naughty-or-Nice-O-Meter: 7

Domino, December/January 2008
The Pitch:"Our obsessively researched roundup, from unapologetic luxuries to perfect everyday touches"Target Audience: Recent condo buyers whose glass-and-steel boxes bear such highfalutin, risible names as "The Olive Tree."Organizational Spirit: Straightforward and detailed. The first few pages are dedicated to 50 gifts under $50. At the end is a section titled "Exquisite Indulgences," where Wall Street types can waste their cake on overpriced objets d'art. Standard Absurdity: A crystal obelisk for $495, from Bergdorf Goodman. Bright Idea: A retro Diana+ camera—"cherished for its soft, blurry photos"—for a piddling $50. Bottom Line: Domino's taste is impeccable, albeit a little strait-laced; if the folks on your list prefer the Hades Almighty to Coldplay, this probably isn't the guide for you. But there's plenty here to please nesters for whom cleanliness is next to godliness—a group that obviously skews more female than male. Buy the $69 candelabra for your guy friends at your peril. Naughty-or-Nice-O-Meter: 7.5. Bump that score up a half-point if no one in your circle would dream of hanging a Bloodsport poster on their wall. (Disclosure: Deborah Needleman, Domino's editor in chief, is married to Slate Editor Jacob Weisberg.)

Vogue, December 2007 The Pitch:"Present Perfect: 250 Dazzling and Disarming Gifts for Everyone on Your List"Target Audience: Socialites who pity the declassé masses. Organizational Spirit: Ambitious. Vogue offers three guides for the price of one—a lengthy feature called "Gifts, Bagged!" in which professional shopaholics "strategize the season," a section on eco-conscious holiday shopping, and, finally, a colorful-yet-cluttered checklist of 79 tony products. Consider yourself warned: The written-through stories of holiday excess, penned by the hopelessly overprivileged, are likely to leave you either green with envy or pining for a Glorious Worker's Paradise. (Sample quip: "I get a fawn-colored, long-bodied V-neck sweater by Vanessa Bruno that looks as slouchy as it does hip for my performance-artist nanny, who lives in Brooklyn.") Standard Absurdity: So many to choose from, most of them involving alligator hide. But the cake-taker comes from the eco-conscious section: a bucolic landscape painting by Salomon van Ruysdael for only $1.6 million! Bright Idea: A gorgeous print dress by S-Sung for $375. Bottom Line: Vogue gets an A for effort and props for its flawless sense of style; unlike fellow aristocratic traveler Town & Country, this magazine doesn't wallow in the fads of yesteryear. There are even a few affordable ideas for aspiring heiresses who lack trust funds. But let's face it, most people are just reading this for escape. A $695 straw hat from Behnaz Sarafpour? It's enough luxporn to keep you playing Powerball for the foreseeable future. Naughty-or-Nice-O-Meter: 8. Mark it down several points if ostentatious displays of wealth give you the dry heaves.

New York, Nov. 26 Issue
The Pitch:"A gazillion ideas, at every price, and for everyone in your life"Target Audience: A 32-year-old VP of marketing who organizes her closet according to the designers' countries of origin, from Australian Michelle Jank to Zambian-born Naomi Ngoma-Simunyola. Organizational Spirit: Hyper-methodical. New York is the king of identifying specific gift-recipient archetypes, such as the "Green-Minded Teen" and the "Hobby-Loving Grandparent." There's also an extensive listing of budget gifts—a nod to the city's creative underclass—as well as an excellent rundown on the finest chocolates and liquors. The one major misstep: an overly twee photo spread of well-heeled rug rats enjoying their holiday loot. Standard Absurdity: For "Worldly Mom," a Dennis Colomb cashmere scarf for $900. Bright Idea: A dapper felt fedora from Brooklyn boutique Dalaga, for a paltry $52. Bottom Line: New York's guide is a perennial favorite for its bounty of creative ideas as well as its smart organization. This year's edition is no exception, though it's perhaps a notch less enjoyable than some of its predecessors—if nothing else, this guide gets docked a half-point for putting the "Tireless Toddler" page opposite a Vera Wang ad that seemingly depicts a couple in flagrante delicto. Naughty-or-Nice-O-Meter: 8.5

Maxim, December 2007 The Pitch:"Everything Your Cold Heart Desires"Target Audience: 24-year-old mortgage brokers who can't stop talking about that one time these buxom twins were totally up for a threesome, but too much Cuervo foiled the plan. Organizational Spirit: Maxim follows the trend of breaking down its guide according to recipient archetype. But lots of the archetypes are pretty similar—what, pray tell is the difference between "Ladies' Man," "Good Time Charlie," and "The Entertainer"? It's redeemed, however, by sharp writing and ample cheesecake. There's a delectable model clad in ridiculous swimwear throughout, and some droll minifeatures on horrific Christmas tree ornaments (such as Sarge, the Gay Merman) and famous folks who died on Dec. 25 (Pope Adrian I, James Brown). Standard Absurdity: The $1,599 carbon-fiber Rider from Blackbird Guitars. Bright Idea: If the recipient smokes, Tobias Wong's $31 smoking mittens will make it easier for him to light up without exposing his digits to the elements; if he abstains from nicotine, then the $72 Skeletool from Leatherman is a better choice. Bottom Line: So, the superfluous T&A is more of a lure for some readers than others. But Maxim surprises with its witty and varied gift ideas, which are frequently accompanied by well-written snippets of prose—hail to the anonymous scribe who praised a pair of goggles for helping to prevent "spaghetti-steam blindings." And as long as you're not a vegetarian, you can't help but love a guide that mentions python filets at $40 a pound. Naughty-or-Nice-O-Meter: 9
---