Here in the nation's capital, we have a secret weapon in the War on Temperature. Real Washingtonians don't head for the hills of West Virginia. We don't hide out in the air-conditioned halls of the Air and Space Museum. We drag out the inflatable kiddie pools.
Kiddie pools have come a long way since I was a kid. Gone are the bottom-bruising molded plastics and drab colors of yesteryear. Today's models offer cushy flooring and come in pop-art colors and mind-blowing shapes. They're easy to track down, available everywhere from your local drugstore to your favorite big-box retailer (we hit Target) to online at sites like Amazon.com, which can't be beat for sheer variety. Amazon not only carried the largest assortment, it sent us, gratis, a selection to test, so a big wet thank you to Jeff Bezos and his compadres.
To help our fellow Americans wade through the flood of options, my family and I took seven pools for a test-swim in our small (and now very soggy) Capitol Hill back yard. We skipped the baby and adult models: The models here say they're meant for kids 3 and older, but younger kids would do fine in most with an adult on hand to prevent mishaps. The testing team included my husband; our children, almost 5 and 3; and a passel of neighborhood friends, ages 4 to 48, who had nothing better to do than strap on swimsuits and jump up and down in 18 inches of water. 
In the democratic spirit, we wanted to include pools from many manufacturers in our test group. Sadly, the inflatable-pool scene, like our political system, is dominated by two major parties: Intex and Manley ToyQuest. You're likely to encounter a shortage of other brands at Target, Toys 'R' Us, and some of the obvious online outlets. We did find a couple of third-party choices, however, and a search of your local toy store or the Internet may turn up more.
Methodology:
Pump and fill (10 possible points): The mercury's headed for the century mark. The kiddies are screaming for a swim. The average harried parent (e.g., me) needs results ASAP. Armed with only an air pump, a garden hose, and fraying patience, how long does it take to transform a shapeless piece of vinyl into your own private swimming hole?
A piece of friendly advice: Invest in a motorized pump if you don't own one (or borrow one). I tried a manual pump on one model, and my biceps still hurt. Electricity is your friend.
It can be difficult to estimate how long it will take to fill your pool. When you calculate how much time you'll need for setup, take into account pool size, water pressure, hose setup, and how much water your offspring and their little friends require for splashy fun. We found that it took at least 20 minutes for our underwhelming garden hose to fill most of these pools to an acceptable swimming depth—longer for the larger models.
Durability and capacity (10 possible points): You've worked that pump hard. You want results that last longer than your kindergartener's energy. A pool worth its salt should be able to handle the preschool equivalent of a WWF Smackdown without splitting or sagging. It ought to be able to hold at least two kids as well as a grownup (because, let's face it, after all that setup work, you're going to need a dip, too). And it shouldn't take your afternoon to fill.
A little eco-confession. We emptied each pool after one or two uses. In mosquito-infested Washington, D.C., it is not a good idea to leave large water-filled objects sitting around. You should be able to let your pool sit empty for a few days and not have to do more than give it another couple of blasts with the pump when you're ready for your next swim.
Splash factor (10 possible points): So it holds water and cools you off, but is it cool? Will the tots ooh and aah over the color scheme, the whimsical theme, the extra-fun touches? Bonus points if you can pass it off as art in situ rather than a neighborhood eyesore.
The results, from sinking to swim-tastic: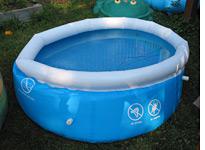 Surf Club Rapid Set Pool, $34.99 (available at CVS) With a name like "Rapid Set Pool," you'd think the setup on this one would be, oh, I don't know, rapid. Well, you'd be wrong! It took two adults the better part of an hour to figure out how to plug in the valves. One of our 5-year-old testers then pointed out we had them in backward. Although it doesn't require a whole lot of air—only the top ring gets inflated—the minimal inflation means that, unless it's full and on level ground, the whole contraption's about as stable as a wet towel. In fact, it looked and felt a lot like a rubber lifeboat that was about to sink. The 300-gallon capacity could be fun if you only intend to fill it once a season, but it's hell when you're faced with mutinous kiddies who don't understand that things take time (especially things that hold 300 gallons of water). With its severe blue-and-white color scheme—boring—it's not much to look at, either. File under Unattractive Nuisance.
Pump and fill: 4 (out of possible 10)
Durability and capacity: 5 (out of possible 10)
Splash factor: 3 (out of possible 10)
Total: 12 (out of a possible 30)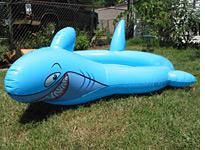 ToyQuest Banzai Shark Spray Pool, $15.79 at Target This looked like a winner, but looks, as we know, can let you down. On the plus side, it's a breeze to set up; we'd pumped it by the time the kids had their suits on. And it's got a cute little built-in sprinkler on its head that you can attach the hose to. That's supposed to add a thrill to the swimming experience; mostly it just spritzes your lawn and runs up your water bill. When it comes to bite for your buck, you can do better. This model's too shallow to let you do more than get your ankles wet. Yeah, it looked fierce at first, which caused my 3-year-old some anxiety, but after five minutes he was bored. You want scary water fun, pop in Jaws.
Pump and fill: 7
Durability and capacity: 5
Splash factor: 3
Total: 15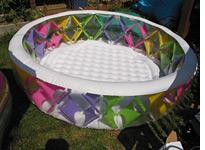 Intex Pinwheel Pool, $33.99 Props to the Pinwheel for its generous diameter, which allows both tykes and big folk plenty of room to maneuver. (Our friends did some fabulous spinning in it.) And it's deep enough to get more than just your feet wet. The ample size, however, means that you may spend from now until Labor Day pumping and filling. And while the clear side walls with colorful inserts looked pretty, they couldn't take the pressure; they started to sag the first time somebody sat on the edge, and they never bounced back.
Pump and fill: 5
Durability and capacity: 6
Splash factor: 5
Total: 16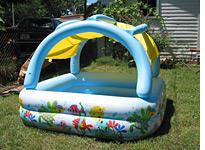 Intex Sun Shade Pool, $34.95 I'm something of a sun-phobe, so a pool with an attachable sun canopy sounded great to me. While I still slathered my offspring with sunscreen, I felt less neurotic about having them out on a blazing afternoon when the pool came with its own shade. But the Sun Shade didn't entirely satisfy. The wee patches of Velcro that hold the canopy in place don't work that well, so the contraption winds up listing like the Tower of Pisa. Add a boisterous jumper to your swimming posse and you'll spend a lot of time reattaching the canopy. Still, the kids got a kick out of the tentlike effect, and it gave them some extra shade. Plus the pool itself is nice and deep, doesn't take up the entire back yard, and has fun fishy motifs on the sides.
Pump and fill: 6
Durability and capacity: 6
Splash factor: 7
Total: 19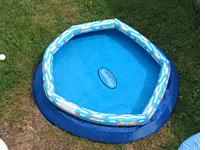 Swim Ways 60" Spring Pool, $34.99 It ain't flashy, but if you're looking for a kiddie pool that can go wherever you do, the Swim Ways Spring Pool is for you. It folds up handily into a slim bundle that tucks into a mesh carrying bag (included). Another plus: Only the top ring requires inflation, and you don't need a pump—two minutes of old-fashioned mouth-to-valve blowing and it's ready for water. Like the Surf Club Rapid Set, however, the Swim Ways needs to be nearly full before you venture in, or the soft sides won't support the inflated rim. And don't try sitting on it, either—the sides will collapse. The Swim Ways is best equipped to handle two or three kids under the age of 6 or so; more than that and your swim session turns into a traffic jam. The color scheme and tropical-fish theme aren't exactly fresh, but the effect is cheerful. And you can't beat its portability. Have pool, will travel.
Pump and fill: 8
Durability and capacity: 5
Splash factor: 7
Total: 20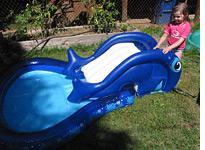 Banzai Slide 'N Splash Whale Pool, $24.99 Unlike our sharky friend, this guy made a real splash. It comes in two parts—a shallow, bright-blue basin and a detachable, inflatable slide shaped like a happy blue whale. The kids had a blast somersaulting down the whale's back (before we added water!), and the thrill didn't wear off, even after a good half-hour of whale riding. To feed the whale's spout, you attach the hose to a separate nozzle. For some reason, unlike the shark pool's equivalent, the sprinkler in this model went over big—maybe because whales actually have spouts. If you're looking for a grown-up-friendly pool, alas, you'll have to look elsewhere. The basin's too shallow to allow much swimming. It's more of a landing pad for the slide than anything else. We love you anyway, Slide 'N Splash Whale!
Pump and fill: 7
Durability and capacity: 6
Splash factor: 9
Total: 22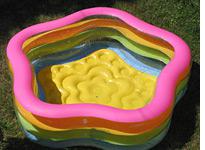 Intex Swim Center Summer Colors Pool, $23.99 It didn't look like much in the box, but this pool turned out to be the sleeper hit of the summer. Its stacked rings and padded floor required extra pump work, but the separate layers made for extra-sturdy side walls—a weak spot in many inflatable pools—tough enough for several kids to balance and jump on without visible damage. It's plenty deep enough for the average 4-year-old to float and kick in. Larger people might find it a squeeze; three kids (or one kid and one adult) are about all it can handle at one time. But with its soft pentagonal flower shape and Miami-bright colors, it packed the biggest aesthetic punch of our test models. And it added a nice dash of color to the back yard. If Andy Warhol had designed a kiddie pool, it would look like this. Summertime, and the swimmin' is groovy.
Pump and fill: 7
Durability and capacity: 8
Splash factor: 8
Total: 23
---