Spoiler alert: This piece gives away the ending of Bridge to Terabithia.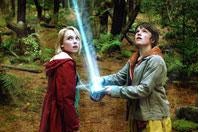 Katherine Paterson wrote the 1977 children's classic Bridge to Terabithia after her son David's best friend, Lisa Hill, died at age 8 after being struck by lightning. "I was trying to make sense of a tragedy that made no sense," Paterson says in this interview with Christianity Today. In the book, a girl named Leslie Burke moves in next door to a chore-ridden farm boy, Jess Aarons, and imagines for him a kingdom she names Terabithia. Over a fall and winter, they ride the bus home from school together (sharing a seat in spite of catcalls from schoolmates), dump their backpacks at the edge of the road, and run across an empty field to the edge of a creek bed, where "someone long forgotten had hung a rope." They use the rope to swing across the gully into Terabithia, a wooded glade that Leslie makes magic. Until the day the rope snaps and she falls to her death. When I read the book at 10 or 11, it was frightening and absorbing precisely because Leslie's accident felt unexpected, random, senseless.
But when I saw the new movie of Terabithia—co-written and produced by David Paterson—I watched it through the eyes of a parent. This time, Leslie's death seemed senseless, but not random. This is a story in which the adventurous child dies and the cautious child lives. Yet somehow the lesson is not that Jess and Leslie should never have swung on the rope to their enchanted spot. Rather, the story suggests how "death is always at the back of risk and beauty," as the friend I saw the movie with put it. That message, of life's indelible tragic contours, helps explain the power of Paterson's story 30 years after it was written and its relevance for our addled child-rearing times.
In the movie, Leslie's death is in the air, and in the musical score, the minute she spots the rope and rushes for it. She sees it hanging from a branch high above the creek bed, climbs onto a stump for a better perch to swing from, and soars out over the water. Jess tries to keep Leslie off the rope at first, warning her that it could be dangerous. (Send me an e-mail if you know exactly what he says.) (Update: Thanks to readers. Jess' line is, "It's been there forever, I wouldn't trust it.") Leslie ignores him, and the film shows each of them in their exhilarating moment of flight, faces tilted toward the sky. The rope becomes part of their afternoon ritual. Leslie's fall from it months later happens off-camera.
The foreshadowing in the book comes much later in the story. Leslie and Jess go to the crossing and find the creek in the gully roaring, swelled by rainfall. Jess looks at the rope, and Katherine Paterson writes that "his stomach felt cold." "Maybe we ought to forget it today," he says. But Leslie answers, "'C'mon, Jess. We can make it." They do. The water continues to rise, and Jess begins to dread their return visit. "It wasn't so much that he minded telling Leslie that he was afraid to go; it was that he minded being afraid." The next morning, a Saturday, Jess' adored music teacher offers to take him on his first trip to an art museum. Jess is an artist who draws "the way some people drink whiskey," and he leaps at the invitation. He could ask if Leslie can come along, but he doesn't (he wants the teacher to himself). Leslie tries to cross to Terabithia on her own, and the old rope breaks.
The novel Bridge to Terabithia has a strong and real boy-girl friendship at its center, a well-handled class divide (Jess's hardscrabble farm and Leslie's comfortable home), and the revelation that bullies and monster-mouth teachers can be sympathetic, too. But the book is a Newbery Medal-winner and a staple of fifth and sixth grade English because of its unsparing rendering of Jess' grief: "Leslie—dead—girl friend—rope—broke—fell—you—you—you." And denial: The next morning, he eats two stacks of pancakes that "tasted marvelous." We feel both Jess' guilt for his absence and his anger at Leslie. "She went swinging on that rope just to show him that she was no coward. So there, Jess Aarons."
When people tell Katherine Paterson that they've given the book to a child whose friend has died, she worries it's too late, because the book works better as "emotional practice." But it's easy to understand the impulse, because one piece or another of Jess' grief will resonate. The book's death focus goes too far for some people. Terabithia is ninth on the American Library Association's list of most frequently challenged books. In an essay for the New York Times Book Review, she defends it by arguing that children need not only the happily-ever-after of fairy tales, but also "proper endings" in which "hope is a yearning, rooted in reality."
But forget the kids for a minute. What about parents, Leslie's parents, in particular?
For much of the book, they come off as dilettante-ish and neglectful in a benign way, as Paterson depicts them. But when they lose their daughter, they become their best selves. "She loved you, you know," Leslie's father says to Jess, this local boy who might have been relied on to keep his daughter away from an old unreliable rope. "Thank you for being such a wonderful friend to her." That's it. No questions. Of course, Jess is asking himself why he wasn't with Leslie that morning and why he didn't insist that they find another way to cross the gully. Given that, it is an act of enormous generosity that Leslie's parents don't suggest blame, don't even ask the basic wheres and hows.
Would most of us be so generous? And would we accept a risk-taking child's death without pulling all the other children indoors? If Leslie's death isn't random, then it could have been prevented—couldn't it?
Experts increasingly caution that in shielding our kids from danger, we end up putting them at more serious risk by standing between them and the skills they need to become self-reliant. It's a crucial principle, especially as children's lives and play become more constricted. (How many 10-year-olds do you know who get to roam in the woods?) But the idea of letting kids wander freely is awfully hard to hold onto when you contemplate even the remote possibility of your child's death.
Bridge to Terabithia doesn't address any of these fears directly. Instead, in the last scene, Jess nails boards across the gully. Then he leads the younger sister who worships him "across the bridge—the great bridge to Terabithia." The movie nearly wrecks this moment by bursting into Disney fantasy. The screen goes technicolor as a friendly giant troll and hordes of wood fairies and creatures show up to greet the king and new princess. But no matter. The point is that the kids know how to keep on growing. And the parents leave them to it. Paterson's proper ending is for all of us.