More and more, the American worker brings work home. In our never-ending quest for greater productivity, we find ourselves getting a head start tonight on tomorrow morning's meeting. Reading up on next week's presentation over the weekend. Toting a company laptop between office and home office.
All this to and fro necessitates a sturdy, functional, roomy (and, ideally, stylish) work bag. The ideal bag will fulfill three roles: 1) You can wear it to work every day, transporting all those books and papers; 2) It must be designed to hold and protect a laptop computer; 3) It works as an airplane carry-on for business trips, keeping your work easily accessible on the plane and your boarding pass and passport easily accessible in the security line. Which bag best fits the bill? I tried seven different models in search of a winner.
Given my criteria, I limited my search to briefcases with shoulder straps. A backpack doesn't work with a suit (and makes you look like the summer intern), and while some might prefer the classic simplicity of an attaché, in my view the substantial weight we lug around these days (the laptop, a few thick documents, a bottle of water for the plane) makes a shoulder strap imperative. As for materials: I tried a range, including expensive leather, less expensive leather, fake leather, ballistic nylon, and plain old nylon.
For consistency, I placed the same 10-pound hand weight in each bag before shouldering it to gauge how the bag carried the load. I also swung each bag around violently by its strap, with the weight still inside, to see if the straps might fray or rip free. (None did. Which I'm glad of, as otherwise a 10-pounds-plus missile would have gone airborne in my apartment.) I also used the bags in various situations, bringing them back and forth to Slate's office, experimenting with how much stuff each could plausibly fit, and taking one on an international flight. Finally, I submitted the bags to the judgment of trusted friends and family. My test crew included both men and women, in a mix of professions: an attorney, an academic, a musician, and a social services do-gooder.
Below, my findings, from worst to first: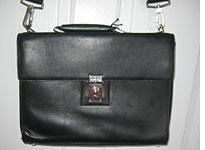 Kenneth Cole Flapover Computer Briefcase, $250 Dimensions: 11.5" x 15" x 4.25"Some immediate problems here. First off, this bag has a lockable latch. This sort of Lilliputian lock has no purpose, as it's flimsy enough for a thief to easily overcome. And that's assuming you can lock it in the first place: Despite countless tries, I never managed to get the key to engage the tumblers (which is probably lucky, as, once locked, I'm quite certain the bag would have resisted all attempts to open it again). Even when unlocked, this latch is a bit fussy—not something you want to deal with if you're constantly packing and unpacking items.
Looks-wise, the bag is handsome enough with its expanses of cowhide leather. (Though it's perhaps a bit butch for most women's tastes.) Unfortunately, I was not impressed by the construction quality. The seams and rivets appear likely to give out after a year or two of hard use. And while it features a nice padded interior compartment for a laptop, this bag could use a few more easy-to-get-at exterior pockets—the kind suited for tucking away a magazine you buy at the airport kiosk or for keeping your boarding pass handy at the gate.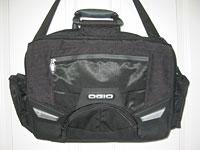 Ogio Boss SS, $199 Dimensions: 13" x 18" x 7"While the Kenneth Cole bag was lacking in storage compartments, the Ogio has way too many. Oodles of flaps and zippers everywhere you look. And not one but two geeky mesh water-bottle holders appended to its sides. Ample storage options would seem like a plus, but there's no elegance to the design here. It feels haphazard. And the bag is far too heavy. The Ogio strives to exude techie functionality (with its countless device-specific pockets for cell phones, PDAs, and so forth), but instead it looks nerdy and silly. It will appeal solely to the lamest of Silicon Valley lame-os.
It should be noted that Ogio's calling card is the "Shling System" (originally designed for its golf bags). This is a neck-circling, horseshoe-shaped harness that spreads weight evenly onto both shoulders, replacing the traditional strap (though Ogio provides a traditional strap, too, if you want to forego the Shling).
The Shling is meant to be ergonomic. And it does distribute weight comfortably. But it also looks like a scoliosis brace. No sexually active person will want to be seen in it. One tester was frightened just to be in the same room with the thing. She refused to try it out on the grounds that it "makes me feel like I'm Deenie."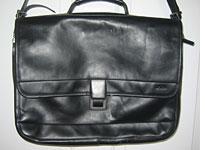 Hartmann Computer Brief, $495 Dimensions: 11.5" x 16" x 5.25"Hartmann makes a lot of good-looking, traditional luggage, and this briefcase fits that mold. It's got sumptuous leather on the outside and a neatly finished canvas lining on the inside. There's also a padded laptop compartment (though the padding seems rather sparse for a bag with computer in its name).
I have two main problems with the bag. The first is that I hate its flap-over design. Yes, this is a classic, clean look (also found on the Kenneth Cole briefcase). But I think that functionality-wise, it's a design that belongs in the past. In an age before zippers, big flaps were the best means of securing a bag's contents. Now they get in the way. To reach an item inside this bag, you must first unlatch and lift up the outer flap, and then unzip the compartment revealed beneath. Why not eliminate the first step, as many zip-top briefcases do? 
The second problem here: price. This is way too much money for a bag that's not head and shoulders above (and in some cases is inferior to) its competition.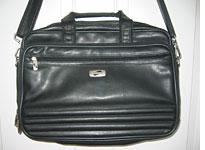 American Tourister Double Gusset Computer Case, $29.99 Dimensions: 11.5" x 16" x 4"Here's the flipside of the Hartmann bag: wonderful price, unattractive styling. This American Tourister portfolio is highly functional, with well-placed exterior pockets, file dividers, and some padding for a laptop. It's a good size and shape—big enough to hold a reasonable amount of stuff, small enough not to dwarf you when it's hanging off your shoulder. The bag appears relatively durable, too.
The only real flaw here is aesthetic: This is some supremely ugly material. American Tourister's description mentions a "stylish leather-like exterior," but I'd put the emphasis more on the "like" than the "leather." The bag has that nose-crinkling, I'm-not-leather smell. Also, there are some unattractive stitching details. And a big metal "American Tourister" logo dominates the bag's look. But again, all aesthetics. This is still a terrific deal if you don't mind looking like you spent $30 on a fake-leather briefcase.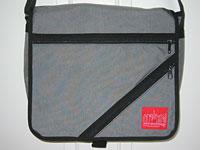 Manhattan Portage Westside Laptop Bag, $89 Dimensions: 11.5" x 13.5" x 4.5"This bag is nothing like the others—it's made of a simple nylon, with an unpadded strap. It's really just a bike messenger's sack with a padded laptop compartment sewn in. Yet it was much praised by my test crew. Partly this is due to its lack of pretension: Among my testers, the musician and the social services do-gooder felt much more comfortable with this plain old bag over their shoulders than with some fancy leather case. The attorney said she'd never bring something this casual to work, while the academic said she'd opt for this bag as a knockaround and for one of the shnazzier bags for more formal contexts.
Were this my bag, I'd likely slice out the large red logo on the front. Not only is it too big and glaring for my taste, it also gives me flashbacks to dot-com-era New York—when this brand swept the city and became irritatingly ubiquitous among a certain hipster demographic. Overall, given the bag's price and generally solid craftsmanship, it's a good pick for anyone who doesn't mind a slightly scruffier look. I do think this bag's zippers are the most likely to fail under stress, though. And the main compartment is too small to carry a lot of big files or books. Caveat hipstor.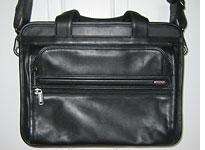 Tumi Generation 4.4 Small Expandable Leather Computer Brief, $395 Dimensions: 11.25" x 14.25" x 3"I've had fantastic experiences with Tumi products. Their luggage lasts forever, is intelligently designed, and is even a bit suave. This briefcase is yet another winner.
Pockets and zippers are exactly where you'd like them to be. Everything is double reinforced. These zippers won't break no matter how absurdly you overstuff the bag while still trying to zip them.
Two negatives. First: I tried the leather version of this bag, but given the choice again, I would have opted for the ballistic nylon. The problem isn't with the leather, which is high-quality, thick, buttery stuff. The problem is that the aesthetic approach doesn't seem tailored to the material—this looks like a nylon bag that's been made with leather, instead of a bag designed to be made with leather from the get-go. The good news is that the nylon version has all the same functionality, still looks expensive and stylish, and costs significantly less at $250.
Second problem: This bag feels a teensy bit small, even when expanded. It won't fit a laptop any bigger than a 12-inch ultra-skinny variety. And there's not a ton of room left over for books and papers (though still more than with the Manhattan Portage bag). It's a perfect size, however, for a smaller person or for someone who doesn't expect to carry big loads and likes a sleeker, slimmer bag.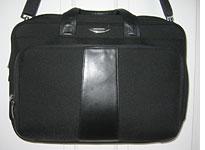 Zero Halliburton 4" Deluxe Briefcase, $250 Dimensions: 12" x 17" x 4"Yes, this luggage brand originally had ties to that Halliburton. (Texas oilman Erle P. Halliburton invented a rugged case for slogging through dusty, forbidding oil fields.) But the two companies have been unrelated for decades. Zero Halliburton is now best known for its superior luggage lines made of aircraft-grade aluminum. This bag is instead made with a super-souped-up nylon (which Zero Halliburton calls "ballistic twill"), but it, too, is pretty much flawless.
To start, that ballistic twill stuff seems totally impervious to damage. It's also attractive. My attorney tester felt this bag looked "hot." It's big enough to hold huge piles of papers, business cards, and various executive doodads, yet it never looks bulky. Both the craftsmanship and the materials—from the thick zippers to the tough metal hardware connecting the shoulder strap—are superb.
Perhaps the bag's strongest point is the attentiveness of its design. A quick-access front pocket opens up to reveal a perfect array of small compartments (for pens, cell phones, passports, etc.), but can then be instantly zipped to hide all this clutter away. The computer sleeve is thickly walled, with a Velcro closure to hold your laptop firmly in place. The strap has a wide, soft leather pad that's a tremendous comfort to a burdened shoulder.
Really, I wouldn't change a thing about this bag. At $250, it's competitively priced and an excellent value. And it's our champion.
---