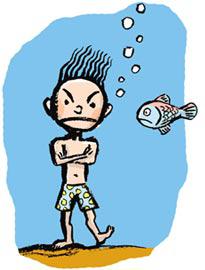 "You'll only build a sand castle with me if I swim to the dock?" My 6-year-old son, Eli, asked my husband, Paul, this question a couple of weeks ago as they stood on the shore of a Maine lake. Eli didn't sound plaintive; he wanted to make certain that he had his facts right. Paul replied in a deliberately even tone, "No, I'm going to swim to the dock right now and I think it would be fun for you to come. But if you don't want to, I'll build a sand castle with you when I get back."
If this sounds all too practiced, that's because Paul has been waging a campaign to get Eli into the water for several summers now. My husband comes from a family of avid swimmers who revel in jumping into lakes—the colder, the more memorable. When Paul's father tossed him into freezing water in Nova Scotia as a kid, he howled in protest, but nonetheless considers the episode a badge of honor—baptism by ice. Eli, however, hasn't been a bearer of this family tradition. Much of the time, he is the sort of child who loves to please, but persuading him to put his head under water took great effort, and he's even been skittish about playing in shallow water in which he can easily stand. During past summers, Eli has spent vacation weekends on the sand or at the side of the pool, keeping all but an occasional toe dry, his refusals becoming louder and firmer the more we tried to coax him. This has led to Paul asking me uncharacteristically surly questions about why our kid is acting like a ninny.
The struggle to get Eli to swim has taught me how much easier it is to act and feel like a good father or mother when your child easily follows your lead. When parents talk about their babies who sleep through the night or kindergartners who read to themselves, a note of inevitable pleasure creeps into their voices as they explain how the child's signature achievement is the output of their inputs. We may pretend to humility ("I mean, not that I realized what I was doing …"). But don't be fooled. When we're proud of our kids, we're usually sure they have us to thank. The corollary of this smugness is that if a child is generally adept at fulfilling expectations, we wonder what we've done wrong when he or she fails to. Watching Eli in the water, I started thinking that Paul and I shouldn't be trying to teach him to swim ourselves. In the end, I learned, we weren't wrong to try. We were just trying too hard.
The American Red Cross has taken the lead on swimming instruction in this country for nearly a century. The organization says that this is all because of one man, Commodore Wilbert Longfellow, who saw the death toll from drowning as an impending national tragedy and started a Red Cross lifesaving corps in 1914. During World War I, the Red Cross taught soldiers to swim with full packs and in combat conditions. By the 1920s, the organization had established two national institutes to train swimming instructors. The initial emphasis was on lifesaving and elementary swimming. That led to the step-by-step program familiar from camp and the YMCA.
When I was a kid, you moved from "Beginner" to "Advanced Beginner" to "Intermediate" to the hallowed designation of "Swimmer." In 1992, the Red Cross got rid of the names—it says the progression was hard for some kids and parents to remember—and replaced them with numbers, from Level 1 to Level 6. Kids still get a card for completing each level, and according to my 12- and 7-year-old nephews, Zachary and Matthew, this remains a prime motivator. The program looks like what we've failed to develop in so many other areas of education: a national set of standards. Almost 2 million kids participated last year. The Red Cross would like to raise that number, especially in minority communities: According to the Centers for Disease Control and Prevention, black children drown at twice the rate of whites.
Since 1957, when the Red Cross kicked off the separate program "Teaching Johnny To Swim," the organization has also urged parents to help their kids get used to the water. For infants and toddlers, that involves classes that children attend with a parent (or another adult) as well as an instructor. And the Red Cross urges the parents of older children to spend time with their kids in the lake or the pool. The idea is that kids are encouraged to learn to swim if they're around water often.
But when a child is ready for Level 1 instruction—depending on maturity, perhaps at age 5 or 6—the organization thinks that ideally instructors, not parents, should impart the requisite skills. "When I taught swimming, the rule was that the parents stayed behind the glass in the hallway," says Don Lauritzen, a Red Cross health and safety expert. "We didn't want them creating a distraction and extra pressure by shouting out if they saw their kid doing something incorrect."
I like to think that Paul and I would never be so unrestrained. But pushing Eli to do new things in the water (Blow bubbles! Float!) was probably the psychological equivalent. We'd have been better off putting him on his stomach in the bathtub, pouring water on his head, and giving him more time to splash around there. I learned this from my sister-in-law. Her three children have taken to swimming more easily than mine, and when I watched their youngest, Elena, play in the tub as a baby last year, I understood why. The Red Cross calls this "water adjustment." Elena, of course, just thinks it's fun.
What of Eli's swim to the dock on our Maine vacation? He decided to swim with Paul that morning, but insisted on lying on top of a raft while he kicked himself across the water. I demonstrated the kick for the breast stroke and expected him to try it; naturally, that went nowhere. The breakthroughs began later that week: Eli swam to the dock on his own when he got to know a bunch of kids around his age who were comfortable swimming and wanted to go with them. A few days afterward, we hiked with his cousins to a mountain swimming hole. The water was bragging-rights chilly: Paul leapt in. Eli hesitated. But then Zachary and Matthew jumped. They climbed out and did it again, this time from a higher rock. Eli watched them jump and whoop with Paul a few more times. And then he jumped, too.
---