A month before our daughter was born, I had what I call the Bugaboo Epiphany. Until that moment, I'd felt largely ignored by the Baby Industrial Complex, which, like the wedding business, primarily targets women. But as I assembled the curved aluminum frame of our Bugaboo Frog stroller, the satisfying clicks reminded me of a solid mountain bike or piece of camping equipment. Here was a product I could relate to—one that acknowledged the dad-to-be. Whatever the challenges of impending parenthood, as long as I had my Bugaboo, I wasn't an interloper in a ruffly, all-female world.
Or so I told myself. Emotions run high during a pregnancy, and baby marketers capitalize on them by selling new parents myriad products they couldn't have imagined when they conceived. Not every purchase is of equal import, of course. But because they are used so frequently, and in public, strollers end up carrying a heavy symbolic load. Strollers communicate who you are—and who your kid is—the way your car does in Los Angeles or your shoes do in New York.
The panoply of models and options can make stroller shopping confusing, especially for first-time parents. In the hope that it will help new parents choose their own right rig, here is what I found after several weeks of road-testing six popular strollers.
Methodology
Strollers, like cars, slot into market categories based on size, performance, and intended usage. I evaluated two strollers in each of three categories: traditional/travel systems (wagons/minivans); ultra-lightweight/umbrella strollers (compacts); and all-terrain/urban strollers (SUVs).
To evaluate the user experience—for both driver and child—I evaluated each stroller on the following: aesthetics and design; performance (Is it a smooth ride? Easy to open and close? Portable? Comfortable for the child?); safety; extras (Are the cup-holders, storage, console, etc. useful?); value (Is it adaptable to different ages and uses?); and finally, fit (Does it suit the needs of the intended user?). Users are as varied as strollers, and minivan-driving suburbanites face quite a different strollerscape than subway-riding city dwellers.
To test the strollers, I enlisted the help of my 16-month-old daughter. We live in both Manhattan and Washington, D.C., so I was able to run each stroller through a wide range of urban and suburban settings. I tested them on the subway and Metro; sidewalks, cars, and parking lots; gravel, paving stones, carpet, and marble; and in Central Park and the National Zoo, which, on weekends, appears to have the highest concentration of strollers in the Western world. And in a gesture of journalistic thoroughness, I made repeat visits to one of D.C.'s most congested malls. (You're welcome.)
Here goes:
Traditional Stroller/Travel System
Consider these archetypal strollers to be child-sized lounge chairs on wheels—souped up with cup-holders, consoles, canopies, and storage bins. (A travel system is a stroller that can hold an optional infant car seat.) While these models aspire to be all-purpose strollers, they often serve as extensions of the home (or the car)—mobile base stations to be loaded up with diaper bags, bottles, lattes, toys, jackets, shopping bags, even a baby.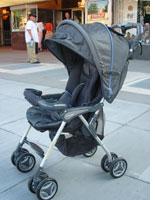 Combi Ultra Savvy Price: $249
The Driver Experience: At first, the Japanese Combi feels so light it's almost disconcertingly insubstantial. Although it consists of a pillowy recliner perched on aluminum-sticks-on-wheels, the dominant feeling is plastic: The handle, joints, and child's cup-holders are all made of high-gloss plastic, which gets uncomfortably sweaty and greasy immediately.
On the road, these hinged joints produce a soft, almost floppy flexibility that makes the Combi feel more like an extension of your body than a piece of equipment. This phenomenon goes unnoticed on smooth surfaces, but on rough pavement, the Combi quivers in an unsettling manner, especially in the handle. While its lightness made it easy to hip-check the Combi up or down stairs, hand-trucking down a curb was a nuisance. With barely room for a bottle, keys, and a cell phone, the tiny removable pouch on the handle is about as useful as the pockets on a tight pair of jeans.
The Passenger Experience: The Combi's lack of rigidity went a long way to smoothing out the kid's ride. Like all but one stroller tested, the Combi has a padded, five-point harness to keep the baby safely strapped in. The soft seat reclines fully and stays cool, thanks to mesh air vents in the seatback. One much-touted feature, tiny pockets for the kid's MP3 player and speakers, didn't impress my normally musical daughter.
Who It Is Suited For: Car people and occasional stroller pushers who don't sweat much (that handle would really bug me if I had to grip it every day). People who rarely venture onto rough pavement—and who don't mind the Combi shimmying when they do.
Celebrity Parent-Spotting: Gwyneth Paltrow drove one in Manhattan; Colin Farrell carried his son in one across a Miami beach. (Apparently, it doesn't do well in sand.)

If It Were a Car, It Would Be: a small, efficient, stylish-yet-plasticky Japanese sedan like the Toyota Matrix.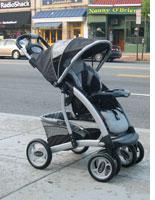 Graco Quattro Tour LX Price: $159
The Driver Experience: Despite Graco's bulky, styleless canopies and consoles, the Quattro Tour is one of the nicest-looking strollers available at any price. Its console has a host of carlike features, including giant cup-holders, a drop-down eyeglass case, and, oddly, a digital clock.
But it's also big and heavy, and it felt bigger and heavier the more I pushed it. The handling, turning radius, and wheel vibration on rough pavement reminded me of a Costco grocery cart. Stairs were another urban shortcoming. The structure of the wheelbase makes it difficult to drive down a staircase; when I tried it, the kid bobble-headed around so much, I'm sure she lost her shot at Harvard. And going upstairs was a two-person affair. Throw a grocery bag and a Big Gulp on this thing, and a staircase'll stop you as sure as a brick wall.
Even closed, the Quattro is big. It's unlikely to clutter many hallways, however; the Quattro's natural habitat is clearly the minivan.
The Passenger Experience: My kid loved her "king of the world"-style seat, but the distance between us kept us from interacting much. And the heavy frame made for a bumpy ride up front. She quickly and repeatedly slipped out of the shoulder harnesses.
Who It Is For: Soccer parents looking at a lot of mall excursions.
Celebrity Parent-Spotting: None that I'm aware of, although actor Christian Bale was spotted with a Graco infant carrier.
If It Were a Car: a Chevy Astro, a delivery truck reskinned as a minivan.
Traditional Stroller Verdict: Though both are underwhelming, I'd opt for the Combi. It has its compromises, but it's a decent, relatively versatile general-use stroller. It's reassuring to know I can carry it if I have to, and it doesn't take up the whole trunk. I still like the Graco's lines, but I'm content to admire them from afar.
Umbrella-Style
If traditional strollers are La-Z-Boys on wheels, mesh-over-metal frame umbrella strollers are rolling lawn chairs. Ultralight, compact, portable, and typically sporting seats that don't recline, umbrellas aren't suitable for infants and kids who can't sit up on their own. So, unless you stay inside until your kid is 8 months old, this won't be your first stroller.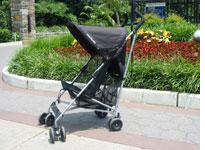 Maclaren Volo
Price: $99
The Driver Experience: Light, maneuverable, and expensive, British-designed Maclarens were standard-issue for generations of yuppie parents. The Volo is the sparest model from this company, which invented the umbrella stroller nearly 30 years ago. Its angled aluminum frame supports a single-layer mesh seat and a wispy storage net.
The Volo is instantly responsive and steers with a twitch of the wrist. If your stride is much longer than a toddler's, watch your feet. Both my wife and I repeatedly clipped the tops of our feet on the lower frame. (Hustling through one crosswalk, it drew blood.) We brought the Volo on a trip to Sun Valley, and it worked fairly well, although it bogged down in gravel and shook on a dirt trail. But with its simple flop-and-step opening, the Volo made travel efficient and painless. Except for the whole blood thing, of course.
The Passenger Experience: The seat is quite low to the ground, and my daughter liked it enough to curl up in it with a board book at home. The five-point harness clicks together easily but takes more effort to open; the kid can snap herself in, but she can't undo it, which is how you want it.
Who It Is For: Travelers, city folks who make quick, frequent trips out. (Longer excursions would probably be better in a padded, reclining model.) A good second stroller.
Celebrity Parent-Spotting: Maclaren's Web site actually has a celebrity gallery, including an infant Prince William riding in a period stroller. Who knew?
If It Were a Car: a Mini, of course: practical and peppy.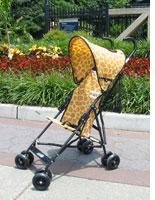 Geoffrey Toys "R" Us Times Square Price: $21
The Driver Experience: The Geoffrey is the branded, giraffe-print version of the barest-bones stroller out there: a mesh seat over a tubular steel frame with a uselessly tiny canopy and mesh storage bag.
The rubber-coated, curved handles are shaped like umbrellas, and they were too low for me and most everyone I saw pushing these rigs; we all drove hunched over. Don't bother hanging any bags on these handles, either. While the Geoffrey falls open easily, closing it is scary and involves flipping a spring-loaded safety lever that looks the business end of a box cutter.
The Passenger Experience: With only a three-point harness (no shoulder straps), the kid seemed free to go tumbling into the street at any moment. (She didn't, of course.) In one- to two-hour stints and when granted liberal pushing privileges, the kid didn't complain.
Who It Is For: The family in Times Square in immediate need of a stroller. The Geoffrey won't win any comfort or ergonomics awards, but this cheap, light rig hauls a tired kid around just fine, at least for the day.
Celebrity Parent-Spotting: Ummm …
If It Were a Car: a college student's trusty old Honda Civic.
Umbrella-Style Verdict: The Volo is great, but is it four times as good as the Geoffrey? Probably not. You will get 60 percent of the way there with a $21 novelty stroller. If you can count the number of times you'll use it on your fingers, a cheap stroller could be as good as a top-of-the-line model. Of course, if you're going to use it regularly, or if you're the kind of person who won't consider the cheapest of anything, your decision's already made: the Volo.
Urban/All-Terrain Strollers
City sidewalks have seen a boom in the number of rugged, "all-terrain" strollers. Like SUVs, they inspire passionate opinions, pro and con. But unlike SUVs, which are designed for off-road adventure drivers may never face, strollers in the city encounter plenty of potentially rough terrain—grass, cobblestones, gravel, potholes. All-terrain strollers are practical for many urban dwellers.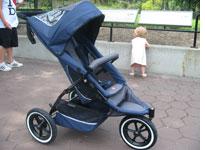 Phil & Ted's e3 Buggy Price: $489
The Driver Experience: Originally invented for running around New Zealand, the three-wheeled Phil & Ted's squeezes versatility out of a specialized design. With its wedgelike seat cantilevered over big balloon tires (the front pivot locks for jogging) and a tubular steel base, the e3 feels a bit too bottom-heavy. The tires give a smooth ride, but they also limit maneuverability; I was quite clumsy navigating in and out of small shops in the West Village. And while opening the e3 is straightforward, folding it is inexplicable. I schlepped it up and down subway stairs OK, but elevators were a welcome sight. Nonetheless, it repeatedly impressed me with its thoughtful, functional design.
The Passenger Experience: The seat design is simple, smart, and clean. It can hold a car seat, and it can be used safely from birth. * Thanks to a series of zippers and straps, the seat converts into a bellowslike cocoon for an infant or a sleeping child.
The e3 suits one kid fine, but the real genius comes later when the second kid arrives and you swap out the underseat storage basket for a second seat. It's a city parent's dream: a double stroller with the honest-to-goodness sidewalk presence of a single. So what if one kid has to stare at the other kid's butt? It's a small price to pay for not decamping to the suburbs.
Who It Is For: Outdoor-loving city-folk who fear that a doublewide stroller sets them on the slippery slope to minivans and three-car garages.
Celebrity Parent-Spotting: Does famous Down Under count? Australian swimmer and Olympic gold medalist Susie O'Neill and New Zealand rugby great Sean Fitzpatrick both drive e3s.
If It Were a Car: not an actual SUV, but a four-wheel drive sport wagon, like the Audi Allroad.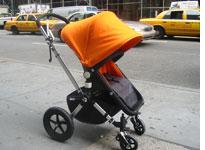 Bugaboo Cameleon
Price: $879
The Driver Experience: The source of my fatherhood epiphany, the Dutch-designed Bugaboo Frog hit the U.S. market in 2003 after a cameo on Sex and the City. Its eye-catching shape, versatility (it converts from a bassinet to a seat, which can face either forward or toward the parent), and price (around $700) have since been widely copied. It became the must-have stroller for people who think of products in terms of "must-haves." Bugaboo introduced the Frog's slightly larger, more expensive successor, the Cameleon, in August.
The Cameleon boasts an adjustable, foam-covered aluminum handle. Thanks to a new, adjustable front suspension, the Cameleon's ride is smooth, and its handling nimble; it can practically pivot in place. Driving with one hand is a breeze, and the longer wheelbase takes curbs and stairs easily. One drawback: The Bugaboo's rubber wheels make a terrible racket rolling across polished marble floors.
Traveling in cars and taxis is relatively painless, but the Cameleon inherits the Frog's biggest shortcoming: the acrobatics required to open and close its two-piece (i.e., seat and frame) construction. It gets easier with practice, but it still kind of bugs me.
The Passenger Experience: Sweet. Our daughter slept in the bassinet until she was 3 months old, and we'd wheel her around the apartment. It was very convenient. Optional adapters (sold separately) allow you to attach a car seat to the frame as well.
Who It Is For: Design-conscious urbanites; people who get "a few good pieces" and pick up the rest at IKEA; indulgent grandparents; celebrity parents and the people who copy them.
Celebrity Parent-Spotting: Heidi Klum and Seal, the Paltrow-Martins, Liv Tyler.
If It Were a Car: It used to be an Audi, too, but at these prices, it's a Mercedes G-Class.
Urban/All-Terrain Verdict: For innovation and function, the e3 and Cameleon are close, but for refinement and status symbolism, the Cameleon pulls ahead. That said, in some ZIP codes, Bugaboos are now as common as, well, Mercedes G-Classes. Even though its design is less distinctive, if you're looking for exclusivity and uniqueness, Phil & Ted's is the way to go, at least for the moment.
What did this road test teach me? Expensive strollers are often much better than cheaper ones, but they're not necessarily worth it. Expectant parents would do well to first ask themselves who's going to use the stroller (mom/dad/caregiver), where (on streets, sidewalks, malls; with or without a car), and how (daily, on weekends, for vacation). And only then should you decide how much of the kid's college fund you want to blow on his new wheels.
Correction, Oct.25, 2005: An earlier version of this article mistakenly stated that Phil & Ted's e3 Buggy cannot hold a car seat. With an optional adapter, it can hold a car seat. Return to the corrected sentence.
---