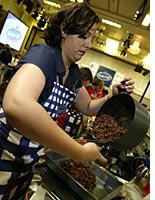 I've always thought of bacon as the one ingredient that can improve any dish: Its happy amalgam of salt and fat gussies up everything from asparagus to monkfish to quiche. But after watching The Million Dollar Recipe, Bravo's documentary about the 2004 Pillsbury Bake-Off, I have come to suspect that for much of Middle America, the great ameliorator is canned dough. The bake-off finalists press ready-made dough into waffle irons; they wrap it around a filling of mayonnaise, goat cheese, and sun-dried tomatoes; they top casseroles with it and underlay breakfast pizzas with it. One of the profiled contestants, a burly, observant three-time loser named Steve, recalls trolling the supermarket aisles, imagining everything he encountered encased in either biscuit dough or pie crust. One of Steve's friends, called upon to describe his cooking style, says, "Oh, he'll wrap those little croissants around whatever."
I'm sure Pillsbury is pleased with this doughy vision of the world, and with the sunny image of the contest Elise Pearlstein's documentary provides. The filmmaker visited seven of the 100 finalists in their homes before they all packed up for the big showdown in Los Angeles. Among the finalists—each of whom had his or her recipe selected from tens of thousands of submissions—there is a truly diverse range of socially conservative white Americans. There's Sita, a kooky bank-teller-cum-silversmith; Sue, a former Deutsche Bank VP; and Richard, a lanky Kentucky man who's an avid clogger. He is so respected in his community that he and his wife are described by a neighbor as "just like the Reagans."
Some of the finalists competing for the million-dollar grand prize are, like Richard, ardent cooking-contest fans. Others, like Sue, have entered their recipes on a whim. But all of the contestants practice a kind of blissfully prefab amateur cooking. In the Pillsbury Bake-Off, contestants must submit a recipe that uses at least two ingredients from Pillsbury's list of approved products. Since the brand is now owned by General Mills, the potential ingredients include not just canned dough and pie crusts, but also taco shells, organic frozen peas, and Lucky Charms. (Click here to see the list of eligible ingredients for the 2006 Bake-Off.)
The amateur chefs are charming. Their nervous oven-checking, wobbly parsley-chopping, and imperfectly crimped pie crusts serve as a sweet counterpoint to the ratatat knife-work and confident pan-handling of professional cooks on television. But the documentary never really answers the questions I'm dying to ask: Do the competitors regularly eat this stuff—the "Jalapeño-Chicken Crescent Pinwheels," the "Waffled Pizza Dippers," the "Inside-Out Taco Salad Wraps" or do they just rise to the challenge of the contest? At a certain point, doesn't the manipulation of ready-mades get to be as much work as making something from scratch?
Of course, the bake-off wasn't always about canned dough. The contest kicked off in 1949, when the company was promoting powdered neutrality itself: flour. According to Laura Shapiro, who examines the bake-off in her excellent history of midcentury cooking, the competition in its early years was a real tribute to the expertise and creativity of the American homemaker. Ready-made ingredients were forbidden. It was Eleanor Roosevelt who handed out the $50,000 first-prize check that first year. The winner was Theodora Smafield, whose No-Knead Nut Twists rose, unusually, in a bath of water.
The contest continued in this vein until 1966, the year of the Tunnel of Fudge. Though it was only a runner-up, the Tunnel of Fudge cake had a near-liquid center (presaging the molten chocolate cakes that plague us so today), and its popularity helped sell huge quantities of another American innovation, the Bundt pan. But the Tunnel of Fudge represented the end of the road for scratch cookery in the bake-off. That same year, as Shapiro details, Pillsbury renamed the contest the Pillsbury Busy Lady Bake-Off and began to use the competition to promote its ready-made doughs, urging competitors to strongly emphasize "ease and simplicity" in their recipes. Today, even Smafield's nut twists have been rejiggered; on Pillsbury's Web site the original oddball rising method is nowhere to be found.
There is something distinctly American about this hot-rodding of processed foods. I suspect Pillsbury products have been so successful over the years not because of their flavor, but because of the eminent adaptability of the dough. Americans value practicality and individualism in almost equal measure. By experimenting with processed foods, we can "create" signature dishes—different, but not too freaky—without much more than a dash of pesto seasoning or a well-placed dollop of salsa. What's more, with such bionic cookery, the fear of failure—something I think the food industry has cultivated—is low. This same aesthetic keeps Sandra Lee and her Semi-Homemade Cooking on television and makes the Cake Mix Doctor series—in which Anne Byrn tells readers how to customize cake mixes with sour cream, cocoa powder, and homemade frostings—so popular.
Despite this rich material, Million Dollar Recipe falls a little flat. The finals in LA are no Iron Chef. In a room full of 100 electric ranges, the competitors race a very slow clock, preparing their recipes at least twice in a five-hour span. Richard is nervous about the browning of his breakfast pizza; Steve dumps too much seasoning in one of his batches of shrimp-and-cheese tart; and in a lengthy close-up, Sita jaws through slivers of her marshmallow-Cocoa Puff bars, trying to decide which batch to submit to the judges.
Fans of reality television may be disappointed by such tame catastrophes. These days, when I watch people competing for a big-money prize, I expect backstabbing, mud-caked physical challenges, and the eating of banana slugs. But there are no doughboy divas here. Instead, the profiled contestants are downright mild, and the eventual winner the most docile of them all. Only Karen, from Greeley, Colo., has a glimmer of Tonya Harding-like rapacity in her cross-eyed gaze. Maybe food contests are truly amiable, but I can't help but think Pearlstein must have missed a few competitive sparks. Granted, they may be hard to detect among people who deal in the currency of hospitality. But there is a brief and tantalizing mention of a subculture of hardcore cooking "contesters," who enter everything from the county fair to the Redi-Whip recipe contest. Million Dollar Recipe skims right over this promising mania.
Perhaps it was unfair to hope that the bake-off—and its million-dollar purse—would bring out some naked, Survivor-style baking aggression. But I can satisfy my cravings for ruthless domestic conflict elsewhere. Martha's forthcoming Apprentice spin-off has potential. And until then, I'll happily turn to Craft Corner Deathmatch. This blissfully juvenile Style Network showdown pits scrapbookers and mosaic-makers against each other—in strobe-lit metal cages. The grand prize on CCD is usually something small, like a sewing machine, but those glue-gunners are out for blood.
---