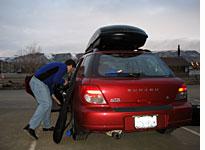 Today, Shagbark and I logged more than 800 miles in 11 hours heading east from Denver. The time in the car gave me a chance to do some thinking about why I'm on this trip. The immediate reason is that I've decided to relocate to Arlington, Va., to keep working for this great publication.
I started at Slate in January 1999 as a Web developer, doing mostly front-end work on the magazine's templates. When I first started, I had the opportunity to work with some incredibly gifted developers. Gradually, they all have left. I was given the role of lead developer, if only because the development team was down to just me. It meant a lot that Slate's brass had the confidence to give me more responsibility and ownership over the magazine you're reading.
When news of Slate's sale to the Washington Post surfaced, I was faced with a difficult decision—to leave Seattle, which I love, or to leave Slate. I deliberated for a long time, but in the end decided that I owed a lot to Slate for helping me grow professionally over the last six years. I feel an obligation to help get the magazine to the next level of profitability and recognition. It's an honor to be part of the organization and work with so many smart and creative folks.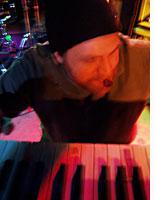 With the decision to move made, I had to get my car to Arlington, and I asked Shagbark to join me on the rock 'n' roll trip of a lifetime. Before we even figured out what we were going to perform (or how), we had shows lined up coast to coast. Then we set to working out this two-man band thing and coming up with material. Four shows in, I think we've played more shows than we practiced.
Shagbark is one of several musical friends I'll be leaving behind in Seattle. For two-and-a-half years, I've been playing guitar and singing in Awnings for Eyelids, a somewhat experimental rock band. It'll be hardest to leave behind Shawn and John, two other members of the band. We'd evolved to a point where we were spontaneously composing songs on the spot, creating melodies, rhythms, and harmonies without speaking to each other. That has always been a goal of mine. To get to those moments, it's important to turn off your brain from thinking consciously about what you're going to play next. Sometimes it's too hard to let go of your ego when you're playing, but that's exactly what it takes.
Another group I'm leaving behind is Supergroup, a collection of friends who are in other bands, but who got together every few months for fun. Shagbark was also a member of this band. He and Ian and Jon encouraged me to play as outlandishly as possibly. Sometimes I felt that I was overplaying, but they reassured me that that was just what they wanted.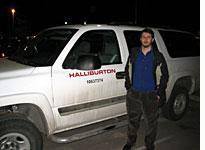 Playing improvisational music has really helped develop my ear and style. After playing guitar for 15 years now, I feel confident that I could hang with just about any other musician. I've also been focusing on songwriting a lot more, especially with Awnings for Eyelids. Lucky for me, one of my favorite songwriters is Shagbark and one of my favorite 2004 CDs is his "More Shit from the Bogus Captain." We're playing one of the songs on this tour, called "Alligator Hearts" (which I've renamed to "Elevator Carts" to honor the luggage carts we've been using each night to unload all the gear).
As the Crispin Glover, the band we assembled just for this trip, we can incorporate improv with playing some great songs by some of our idols as well as ourselves. We're playing songs by The Band, the greatest band that ever was; Mike Watt, the man who invented the rock 'n' roll tour; and Jon Brion, a one-man band who is the inspiration behind the Crispin Glover. Lately, we've been slipping in and out songs and improvisations. It is incredibly rewarding when those moments work.
We're setting out for Columbus, Ohio, in the morning. It looks like we ate up enough miles tonight to make the rest of the trip there in two days.
---