This entry was written on July 31, 2004
With just a few days left on my trip, I'm trying to pack in the meetings. To speed things up, I've rented a car. Thanks to the U.S. embargo—which makes U.S. credit cards useless in Cuba—I'm required to put down $400 in cash. That gets me a battered Peugeot with a grinding sound coming from the right rear-wheel well. (It disappears when a worker pushes the bumper back into place.)
I first stop at Elizardo Sanchez's house. The human-rights advocate, who I mentioned earlier this week, is a slick-looking political type. Chomping on a cigar, he invites me into his backroom office. (Other than bedrooms, it's the only private room I've seen in Cuba that's air-conditioned.) He launches into what I sense is a kind of stump speech.
Like everybody else I've spoken to—dissidents or otherwise—Sanchez rails against the U.S. embargo and the Bush administration's hardline policies. "The White House's policies are causing us—the opposition—to lose," he says. "There's an old saying, 'The best ally of a dictator is a foreign enemy.' The result is that the White House has facilitated repression here."
Sanchez picks up a copy of the State Department's recent report titled, "Commission for Assistance to a Free Cuba."
"Look at the chapter one," he says, pointing to the title: " 'Hastening Cuba's Transition.' "
He waves the paper in disgust. "In Cuba, there's a great nationalist feeling," he says. "The Bush administration just doesn't understand Latin America."
Flipping to the acknowledgements page, Sanchez starts jabbing his finger at the names of Daniel Fisk and Roger Noriega, two hard-liners who helped oversee the report. "These two have never been to Cuba; they've never asked us dissidents what we think. We feel like hostages to their policy."
Sanchez is in a groove. Then the A/C sputters out. Another blackout.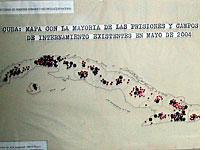 We move outside and Sanchez starts talking about Cuba itself. He shows me two maps, one of prisons in Cuba before the revolution and one now. The new map shows perhaps 10 times as many prisons. "We never used to be a country of crime," says Sanchez. "Now we have one of the largest incarceration rates in the world." Thousands—mostly suspected prostitutes, he says—are jailed under a law against "dangerousness," a vague Minority Report-type provision that essentially criminalizes intentions.  
Sanchez's work is well-regarded. But it's impossible to verify his numbers, since, as he points out, Cuba keeps its incarceration rates secret and prohibits inspections by human rights groups or the Red Cross—the only country in the Western hemisphere to do so.
"Welcome to our gulag," Sanchez says, pointing to the map. As others have explained to me, it's not that there are thousands of political prisoners. It's that so much of regular life—from selling a car to owning a VCR—has been made illegal. So just about everybody breaks the law. They are pushed into doing so because of the absurdly low state salaries (about 260 pesos or $10 per month). Cubans get free monthly rations—in addition to free education and health care—but it's not enough, so just about everybody in one way or another works in the black market. (One example: When I was driving, I saw farmers offering peanuts along the side of the road. Then, at one point, they ran off into the bushes. Turns out a police car was driving by.) 
Soon after meeting with Elizardo, I swing by Old Havana to say goodbye to Claudia Marquez, the independent journalist I've become friends with. It's my last night in Cuba and she tells me that Manuel Vázquez Portal is finally back in town. Vázquez, 59, is one of Cuba's most well-regarded poets and essayists. I've been trying to get in touch with him since my arrival. He was jailed during the crackdown last year, and then given a medical parole last month. (Like a handful of other dissidents who've been released, all under similar circumstances, he wasn't told by the government what his illness was, and it's still a bit unclear.) After celebrating for a week, Vázquez had something of a breakdown and left to recuperate at his parent's telephoneless house in the provinces.
At about 10 p.m., Claudia and I hop into the Peugeot. She thinksshe knows the way. Twenty minutes later, we've stopped by the side of the road to ask directions. A bus passes us on our left and then—"CRUNCH!!!" The bus clips the car—the mirror to be exact—and doesn't stop.
The rental agreement, as well as Lonely Planet, insists that any accident needs to be reported to the police. With my flight early the next morning and an interview ahead of me, I have no intention of doing that. Though the glass itself is now sporting spider veins, I'm able to jiggle the mirror unit back into place.
We arrive at Vázquez's apartment a few minutes later. He's a small man with a big beard and thick, Monchichi-type hair. Warm and very funny, he serves us Cuban coffee and starts regaling me with one-liners ("Castro is walking down the street with his brother Raul when a bird seems to dirty his head. 'Raul, what do I have on my head?' 'Crap,' responds Raul. 'No!' says Fidel, 'I asked what's on top of my head, not what's inside it!' ") At one point, I look for the bathroom. Like many Cubans, Vázquez's toilet doesn't have running water and he says, "The bathroom is that way, careful what surprises you might find there!"
When I return, he starts sharing his poetry with me. I have a hard time understanding it. So I ask him if he's started writing again. "No," he says. "I'm too angry right now, and I want to wait until I feel more peaceful inside."
He starts telling me about his year in prison. "The jail was made for 800 people," he says. "There are 2,400 there now. We didn't have space, enough water, enough of anything." (Here's a diary Vázquez kept.) Echoing Sanchez's comments, Vázquez says most of the prisoners were there for economic violations."They're the victims of the system. Castro is like the owner of a plantation. He controls the jobs, he controls access to education and he controls health care. Those who are revolutionaries have access and those who are counter-revolutionaries don't; and he decides who is which. There are four ways to survive in Cuba: 1) Leave 2) Rob 3) Get drunk 4) Go crazy."
After a few hours' sleep, I return the car to the rental agency, which has said they'll give me a ride to the airport. They look the car over for damage and give a clean bill of health. Then the driver hops in to bring me to the airport. "What happened to the mirror?" he asks. "Dunno," I say.
The manager walks over. "Ah, it's OK," he says. "It was cracked beforehand." Then he points to some dirt along the side panel. "What is this!?!" he screams.
"Dirt," I say. "Some roads outside Havana aren't paved."
"I can't rent the car like this!" he says.
"So wash it."
"No no, the paint is ruined!"
He brings me inside and pulls out the rental contract. Clause #12 says, in English: "Diety car $50." [sic]
"What do you want me to do?" I ask.
"Give the driver $20," he says. I do, and head to the airport.
---