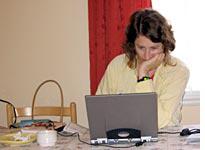 I'm in Reykjavik, Iceland today. It's a gorgeous day, and it will be tonight, too, because the sun doesn't set this time of year. There are glaciers here, and volcanoes, and geysers, and lots of blond people, and Sigur Rós, and Björk, whom I just spotted driving down the street.
That takes care of Iceland. If you want to know more, try google.com. The main story here is the company I'm keeping.
I find myself this week in the company of members of the frequent flyer faith.
Although I myself am an agnostic, mileagewise, I am accompanying those who pursue free-seating upgrades with religious fervor.
I achieved my temporary inclusion in this group through their Web site, FlyerTalk.com ("The world's most popular frequent flyer community"). I'd read about it in the Wall Street Journal, checked it out, decided it was too specialized for me (many posts were riddled with acronyms and jargon I couldn't decipher, and I don't fly that often anyway), and hadn't gone back. In my brief time on the site, I'd signed up for an e-mail list of ultra-super travel bargains, but I never received any e-mail from it and eventually forgot about both the list and FlyerTalk.
Then, at 10:30 p.m. on May 17, the list sent me an "Airfare Alert." The fare in the subject header was so low I couldn't believe it was true. The body of the e-mail linked to a thread on the FlyerTalk.com discussion forum, so I clicked it and went to the site.
At 5:10 p.m., "notsosmart" (his FlyerTalk pseudonym) had alerted the FlyerTalk congregation that round-trip flights on FI (airline code for Icelandair) to Reykjavic from JFK were available for $61.00. "Clearly a mistake," he added, "so hurry. In any case, carrier may not honor."
During the next few minutes, more and more members alighted with announcements that they, too, had managed to book the fare: Their reactions ranged from "I'm in!" to "Woo-hoo!" to "Bjork-land here I come!" and "How about teeing off at midnight with the sun still shining?"
As minutes stretched into hours, the giddy joy of the glitch-scavengers (of which I was now one) was punctuated by stern warnings: "Don't call Icelandair!!!!! They will pull the fare. …" "PLEASE—NO ONE ELSE CALL ICELANDAIR ABOUT THIS. IT COULD RUIN IT FOR EVERYONE—IF IT HAS NOT ALREADY."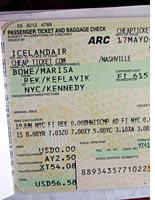 Not until 10 hours later did the digital porthole of opportunity slam shut. "Notsosmart" posted again: "I had my friend on the phone, but he hesitated, and then it was gone. Nothing is working. I hesitate to call it, but …"
Those who'd received confirmation e-mails began making tentative arrangements. One FTer contributed some helpfully geeky info: "I've put together a list of everyone who's going to Reykjavik. If you copy this and paste into Excel, and then choose Text to Columns from the Data menu, you'll get a spreadsheet. … " Others gloated: "Imagine the scene onboard when we're all talking about the cost of the fare and the people around us paid more than 10x more!"
But darkness loomed: We didn't know if we'd actually be able to go. We were getting conflicting answers from both CheapTickets and Icelandair about whether or not they'd honor the fare. We spent days stuck in our little cyber-capsule, wondering, bickering, agonizing, and even writing songs (to the tune of "O, Susanna": "On Flyertalk, we learned one day/ Of a nifty airfare deal/ That flew us to a remote place/ The likes of which surreal") about whether or not we'd get our prize.
Members engaged in quasi-legalistic arguments as to whether CheapTickets or Icelandair should honor the snafu tix ("I think this all comes down to the legal doctrine of unilateral mistake. … ") and speculated about the finger-pointing they imagined going on behind corporate doors. A few aggressive FTers advocated "taking it to the media" in order to pressure the vendors, and eventually they did: Ron Lieber had an item on the situation in the Wall Street Journal on May 20. But still a resolution was not forthcoming. "Oh Cheap Tickets and IcelandAir please just end this and soon," groaned one FTer on May 19.
After a week of this, UPS started delivering our tickets. I stared at mine, not believing they were real. Then I stared at them again.
A couple of people suggested gestures of gratitude toward a corporate behemoth: "To (partially) make it up to CheapTickets (i.e., Cendant), we should all rent from Avis (i.e., Cendant)." Others weren't so grateful: "I always rent from Avis anyway, and I've gotten jacked by them on several occasions for fuel or other B.S. charges, so I figure we're even."
One post especially piqued my interest: "I'm trying to find a lounge past security in JFK term. 7 for a little get together for the 20+ FTers who are on the June 19th flight. I posted a question over in the United forum (United has lots of gates in that terminal) on which lounge would be best. Stay tuned."
For most people, the idea of partying in the business-class lounges at JFK with a bunch of frequent flyer program addicts would probably not appeal all that much. But even though I rarely indulge it, I'll admit to having an airport fetish. Back when I was a young aesthete, besotted with all that was tacky, the kitsch I loved most was a category I dubbed "the Superbland." The Superbland was anything that was so lacking in character (innate or borrowed) that it screamed with existential nothingness. Office cubicles were Superbland. Modest, non-brand-name khaki pants with pleats in the front were Superbland, especially if pared with muted-color cotton/poly blend plaid shirts (the plaids had to be small). And airports were the mother of all Superblandness, providing a frisson (albeit an ironic one) of excitement.
You'd think I'd be alone in this. But you'd be wrong.
---