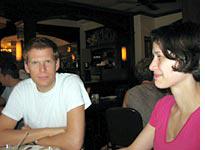 Yesterday I lunched on Broadway and 112th with Gaby and Chris, two friends who live 20 blocks south on the Upper West Side. They have a young child; they don't get much sleep. Their landlord proves to be a small-time crook; they sleep even less, spending nights examining real-estate law. Yesterday, at 4 in the morning, a man was shot five times outside their apartment building; that night, they hardly slept. The police came to make inquiries; though Gaby and Chris were asleep when the shots were fired, they were up soon afterwards, what with the noise outside. The only information Chris could offer the detectives was what he had seen and heard on NY 1 and Fox 5, for which the police were grateful. You can imagine a day when New York law allows people to watch the video captured by the hundreds of thousands of closed-circuit cameras around the city on their computers and televisions—muggings and murders in real time. You can imagine the police coming round to ask you which channel you were watching when the incident took place, and do you happen to have that URL.
Which reminds me: At the demonstration to mark the anniversary of the invasion of Iraq on March 19, I came across a policeman filming a group of dancing young men, bandannas covering their faces. "Why are you filming them?" I inquired of the policeman. "They look kinda threatening," he replied. "We don't know who they are." "Really," I said. "You might want to look at the black flag one of them is carrying. It has large white 'A' on it, an 'A' within in a large 'O.' That emblem stands for anarchy." "Thank you sir," said the policeman, and then he scuttled away with his camera, a March hare in search of a hole. Though it must be said these young men and women didn't seem remotely threatening as they danced to the beat of their drums. (I've always considered the Anarchist dependence on symbols to be one of the least satisfactory aspects of their philosophy.) The policeman could be forgiven for not knowing who they were, I suppose, but it wasn't terribly reassuring that he didn't consider simply asking these men and women who they were. Perhaps to be filmed by the police is one these actions Michael Ignatieff considers an acceptable restriction on civil liberties in the age of the war on terror, though I find the idea outlandish (and Igantieff's new book deranged). Last night, I read several essays by Aldous Huxley, which appear in a collection entitled Tomorrow and Tomorrow and Tomorrow (marvelous title). In one of them, Huxley writes:
Over-simplification, over-generalization, and over-abstraction are three sins closely related to the sin of imagining that knowledge and pseudo-knowledge are the same as under-understanding. … The over-abstractor is the one who cannot be bothered to deal with Jones and Smith, with Jane and Mary, as individuals, but enjoys being eloquent on the subject of Humanity, of Progress, of God and History and the Future. This brand of intellectual delinquency is indulged in by every demagogue, every crusader.
This seems to me to summarize Ignatieff's Lesser Evil: Political Ethics in the Age of Terror perfectly.
In the afternoon, I watched the rain. The observation of American nature lends itself wonderfully to procrastination—and gives Emersonian dimensions to the distraction. Did you see the size of those raindrops? And that sunset, over the Hudson a few nights ago, the golden orb sinking into a New Jersey high-rise? Modern holidays and travels are marvelous forms of procrastination, too. The long weekend staring at the weeds growing in a garden upstate; the weeklong journey to the Badlands to observe how animals go about their bodily functions; and oh, the clouds above the high Sierras, how they move and stand still at the same time. Of course, intercontinental travel is an incomparable way to waste time—such lines, and, my, the queues—and when we return from these journeys, with stories similar to those we've read about in countless books all our lives, with photographs that don't appear any different to those photographs we've seen a thousand times before, feeling so fresh, have felt sea-breezes on our faces and mountain airs in our ears, we congratulate ourselves on having lost so much time. In this sense, the pleasures of modern life resemble a song I heard as a child:
We're busy doing nothing, working all day through, We're trying to find lots of things not to do. We're busy going nowhere, isn't it such a crime?We'd like to be unhappy but we never do have the time.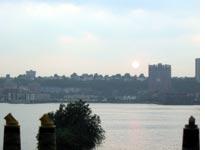 My idea of travel is taking the subway, which is what I'll do in a minute, and my idea of an encounter with a stranger, the famous Other, is meeting a friend from out of town. I'm seeing Colm Tóibín tonight, in an Irish bar in faraway Chelsea. My idea of a safari with friends is drinks at a hotel lobby, watching people come and go, the world pass by. My idea of a wilderness is a library—the jungle, my Underworld, the stacks at Columbia University, where you can, I assure you, become properly lost. My idea of the time is the time displayed on my cell phone, or on the clock on the stove, on this computer, on my digital camera, which all show different times. My idea of shifting from one time zone to another is moving from room to room, and it's getting awfully late, I notice, its time for me to go, though exactly how late I am, I really don't know.
---