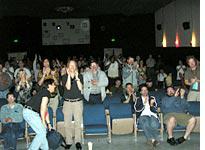 The Alloy Orchestra played a show this morning for the Baltimore Film Festival. We've performed there the past two years. Once we become ensconced in a film festival, it's hard for them to get rid of us!
We performed our score at 10:30 a.m.—our set-up and sound check was at the ungodly hour of 8:30—to the silent film Speedy, starring Harold Lloyd (the third in the slapstick triumvirate of Charlie Chaplin, Buster Keaton, and Harold Lloyd). We received a standing ovation.
After bows, I went to the merchandise table and hawked DVDs and CDs while Ken and Terry sat for a Q&A. Then we loaded up on decent sandwiches and hit the road back to Boston—a seven-hour drive. I caught up on some much-needed sleep in the back of the van, Ken watched a DVD on his laptop, and Terry went on a driving binge.
When I awoke, I gazed out the window at the sunny day, the leafy trees. My two favorite months (on the East Coast, at least) are May and October. Then I read some of the Quails' literature, which I was given last night. I read a great article by Brian Eno; he wrote against the phony information organization which caused us to go to war in Iraq. I showed it to Ken and we both agreed that Mr. Eno is quite eloquent and clear-thinking in his writing. His early music also influenced me a lot.
Since there was "plenty of time to think" on this ride, I pondered "how I got here." When I was in 11th grade (1969), I started my first "all-original material" band, Sproton Layer, with my brothers Benjamin and Laurence—very psychedelic and youthful. In my naiveté, I thought all one had to do was to write an album's worth of material, and you were golden. (It was the '60s, after all. …) My naive belief that I'd succeed was soon trashed. For some years I was unfocused, but Mission of Burma brought my focus back. We started the band in 1979 and my musical career grew from there. (I also do a lot of soundtrack work such as documentaries, commercials, etc.)
Some people find it strange that I don't mind going on a jagged route from the MFA in Boston to an asphalt rock party in Columbia, Mo., to a film festival in Baltimore in four days. (The only part I really mind is the lack of sleep.) I think my tolerance for this goes back to childhood. My father was a professor of ichthyology (fish) at the University of Michigan. His specialty—I know this sounds odd, but it never occurred to me that it was odd until 12th grade—was fish that live in the desert. More specifically, it was fish that live in isolated pools left over from the great shallow oceans of eons past. To this end, he also studied fossil fish and strove to compare the two. He was an early ecologist, actually.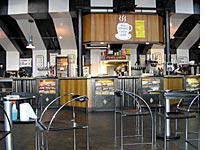 So every summer, sometimes even the day before school ended, my family (younger brothers Ben and Larry; older brother Gifford, now a professor of geology at University of Colorado; sister Frances, the oldest, a professor of zoology at University of New Orleans; my father, Robert; and my mother, Frances, who organized these excursions and helped my father out in too many ways to mention) would pile into a station wagon with a trailer full of collecting gear and supplies and head west from Ann Arbor, Mich., into the desert. I always felt at home when we entered Colorado, where the plains became arid, the rabbit bush prolific. (Occasionally we would take "the southern route," heading into the harsh rocks of northern Texas or New Mexico.) Our search was for elusive river beds—sometimes full only in the spring. In the shallow pools, we would seine—this is a type of net—for fish, to find what species still remained or were gone, extinct due to human folly. When it got dark, we'd pull off to the side of the road, kick the rocks out of the way, throw tarps down, and prepare our sleeping bags. We never checked into motels. Mom would get out the Coleman stove and Dad would take notes about the day's proceedings. We kids would then run through the sagebrush until dinner. Next morning, we'd get up with the sun and shake our shoes out to make sure no scorpions had crawled in. Sometimes we'd change location every day.
I mention this only to explain why I am not bothered by my current lifestyle.
As far as the music goes, it's interesting to note that I play almost exclusively with drummers.  In the Alloy Orchestra, there are two (they double on accordion and clarinet, but they are first and foremost drummers). The Binary System is a duo: Larry Dersch plays drums, and I play piano and prepared piano samples on a keyboard; I also sing. In Mission of Burma, only bass guitar breaks the drum pattern. Perhaps it's because I think rhythmically rather than harmonically: I'd rather work a groove than a chord progression any day. Of course, I did study music composition at CalArts (and could have gotten a degree, but I veered off and joined the world of punk rock; definitely the correct road for me).
Considering how "studied" one might say I am (I enjoy playing Béla Bartók piano pieces when I have the free time, and those aren't easy), I play mostly with "non-studied" musicians. None of the aforementioned have anywhere near the training I do, but that's fine with me. Not out of ignorance on my part—I CRANKED Edgard Varese a few days ago in the car when WMBR was playing "Ameriques" on the radio—but "studied" players often don't have the ability to forget what they know. I'd rather play with an inspired novice than an overthinking player with a master's degree. Along the same lines, I'd rather play with an improviser who can't read than a reader who can't improvise. I prefer the moment. When you are improvising, all there is is only the now (this is also true of my frottage drawing).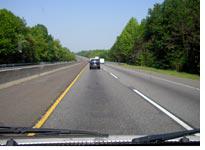 As we drove along, I also thought about where our country is going; one cannot help but wince. More GIs killed in Iraq, and we are told that Iraq is not like Vietnam? I feel bad for the GIs: One recalls how disturbed a lot of GIs were after coming back from Vietnam, how screwed up some of them became. That was also a war the American people felt ambivalent about and resulted in atrocities against the native peoples. Is there not a pattern here? Bush extols these GIs as heroes, but clearly he isn't very concerned about their well-being.
We rolled into Massachussetts, onto the Mass Pike and into Cambridge. Another loading of the gear, and we all, somewhat wearily, said goodbye and see you in two days. That's when we begin work on our score for one of Hitchcock's earliest films, Blackmail, made in the silent era.
I headed home to answer e-mails about Burma shows and opening acts, and finally, to hit the hay. At least I get to sleep in tomorrow!
---