This diary was written on Thursday, May 6.
Woke up at 7 a.m. to make breakfast for Chance and get him off to school. Generally, I go back to bed (is 7 a.m. a natural hour for a musician to awaken?), but today's schedule is pretty dense—no time to lay back. Gotta do laundry before you go out of town. …
Took my morning walk to the ocean. I live in Quincy, just south of Boston, and Wollaston Beach—about a 10-minute walk from where I live—is nice. There's something calming and expansive about walking next to the ocean. I've always "targeted" my walks to water, I think. In Ann Arbor, Mich., where I grew up, the Huron River was often my goal.
Since most of my day today was based around an Alloy Orchestra gig, I decided I better play a bit of guitar while the laundry is going—with a Mission of Burma show tomorrow, I want to keep my calluses in a state of pleasant irritation.
The Alloy Orchestra has been composing new scores to silent era films and performing them onstage along with said films since 1991. David Klieler, a film activist in the Boston area, had the print of Metropolis with the horrible rock score and wanted to show the film with something more appropriate. (I was not in the Alloy Orchestra at this time, though I had been playing improvised silent-film shows with David for a number of years.) This Metropolis score was composed and improvised by the Alloy as a one-off, but it was such a success that things snowballed. Getting invited to the Telluride Film Festival was what really opened things up for the group, and Alloy has been at Telluride every year since. I joined the band in 1998, when the previous keyboard player passed away. Ken had played on a number of my CDs (Win! Instantly!, No Man's Band, Roger Miller's Exquisite Corpse) and offshoot ensembles, and Terry played drums in my last touring rock band (until Burma), No Man, in 1991. So we all knew each other, and it was a natural fit.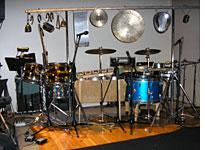 The Alloy is a fairly unorthodox group, with Terry Donahue and Ken Winokur playing a self-designed percussion kit that utilizes metal pipes, horseshoes, gongs, a bed pan, and "normal" drums laid out over a space of 12 feet so that they can both access all the pieces. Terry also plays accordion and Ken clarinet. I occupy the "uninteresting" position of merely playing an electronic keyboard. While Ken and Terry lay up the grooves and sound effects (Ken sometimes wears a kind of yoke around his neck mounted with whistles, birdcalls, etc.), my role generally is to provide the melodies and harmonies. To this end, I change the sounds on my keyboard 50 to 70 times per show—from piano to strings to woodwinds to my own "prepared piano" sounds. We compose a number of "leitmotifs"—themes for different characters and recurring situations—for each show. In a given scene, I may be producing bass lines and orchestral melodies (left hand = piano, right hand = strings), with Terry playing melody on accordion and Ken keeping a groove on snare and cymbal, while hitting the various pratfalls happening onscreen with woodblocks, the bed pan, etc. We rarely take our eyes off the screen: The film is our conductor.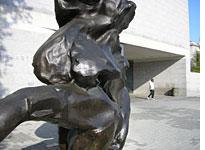 Tonight our performance was at the Museum of Fine Arts, Boston. Sound check consists of putting up mics on the percussion kit, accordion, and clarinet and getting the keyboards loud enough in the drummers' monitors so that they can hear it clearly during the battle scene where they are really whaling away on the drums. I rarely use monitors, as I can hear the sound well enough in the PA system.
After sound check, there wasn't time for more than a quick dinner, so I had some tolerable pub food and got back to the MFA to set up our merchandise table. We sell DVDs of various films (produced by Kino and Image) that have our soundtracks on them, as well as CDs of our music.
We had two shows: at 6 p.m., Dans la Nuit, a little known French masterpiece from 1929, which has a mysterious film noir feel; at 8 p.m., the classic Buster Keaton film The General. We premiered our scores along with both of these films at the Telluride Film Festival last September.
The General is "typical" Alloy: super-tight changes to fit the fast cuts of the film, with fairly intricate counterpoint between the clarinet, accordion, and orchestral keyboards, when the drummers aren't pounding out Civil War train rhythms. We composed our score directly into a computer recording system for DVD release even before we learned how to perform it live. As a result, this is the first time that we have a DVD available of for a film we're currently performing—and it really shows in the merchandise department: We've sold a lot of these DVDs. (NPR did a spot on our score to this film earlier this year.)
Dans la Nuit is much slower and broader in feel than The General; there are very few tight cuts. So we used an improvisational approach—for my keyboard score, one line of music might give me enough of a cue to play for two or three minutes, improvising broadly on the theme.
Tonight's performance of Dans la Nuit was our best ever. The more we play it, the wider our range of dynamics. Terry and Ken's accordion/clarinet playing was spot-on for the lilting neo-French waltzes in the first half, and the ultra-dramatic fight scenes in the second half come out of nowhere (well, actually they arise from low-key, tense mood grooves) to jar the audience. They were very appreciative of our interpretation.
After a break, during which I manned the merch table again, we launched into The General. Once the film gets going, there are nearly continuous train chases, and Ken lays up the trains on the snare, while Terry reacts on the tom-toms to my compressed, neo-Bartokian melodies. We've played this film 30 or 40 times now, and we're pretty tight. We got a standing ovation for this one. (Nothing like a good battle scene to rouse the rabble.)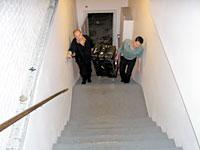 Then I was back at the merch table, babbling to interested show goers. By the time I went back into the theater, Ken and Terry were nearly done tearing down their kit. It all fits into four or five flight-friendly containers with wheels, and we rolled all the gear (through long hallways, conjuring up fears of a Spinal Tap situation) to the van. We drove across town and carried the gear up into our studio.
I ended the evening with a beer (give me microbrews, and make it an IPA if you can) and a bit of food, analyzing the photos I took for this page.
When I got home (I took the "T"—subway, El, whatever you want to call it), I noticed I didn't have to be at the airport tomorrow (for a flight to Columbia, Mo.) until 8 p.m., not 7 p.m. as I'd thought! A bonus.
---