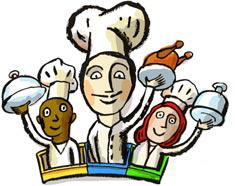 When I first moved to Seattle from Los Angeles, I was offered a job at the about-to-open branch of Stars, the renowned San Francisco restaurant. The job paid well, the kitchen was gorgeous, and I liked the chef, but I turned it down. In order to get to the restaurant, a diner had to ascend to the fourth floor of the Pacific Place mall—a glamorous, late-1990s mall, but a mall just the same. My gut told me that people would feel odd about showing off for clients or proposing to a girlfriend over dinner at a mall. And it seems my gut was right. About a year later, employees found themselves locked out of the kitchen without jobs, and the dream of a fine mall restaurant was quashed. The space has since been refilled by a much more mall-appropriate, all-you-can-eat sushi buffet. Business seems to be booming.
Are fine dining and mall culture at odds? In the popular imagination, at least, fancy restaurants are the ultimate independent business, helmed by culinary mavericks who wouldn't dream of setting up shop next to the Footlocker. Malls, by contrast, are thought to be characterized by uniformity and tackiness and crass commercialism. And let's be honest, the conflict can be boiled down to a single question: Who wants to ascend an escalator to a fancy dinner?
But that prejudice may be diminishing. No end of press has been devoted to the new Time Warner Center shopping center, where some of the best-known names from the world of highbrow cuisine—Jean-Georges Vongerichten (of the eponymous Jean Georges and countless others), Charlie Trotter (of Charlie Trotter's), Gary Kunz (formerly of Lespinasse), Thomas Keller (of French Laundry and Bouchon), Masa Takayama (formerly of Ginza Sushiko)—have elected to open restaurants. Despite its classy name, The Shops at Columbus Circle is a mall, and together the restaurants make up a food court the likes of which the world has never seen. Several other mall-like entities—New York's Chelsea Market, for example, and San Francisco's Ferry Building Marketplace—also showcase fine food and restaurants, but without the retail stores of the Columbus Circle development. (Of course nothing compares to the star wattage assembled at Time Warner.)
New York is, of course, a place of singular, and often hidden, restaurant gems—from the posh white-linen restaurants where New York's high society noshes on slightly old-fashioned Euro-food, to the downtown Ukrainian diners that keep struggling writers and artists nourished by hunters' stew and coffee, to obscure street food vendors (like this one) fervently catalogued on posting boards like Chowhound. Indeed, the very idea that one building could be home to multiple restaurants seems like an affront to the city's unique restaurant culture. Is the Time Warner experiment just another exception in an exceptional city, or is the world now ready for the ultimate oxymoron—classy dining in a mall?
To answer that question, we should first consider the history of mall food and what it means in the culture's imagination. The first enclosed malls in America, like those built by Victor Gruen (recently profiled by Malcolm Gladwell in TheNew Yorker), had large courtyards in their centers, where cafes were located. Not yet full-blown food courts, these spaces were modeled on something like a European city square; they were intended as a humanizing element within the impersonal, commercial realm of the mall. But locating restaurants at the heart of a mall is problematic, Gladwell told me in a recent conversation. Restaurants aren't always busy during key shopping hours, causing potential dead spots in the mall that in turn might lead a wayward shopper to (gasp) turn around instead of walking and seeing what new retail opportunities are to be found around the bend. For that reason, mall planners tend to put the restaurants on the higher floors of malls, above and away from the shops (and often near the multiplexes, which create a similar dead zone when people are inside watching movies). This is even true of The Shops at Columbus Circle: The restaurants are located on the third and fourth floors, out of sight of mall standards like Crabtree and Evelyn, Benetton, and J. Crew. (Non-shopping diners, in turn, can avoid feeling tainted by the mallness of the center by accessing the restaurants with slightly difficult-to-find elevators that go directly from the street to the dining level.)
Sequestered on those upper floors, mall restaurants often took an abbreviated form—as various takeout counters with shared seating at the center of the common space. And so evolved the "food court" as we know it. Although particular brands come and go, the typical high-fat, high-sugar quasi-international lineup hasn't changed much over the decades: It will often include some inferior Chinese food, a taco booth, a pizza-by-the-slice stand, a "healthy" smoothie option (often as not an Orange Julius), and a Cinnabon responsible for the vanilla and cinnamon odors wafting throughout the mall. The food court has also strongly influenced food service beyond the mall, especially corporate and college cafeterias where multiple food stations appeal to a short culinary attention span.
In recent years, some upscale, casual dining restaurant chains—the Cheesecake Factories, the PF Chang's China Bistros, the Rainforest Grills—have been setting up shop in malls. Often these restaurants are not isolated on the top floors of malls but have their own entrances on the street level, both providing street-level advertising and establishing a psychological difference between the mall and the restaurant. While in the past these establishments—which are not fine dining, but aren't cheap either—might have preferred to be located in a free-standing building, the tough economy has increased competition for well-trafficked mall space.
But it's not only the economy that has driven restaurants to malls. There's another factor that has gone mostly unrecognized: the influence of Las Vegas. The city has done more to legitimize mall food than any other city in the country: In recent years, Vegas has become its own hermetically sealed world, and casinos have become like an extended mall. In the '90s, developers began to attract famous chefs to expand restaurants within these sprawling casino/hotel/mall microcosms. Wolfgang Puck was a pioneer; others, including Charlie Palmer, Jean-Georges and Todd English, and Julian Serrano soon followed. (The main draw was surely economic: While tourists are caught in the city's fantastic grip, they are willing to spend money in ways they would normally never consider, on fine food and even finer wine. Las Vegas wine lists are full of blingy selections, like four- and five-figure cult bottles.) By this time, the mall/casino taboo has been entirely obliterated: Before the end of 2005, Vegas will also boast restaurants from Keller, Alain Ducasse, Hubert Keller, Rick Bayless, and Joel Robuchon. The mall at Columbus Circle is an obvious sign that top-dollar chefs, taking a cue from Vegas, are willing to toss themselves into unconventional restaurant situations. (It is also a sign that great chefs no longer fear a public backlash for turning their name into a luxury brand.) Maybe what happens in Vegas doesn't stay in Vegas after all.
In truth, though, I think the present and future of mall food is not to be found in the vast enclosed shopping centers of the Columbus Circle variety, but in the strip mall. Five years in Los Angeles—the capital of strip malls—taught me that independent restaurants can thrive in those one- or two-story commercial developments. Strip malls are often home to surprising, niche-market restaurants: a stellar Oaxacan restaurant, a dosa/idli-centric South Indian joint, a Salvadoran bakery or a Muslim Chinese restaurant. (One of the most famous examples is Sushi Nozawa in the San Fernando Valley, which has an almost cultlike following.) In the strip mall, the specialized restaurant can live and breathe with neither the exorbitant overhead of a free-standing, independent restaurant nor the crushing uniformity demanded by most multitiered malls. And so, community planning be damned, I say viva la strip mall.
---