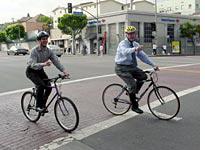 I wake up early, make a few fund-raising phone calls to ask friends for help with my re-election next year, and then get on my bike and ride down the hill. Today is "Bike to Work Day" in Los Angeles. Last year, we were named the city with the nation's worst air, taking the crown back from Houston. Traffic increases by about 5 percent a year, and we are trying to encourage folks to get out of their cars and onto their bikes.
About 10 folks meet up at the corner down the street from my house, including Matthew Dubois, a neighborhood council representative from Echo Park, and Tom LaBonge—a fellow council member and a great bike advocate. We promote the day to the media and then bike off to our respective places of work.
Thursdays are district days—instead of working at City Hall, I go to my field office, where I catch up with my district staff (who serve the constituents directly). The district team mirrors the district—they speak Spanish, Tagalog, Armenian, and Russian and live throughout the area. Being a City Council field deputy (in other words, a staffer who is out in the field) is one of the most demanding jobs in city government—late nights, dozens of constituent requests to juggle, not a lot of pay—but I am very proud of the team I have working six days a week for the residents of Council District 13.
Helen, a local high-school student who interned with us last year, has returned from her first year at college and is back in the office and already busy at work e-mailing constituents and making fliers to promote the dangers of fireworks in preparation for the Fourth of July.
I spend most of the morning returning phone calls and talking to staff about district issues. We have received a number of calls and e-mails about various homeless encampments in the district. One of my deputies is working with a committee of residents and businesses in Hollywood to keep neighborhood traffic flowing for as long as possible before closing Hollywood Boulevard for the upcoming ESPY Awards.  
I do a quick radio interview with a local radio station about my Slate diary. Claudia Peschiutta, the reporter, has me read an excerpt from one of the week's entries and threatens to play the Sparks in the background of the radio piece when she edits it. (Claudia tells me she once hosted an '80s music show while a student at UCLA.)
In the afternoon, we have our weekly staff meeting. I let folks know what is happening downtown at City Hall, and they run through what is happening in the district. My staff has prepared 250 letters for me to sign that are going out to various constituents this week.
When the meeting ends, I ask Arsen, our sharply dressed part-time receptionist and case worker who was born in Armenia (and now lives in Little Armenia in Hollywood), if he would like to become a full-time employee. He smiles and excitedly accepts.
After work, I head home. An hour later, I run out to an evening event for CARECEN, the Central American Resource Center, an organization in my district that assists new immigrants and seeks to foster connections between Los Angeles and El Salvador.
I'm low on hydrogen, so I head over to the downtown fueling facility for the hydrogen car I have been driving for the last two months. The president of Honda delivered five cars to the prime minister of Japan last year, then boarded a plane and on the same calendar day gave the city of Los Angeles five cars to test-drive as well. Each car reportedly cost about $1.5 million to build, but Honda has given it to the city for about $500 a year to test the technology.  
While I am fueling, I call my sister to say hello to one of my twin 18-month-old nephews. They have recently learned how to say "uncle," though is sounds more like "ankle."
I head to a ChoSun Galbee restaurant in Koreatown, where I meet a couple of friends, Chris and Tina, for dinner. It is one of those perfect Los Angeles nights; the air is cool as we sit outside on a patio eating bulgogi (thin slices of marinated beef cooked on a grill in the middle of the table), kim-chi, eun dae ku jo rim (black cod), and wash it all down with Korean sake.
On the way home, I stop at the Hannam grocery to pick up some bulgogi to cook at home for Amy. The cash registers say "thank you" in Korean and Spanish. As I drive home, I sense the calm beauty of the dark city. The air smells almost sweet as it blows through my car.
At home, I cook the beef as Amy watches Without a Trace. I log on to my computer at work remotely and read through the last week's e-mails. One of them makes my weak.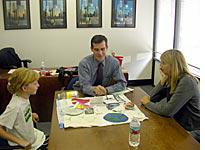 In the past three years, I have sat down with more than 1,000 constituents during my twice-monthly office hours, which consist of two hours of 10-minute face-to-face meetings. Last Thursday, Madison, a local elementary-school student, came by with her mom to present her school project to me; it was on trash in the neighborhood. She has taken various pieces of litter from the empty lot next to her house and glued them to poster board. After describing the situation, she asked me if I could help get some trash cans in the neighborhood. I promised to write a letter to the lot owner asking him or her to take better care of the property or else face city inspectors. I tell Madison that if she is willing to help, we will work with the community and the city to get some new trash cans in Silver Lake.
Her mom, a couple of days later, sent me this e-mail:
i just want to thank everyone at the 13th district office for making madison's '10 mins.' so memorable … this is an office that when you enter you feel welcome and you're heard … because of your friendliness madison was able to voice her concerns without missing a beat … as her mother and witness to this wonderful event i want to you all to know that i was taken aback by the 'human' touch that runs rabid in this office…thank you for your time and continued success with caring for 'our' neighborhood.
As a council member, you often deal with people's anger—people losing their housing, frustrated by traffic, unhappy with a city department, or with you. But each week, amid these challenges, there are also amazing moments of gratitude, moments that make the unremitting pace worthwhile.
One of the most difficult parts of this job is learning to live with failure, learning to live with imperfection, doing as much as you can with what you have. But if one's short time in office can be about creating a city full of leaders, not a district full of followers, then the incredible people who I work with in my office, the broad sweep of constituents who I work for in the 13th District, and the residents of Los Angeles who still ask for the most basic but most meaningful control over their lives and their neighborhoods, make each day a tremendous experience.
It is 1:30 a.m. Outside, Los Angeles is sleeping.
---