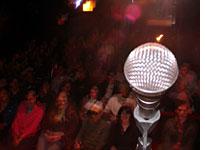 Last night I left work and headed to a place called Rififi on 11th Street. My friends Eugene and Bobby run a show there on Wednesdays called "Invite Them Up." It's mostly stand-up comedy. Sometimes people do sketches. The last act is always music. I told some jokes. Mostly new stuff. The crowd was great. I took a picture of them from the stage. This picture (above) was my view from behind the microphone.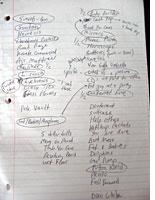 Here is my set list from the show. That's what it looked like after I got off stage, which was at 10:15. When I do new stuff I circle the jokes that work. I put "1/2" next to a joke if it wasn't great but I think I can fix it. Several new bits worked. Cool. I like writing jokes for the same reason I like making anagrams or writing palindromes. It entertains me and it's a challenge. That's what my first one-man show, "If I" was about. Here is one of the palindromes I wrote for "If I." It's a poem that reads the same forward and backwards. Palindromes are fun because the challenge is to make them long and still mean something, even if it's a stretch. (i.e., the attached poem is about an alcoholic mailman, kind of.)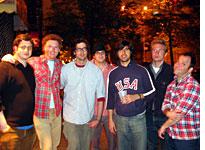 My friend Marcellus was at the show last night. He told me he liked when I said: "There is a store in my neighborhood called Futon World. To me, that sounds like a magical place that becomes less comfortable over time." A bunch of my other friends were there, too. After the show, we posed for a picture on the sidewalk. Then five of us went out to eat.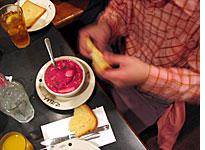 My friend Langhorne ordered a bowl of borscht. It matched his shirt, so I took a picture of it. Then we headed to a bar. I got there and decided to go home because it was 12:30 and I needed to work on my new one-man show. I got home and did not work on my new one-man show. Instead, I read a bunch of this biography about Richard Feynman by James Gleick. It's good. He wrote a book called Chaos. Also good. I figured I'd wake up early and work on the show before heading to my job.
This morning I was once again reminded that the guy who lives next to me likes to listen to hip-hop. That's cool. He plays his stereo very loudly. That's not cool. The bass resonates through my walls. I'd like him to stop, but I don't like confrontation, so I haven't said anything to him about it. Yet. My initial plan was to get to know the guy first. I figure once we're homeboys, then I could just casually mention it sometime. " … Yeah, I can definitely relate to your point about bitches and fancy cars. Been there. By the way, dog, could you turn your music like way down when you play it? Maybe even don't play it all? That would be dope. Also, when you do play it, could you rap along to it just a little less forcefully? And by that I mean maybe don't scream the words at the top of your lungs so much. And I was just wondering—are you rapping directly into the wall when you do it or …? Oh. So, you have a megaphone pointed at the wall? That makes sense." He'll get the hint, we'll both chuckle, and then engage in some kind of elaborate handshake. Sometime later he'll have me over for a 40 or something. We'll talk about all kinds of things: like how we're both skinny white guys who probably have never been in a gang or even near a gang, but how one of us is working on it, starting with his carefully selected wardrobe. I'll lend him a bandana, he'll give me one of his extra fake AK-47s. Problem solved. It'll be great.
That was my initial strategy. Because, I figured you can't have your first interaction with your neighbor be about asking him to turn down his music. That would set a bad precedent. It would sew seeds of resentment. And that equals louder bass, more passionate rap-a-longs, and no chance for elaborate handshakes. The thing is, in the four months I've lived in my apartment, MC Neighbor and I have not really run into each other at all even though I'm in apartment 21 and he's in 22 (the more palindromic one). We've passed each other on the stairs a total of four times. That hardly gives us an opportunity to be down with each other. Because I've seen him so infrequently, when I have run into him (say, the last two times) I think I've overdone it with the friendliness. (MC Neighbor, going up the stairs: "Hey." Me, going down the stairs: "Hey! What's going on? How are things? I like the gold tooth. Is that new?") I don't mean to be disingenuous. I think it's more that I've built up the plan in my head and tried to force it too much. So, instead of coming off like a tightass or a tough guy, I'm sending more of an "I'm going give you a pamphlet about something cosmic next time we meet" vibe.
At the same time, I've taken to less-than-cool tactics from my side of the wall. Whenever I start to feel the bass from MC's side of the wall (which is often as early as 8:32 a.m.) I wake up and counter with something from my CD collection. I throw in an album and play it loud enough to drown out his stuff. The problem is, even when I crank up Elliott Smith it doesn't overpower "The Insane-o-hawliks" or whoever he's rapping along with over there. The result: me listening to Elliott Smith with loud bass accompaniment. If I turn it up louder, the speakers on my boom box vibrate the CD player and the CD skips. Damn. Now we're both listening to hip hop. In the last four months I have listened to some of my favorite groups way louder than I ever wanted to. When you listen to Simon and Garfunkel so loudly that their beats hurt your ears, you start to realize you might have a problem with passive aggression. The truth is I have been passive aggressive. Yes, he started it, but I've retaliated with the Stones, Modest Mouse, Zeppelin, Beck, and probably worst of all … myself. Sometimes I record music in my room.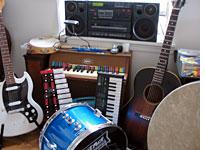 Here are some of the instruments I use. I try to be considerate, but as the space between our "friendly" stairway encounters has grown so has the volume of my playing. And what makes it extra shitty of me is that I am not good at playing the instruments. So, while he's rhyming about jewelry and automatic weapons, I'm banging a glockenspiel with Christmas bells. I guess I can't be too righteous about it all.
I just thought of a palindrome that describes the moment when the guy who lives in a palindrome (22) will get along with the guy who writes palindromes. It will be when: "No music is, um, on." But first, "The Sound of Silence" …  really loud.
---