As a restaurant cook, I consider myself something of a garbage expert: a surprisingly big chunk of my day involves sorting through leftover food, sniffing it, tasting it, and—if it's no longer fresh—dumping it into a big, heavy-gauge plastic garbage can. But until recently, when I finally got a home kitchen big enough to turn around in, I had never paid much attention to the garbage can itself. This year, I decided it was time to rethink the small turquoise plastic bin that I'd been making do with at home for several years and to purchase a new garbage can.
It turns out that that there's a lot to choose from. There is no doubt that garbage can manufacturers are exercising what Virginia Postrel, author of The Substance of Style, a book that comments on the increasing design consciousness of businesses and consumers alike, calls the "aesthetic imperative"—the idea that delightful design is an increasingly important function of an object, no matter how mundane its purpose.
The old plastic or metal cans have become shiny and sleeked-out; rubbish no longer has to hide beneath the sink in buckets so small they must be taken out every day. Trash bins can stand gleaming in the middle of the kitchen, their ingenious lids hiding the carrot shavings and the week-old casseroles within.
In the world of kitchen trash cans, stainless steel is trendy—perhaps because it matches the Sub-Zero refrigerators and Wolf ranges that are currently in vogue and is also the dominant material for appliances in sleek, easy-to-clean restaurant kitchens. (In truth, restaurant kitchens don't use stainless steel trash cans: Every one of the five kitchens I've worked for in the past seven years has used decidedly unglamorous plastic garbage receptacles. A lot of them are very conveniently on casters, a feature that some ambitious young designer will soon incorporate into a sleek new can.) Top-of-the-line metal models—brands such as Brabantia, Polder, and Vipp (of which I tested only the Brabantia)—can range from $200 to $500 while cheaper, ersatz metal cans (made out of plastic) can be had for under $20.
I decided to find out if there's any reason, beyond conspicuous consumption, to shell out the big bucks for a fancy garbage can. Would a highly engineered can allow me to take out the trash less often? Could it control the mess that inevitably gathers around the base of the can when bits of garbage don't make their way in? Since my kitchen can accommodate a big trash can, I chose, with one exception, cans in the 10-15 gallon range. (All but one was made of stainless steel or a steel-imitating substance.) I evaluated the cans on mechanics: How does the can function on an everyday basis? (Does its lid close? Does the can rip the garbage bag?) This aspect is so important, it counts twice in the final score tally. Also, on aesthetics: How attractive is the can? Finally, I put the cans through a series of rigorous physical tests to determine: How well do they deal with smells, stains, and incoming trash?
The following are the contenders, ranked in price from lowest to highest.
The Contenders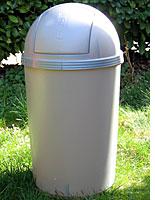 Brand: Rubbermaid Bullet Wastebasket Price: $16.79 Size: 14 gallons Kitchen real estate: 183 square inches
The stainless steel fetish has affected even down-market trash cans. A Rubbermaid rep told me that while white plastic cans are still their most popular color, the company has created pearlized silver plastic cans for its trendier consumers. These have the look of stainless steel without a metal can's crippling price. This one, with a removable round-domed ("Bullet") lid and a push-flap opening that reads "push," is an affordable version of the standard metal bullet can that can cost up to $300. It's not bad to look at, but in the end, bullet cans—plastic or metal—aren't practical in the kitchen: It's just too hard to get bulky or sloppy things through the lid's flap. But remove the lid altogether, and you get an attractive (if open) cylinder that holds an impressive amount of trash.
Mechanics: 4 (8)
Aesthetics: 7
Preliminary total: 15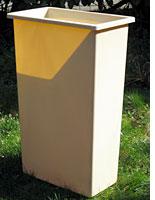 Brand: Continental Price: $28 Size: 23 gallons Kitchen real estate: 209 square inches
All the restaurants I've worked in have used heavy plastic cans like this one. But this tall, rectangular can—which comes in a terrible industrial buff color (also available in equally unlovely brown, black, and gray)—is too big for all but the laziest housekeepers. (It takes garbage bags that normally line outdoor trash cans.) Still, the can is very effectively designed. Its wide mouth allows for bulky garbage, and because it is tall and has no lid—it's an open can—it's easy to sweep garbage into it from the counter above, without ever having to touch the can itself. If you take your garbage out regularly and you're not horrified by the sight of rubbish, an open can like this one is a good option. Of course, it probably makes more sense to get a can scaled down for a home kitchen.
Mechanics: 6 (12)
Aesthetics: 2
Preliminary total: 14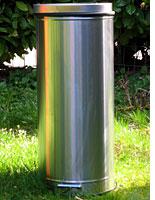 Brand: Target Round Step Can Price: $59 Size: 12.6 gallon Kitchen real estate: 113 square inches
When it comes to home design, Target is no dummy; the company has enlisted famous designers like Michael Graves and Cynthia Rowley to produce stylish household wares for the general public. Graves makes an oval stainless trash can for them, but it was too small to include in my test. Instead, I chose a tall, stainless steel pedal can with no famous name behind it. Yet sometimes, as with this trash can, Target falters. The Target can is a narrow column made of flimsy, lightweight metal that looks decidedly medical, like the cans that sit in the corner of a doctor's examination room. While the trash can's slender profile makes it space-efficient, it is too narrow to accommodate big kitchen loads. The lid's wire hinge, located just inside the can, tears the trash bag when it is inserted, and a silly wire clamp that's supposed to hold the bag in place under the rim of the can pops out of place whenever garbage is shoved into the bag. Plus, there's a hole in the bottom of the can to accommodate the lid's hinge mechanism, which means that, if your trash bag leaks, the garbage juice will end up on the kitchen floor. Finally, a general note on traditional pedal bins: They are dumb, tethering you to the trash can as you clean. If you insist on a covered can, look for one with a lid that remains open until you press it closed.
Mechanics: 1 (2)
Aesthetics: 4
Preliminary total: 6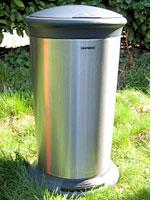 Brand: Leifheit"Kick"Price: $119 Size: 9.51 gallons Kitchen real estate: 183 square inches
With its flared base, tapered cylindrical form, and wide, round mouth, the Leifheit is pleasantly anthropomorphic—as if Oscar and his garbage can had somehow merged. This can also has a pedal-operated lid that stays open until you close it. Sadly, the lid's magnetic catch is highly excitable and tends to release the lid spontaneously when someone clomps past. Inside, the can has what I consider an unnecessary liner bin (apparently for easy portability) with a handle that gets in the way of the garbage bag. The narrow base of the inner bin made it tricky to pull out a full bag—it tends to get stuck. Still, I like the Leifheit: Its lid stays open until you choose to close it, and its very wide mouth makes dumping large loads easy.
Mechanics: 4 (8)
Aesthetics: 8
Preliminary total: 16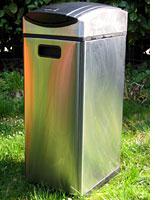 Brand: simplehuman"Soft Touch" Can Price: $149.99 Size: 12 gallon Kitchen real estate: 159 square inches
Unlike round cans, the rectangular shape of this simplehuman means it will hug the counter edge; and unlike the similarly right-angled Continental, it's a smart-looking can. While its touch-operated mechanism takes a little getting used to—you have to hit the lid with something more than a tap and less than a slap—it conveniently allows the garbage can to remain open until you have finished cleaning up. Unfortunately, like the Leifheit, the simplehuman can has a superfluous inner liner that doesn't make it any easier to clean or carry than an unlined can. Simplehuman recommends lining the can with its custom garbage bags, which fit the canister beautifully, but at $6.49 for 20 (two to three times as much as conventional trash bag brands), they make maintenance awfully costly.
Mechanics: 8 (16)
Aesthetics: 9
Preliminary total: 25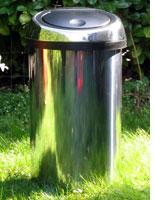 Brand: The Brabantia Stainless Steel "Touch Bin"Price: $199 Size: 13.2 gallons, 50 liters Kitchen real estate: 201 square inches
Brabantia cans are the Viking stove of garbage cans—gleaming, classy, and very expensive. The Touch Bin is elegantly designed: A straight cylinder with no liner, it hides the edge of the garbage bag with its cushiony lid. With a flick of the fingers, the black plastic lid opens, slowly, silently, like the top of Dracula's coffin. But in spite of its dark beauty, its steep price is a huge drawback, especially if you factor in the cost of specially fitted garbage bags at $5.99 per 10-bag pack.
Mechanics: 9 (18)
Aesthetics: 9
Preliminary total: 27

The Tests
The Dustpan Test
As far as I'm concerned, the most important question to ask about a trash can is: Does it allow for easy dumping? (This is one of the reasons that I hate cans that are cached under the sink.) Emptying a very full dustpan is one of the trickier garbage-dumping tasks, so I decided to use it as my ease-of-dumping test. I took a dustpan full of waft-prone flour and dumped it into each trash can. The lidless Continental and the big-mouthed Leifheit were wide enough to accommodate the load with no angling whatsoever; the Brabantia and simplehuman cans needed a little angling help, but their mouths were broad enough to swallow up all the flour without a mess. In the dustpan rally, there were two clear losers. There's no way to dump a dustpan neatly into a bullet can, like the Rubbermaid, without removing its lid. And the pedal-operated Target trash can was simply too narrow for easy dumping. The attempt left my floor a snowy mess.
Rubbermaid: 1
Continental: 10
Target: 3
Leifheit: 10
simplehuman: 9
Brabantia: 9
The Basketball Test
To further test the trash-swallowing capacity of the cans, in an environment that simulated the mayhem of a busy cooking session, I put the cans to the classic wastebasket test of simulated basketball. My husband and I stood 10.5 feet away from each can and took 10 shots per can with wadded up pages of the New York Times "Sunday Styles" section. In general, round cans, as well as trash cans with lids that could serve as backboards, generated the best results. The undisputed winner was the wide-mouthed Leifheit can. (My husband scored five out of 10; I shot six of 10.) It should be noted that the Rubbermaid, with its push lid, was automatically disqualified from this test and that one of us had to stand on the Target can's pedal while the other took shots.
Rubbermaid N/A
Continental: 7
Target: 8
Leifheit: 10
simplehuman: 8
Brabantia: 9
The Stain Test
I painted each trash can with a fat smear of sure-to-stain ketchup and coffee grounds. After four days, I washed each can with a little soap and water, and, much to my disappointment, each one came fully clean—even the plastic cans. I did learn, however, that the more a garbage can does to conceal its contents, the harder it is to keep spotless. Cans like the simplehuman and the Brabantia can get grime caught in the seams and grooves of their lids. Worse still is the Rubbermaid; the flap requires a push to open—it gathers traces of whatever you throw out.
Rubbermaid: 7
Continental: 10
Target: 8
Leifheit: 8
simplehuman: 8
Brabantia: 8
The Stink Test
To test how well the cans contained the stench of smelly garbage, I loaded each one with an equal portion of fish carcasses (a combo of lingcod and striped bass), half a brick of Limburger—the legendarily stinky cheese that has the ammoniac twinge of gym socks—and a quarter of a durian, the world's stinkiest fruit, whose aroma is equal parts revulsion (sulfur) and seduction (bubble gum). After four days of isolation, the cans' contents (and my garage) smelled revolting. I took each can outside to sniff it in isolation and rated the stench on a scale of one to 10. Interestingly, the lidless Continental didn't smell too badly. Clearly most of the stink from the open can had dissipated into the air (probably accounting for much of the garage's odor), but I also wondered if that same air circulation kept the food from decomposing as quickly as it might have in a closed receptacle. Closed cans did a better job of containing smell, but they also concentrated it inside the cans. When opened, the more hermetically sealed cans—the simplehuman and the Brabantia—let off a stench so powerful that I gagged. One closed can fared mysteriously well in the smell test: the Leifheit, which let off almost no odor when closed and only a moderate stink when opened. Rereading the packaging, I learned that the Leifheit boasts an odor shield in the lid—and indeed it seems to work. Upon revisiting the emptied cans two days later, the Rubbermaid plastic and the Target can, both of which produced average results in the stink test, retained the most smell. The Target's troublesome hinge had ripped the bag containing the stinky stuff, so a little liquid (and odor) had accumulated in the bottom of the can. The Rubbermaid bag was undamaged, but the plastic seemed to absorb more odor than the metal alternatives.
Rubbermaid: 5
Continental: 4
Target: 5
Leifheit: 9
simplehuman: 7
Brabantia: 7
Conclusion
Should a level-headed person spend more than $100 on a trash can? Of course not, but then again, the money you put into a simplehuman can (57 points total) or a Brabantia (60 points) may be worth it. You'll get a good-looking can that holds its own in the middle of the kitchen, a clever gizmo that opens the can and keeps it open until you are done dumping your garbage, and solid construction that makes it unlikely your Labrador will knock the can over. The more moderately priced Leifheit (53 points), which did spectacularly well in all the physical tests, would be a top choice but for its mechanical shortcomings—the nervous latch and tricky bag handling. But if you aren't looking for a trash can to change your life, the Rubbermaid—at a tenth of the price of the Brabantia—really isn't a bad option. Just remove the source of its low score (28 points total)—its domed lid—and plan on taking out the trash more than once a week.
| | | | | | | | |
| --- | --- | --- | --- | --- | --- | --- | --- |
| Brand | General Mechanics (counts twice) | Aesthetics | Dustpan | Basketball | Stain | Stink | Total |
| Rubbermaid | 4 (8) | 7 | 1 | n/a | 7 | 5 | 28 |
| Continental | 6 (12) | 2 | 10 | 7 | 10 | 4 | 45 |
| Target | 1 (2) | 4 | 3 | 8 | 8 | 5 | 30 |
| Leifheit | 4 (8) | 8 | 10 | 10 | 8 | 9 | 53 |
| simplehuman | 8 (16) | 9 | 9 | 8 | 8 | 7 | 57 |
| Brabantia | 9 (18) | 9 | 9 | 9 | 8 | 7 | 60 |
---