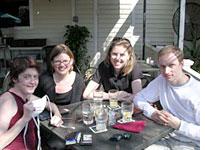 I was alone in my apartment last night while Jeffrey and my friend, Julia, who is visiting, went to the grocery store to scare up some dinner. For the first month post-transplant, I was on 24-hour watch, meaning someone had to be with me at every moment. A schedule indicating who would be with me and when had to be provided in order to be listed for a transplant. So it was quiet, being left alone with my new lungs. Of course I have felt alone at many moments, even with someone standing nearby and the best wishes of hundreds of people flowing around me.
Day-in, day-out, I feel most isolated when I look at the scars. The main incision swings horizontally across my chest, under my breasts. The cut is fairly discreet—preserving my bikini line, in fact—and designed so that the surgeon could lift my rib cage up to access the lungs. The other marks on my body bother me more, like the slashes where four chest tubes were inserted to support my lungs while they were expanded to occupy the new space. There are also small nicks from venous lines inserted at various points. Combine these with the newer bruises from more current needle encounters, and I look battered. I put ointment on these marks daily, encouraging their healing and trying to minimize scarring. Maybe when I'm no longer feeling pain I'll view this remaining evidence as badges of courage.  Speaking of courage, I feel I should explain that it doesn't take much to make a decision to save one's life when your only alternative is death. I'm getting a lot of credit nowadays for the course I've chosen, but was there really a choice to be made?
My transplant physician joked that my improved pulmonary function numbers—up 10 percent from three weeks ago—were "Not bad." I said, "OK …" cautiously, and he laughed. "Actually, they're great," he said. I don't even know anymore, I am so paranoid about every number. The new pattern in my health is one of improvement; I should get better now, with my abilities mounting. Before, an antibiotic intervention would boost me to a baseline level of health, from which I would slip again, relentlessly, until another intervention was deemed necessary, and another, less ambitious baseline adopted. I am still getting used to the idea of getting increasingly better. Realizing I can breathe when I am walking and talking, I stop in my tracks. My colleagues marvel that they can no longer detect respiratory symptoms. When I do cough, it is largely by my own design, in an effort to clear my lower lobes of any mucus build-up because the surgery severed the nerves that would otherwise tip me off. These are enormous changes for me.
One of my tasks for today is to work on supplementing our wedding registry. The hope that has come with the transplant allows me to indulge in frivolous decisions about stemware—and what a thrill. I had come to view the registry as Jeffrey's, even though he was not too interested in accruing housewares. But I thought these would be the items he would use for years to come, not me. Now, I feel I can be more invested. In fact, I am struck by how far in advance I can plan. I submitted a proposal for a conference in October, and, by all accounts, should be able to make my presentation. I have hundreds of dollars of credit on Continental for all the travel I had to cancel this fall due to my inability to endure a high altitude, even with supplemental oxygen, and I can't wait to book my first indulgent trip. We put Banff and the Pyrenees back on our list of potential honeymoon destinations. My ability to commit has not been so secure in many months, and but for the transplant, it never would have been again.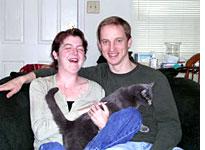 If I have not said it yet, I am amazingly blessed to have received these lungs. Differences between people who are accepted for transplant and those who are not can be miniscule, a matter of a few aberrant microbes in the lungs, and I happened to meet the categories favorably. Outcomes post-transplant seem even more random, and so far I have been a success story. And oh, I have not mentioned the great cost of transplantation: not a day passes without a bill arriving in my mailbox. I want to bury my head in the sand over these, realizing that I'll just have to bear my insurance's high out-of-pocket deductible in the midst of reduced income and other exorbitant costs of living. While I can barely afford the expense, I have to admit that overall, I've gotten a bargain.
I always thought I would be older at the time of transplant. But I'll concede that it had to happen now, and that I lost some ground in the whole longevity game. Or maybe I haven't. With the advances in transplant surgery and management, and given my youth—I'm 33 and counting—and strength at the time of transplant, it is not hard to imagine living much longer than a decade with these new lungs. I don't mean to be greedy, but I think I'll always want more of life. At the same time, I am grateful to have had as much as I've been given – a jam-packed and fulfilling life. Knowing that I am making the most of it has gotten me through to this day.
I'd like to thank Drs. Katz, LaFuente, Bag, Davies, and their underlings; Suzanne, Carl, Christie, Will, and the nursing staffs of Dunn 8 West, Dunn 4 West and MICU; Mom, Dad, Anne, Brian, the Carolyns; all my friends; and love of my life, Jeffrey.
---