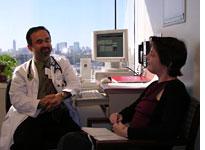 This afternoon I went for a consult with a hematologist, to follow up on those unusual lymph nodes that turned out not to be lymphoma. I emphasize consult, which is supposed to mean a chat, during which the doctor might posit future interventions. Instead, the clinic team began prepping me for something—I didn't know what. I should have caught on right away, as they had me sign a "Consent to Medical Treatment" form, which I plausibly thought might have come with the territory of an examination at this clinic. But when they weighed me and mentioned something about starting an intravenous line, I got really suspicious. I asked the aide who was doing the intake: "Why do you think I'm here? Are they actually planning on doing something to me?" The aide shied away from my question, "Uh, you'll have to talk to the nurse about that."I have to wait to find out what is going on here? I thought. When they moved me to a room with a gurney, I got plain old nervous. That's when the nurse came in and explained, "Well, we have you scheduled for a bone marrow biopsy today."
Insane, I thought. How could no one tell me that I was scheduled for a bone marrow biopsy? Mind you, I had already undergone a bronchoscopy at 8 this morning; this is a procedure that consists of sticking a tube down my throat to explore the lower lobes of the chest, checking for infection and taking samples to see what bugs I am—or preferably am not—growing. Heavy sedation was required. And now they wanted to stick a painfully nasty needle into my hip bone to draw hard-to-extract fluid. Why exactly did they want to do this? I called my transplant coordinator, who is my clinical go-to person for all symptoms and pseudo-crises, not once but twice, leaving voice-mail messages while the physician came in and began to explain the procedure to me.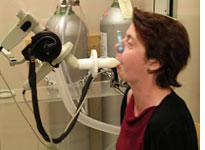 As it happened, both the coordinator and the lung transplant head, Dr. Bag, also thought this was merely a consult, not a procedure. They essentially shrugged and left it up to me whether or not I wanted to proceed. It turns out that it isn't a terrible idea to have a baseline bone marrow sample, given all the infection-related complications that I could suffer in the years post-transplant. But for God's sake, someone has to tell me these things! Of course, by the time the confusion was resolved, we couldn't proceed because a member of the team needed to execute the biopsy had left for the day, so we postponed to next week. Nothing irks me more as a patient than a staff member showing up at my room to take me for some mystery test. And I think nothing irked my nursing team more than having to find the doctor on call to say, "She wants to know why she needs it." You might think the clinical team would have caught on to my style and pre-empted these communication breakdowns. I want to be in on the plan; go figure.
As a member of the ethics committee at Methodist Hospital, where I've been getting my treatment, I helped write part of their surgical consent form. This morning, as I waited to complete the consent form for the bronchoscopy, I overheard a nurse explaining to the patient next to me the content of that consent page, which has to do with donation of excess body tissue for research purposes. This moment exemplifies the identity crisis I've been experiencing since I became very ill. I'm not a physician, but I play one at the medical school. People tend to call me Dr. Quigley, though I prefer professor or even Ms. since I am an attorney by training. I sometimes see students of mine around, second- and third-years and residents, when admitted to the hospital. The residents often say I look familiar, only to recall minutes later that they attended one of my required lectures—and then apologize for leaving in the middle because they got beeped. (They also have been known to ask, "So how long have you had cystic fibrosis?" To which the true and flippant response is, "My whole life." It's a genetic disease, stupid.) So combine the information I've picked up hanging around a top-flight medical school with the fact of being seasoned by years of treatment for CF, and I am a handful during moments of clinical jousting.
I have been trying to conjure some philosophical reflections about this experience, given my self-proclaimed professional title of ethicist. But it feels amazingly presumptuous to say anything about what has happened, in terms of where fortune has fallen. I know very little about the person whose lungs I now inflate; this is the single most difficult thing for me to contemplate about this experience. (Even harder than considering my own demise, given that I have mulled that over so extensively.) My donor was a 19-year-old killed in a car accident. Her parents agreed to donate several organs, no doubt restoring and saving a handful of lives. Sometimes I think about all the experiences I will be so sorry to miss out on in the event of my premature death—a prolonged career, rich marriage, generations of family unfolding. And last week, just walking through a grocery store, I thought of the donor and how she absolutely misses out on all of these. It is a harrowing feeling, but not one that holds me back. I'm not saying I owe it to the donor to make the most of her gift; this would imply that I have control over whether something goes awry with the lungs. If anything, I have learned that such command is fleeting. Faith, on the other hand, goes pretty far—except faith means taking a good outcome the same as a bad one, as something that was meant to be. I have much less confidence nowadays in the idea that if you fight hard enough you will beat the odds. If only it worked that way. Still, you may as well fight.
---