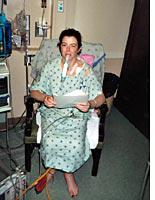 Just last week my mother told me that my grandfather used to have to travel home from work in the middle of the day to give my grandmother shots for her terrible migraines. These mornings, as I sit at the bedroom dressing table that I inherited from their Long Island home, I wonder how much pain my grandma endured holding her head in the very same place where I now test my new lungs. It is here that, first thing in the morning, I check my oxygen saturation, temperature, weight, heart rate, blood pressure, and blood sugar—and diligently record the results. I then begin my onslaught of medications, at least a dozen of them new, ranging from pain management to antirejection to osteoporosis prevention, all of which come with the territory of the transplant. I return to the table three or four times a day to repeat various requirements and to do some rudimentary lung-function testing, making sure there is incremental improvement, or at least not monumental slippage.
While my new lungs do not have the genetic defect of cystic fibrosis, many of my old medications still apply. I still nebulize bronchodilators and sometimes antibiotics because infections can flourish in my lower lung lobes without my noticing—many of my nerve endings in this section were necessarily severed during the surgery. And I still take the pancreatic enzymes that help me digest my food. This part of cystic fibrosis—insufficient secretions to break down food and thus get the optimal nutrition into my system—is not cured by lung transplant. It is a complication that is likely to rear its ugly head again given my past prolific history of painful bowel obstructions.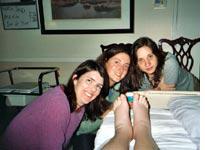 Post-transplant, the wackiest complication has been my huge, swollen feet, largely a function of retaining fluid after surgery and a side effect of the medications. I bought two pairs of wedding shoes at discount last week, hoping I'd be able to select one of the bargains when the swelling went down. My three best friends from my hometown came to visit when I was still in the hospital, and the best they could do to lift my spirits was to apply a scarlet pedicure to my tootsies. This morning was the first time I woke up to normal feet again, after four days on a diuretic, and they held up throughout the day. With these svelte dogs, I'm sure I'll be strapping on the running shoes or taking up ballet again any day.
However preferable my new existence is to the old one—hey, at least I can breathe!—the initial post-transplant regimen is relentless. I honestly wonder how people who haven't been patients before cope with the requirements, unlike those of us who have some familiarity with swallowing chunky pills and adhering to ridiculous schedules. Excuse the analogy, but being recruited into the transplant process is somewhat like being recruited into a cult. Once you make the decision to pursue the transplant, you put yourself at the will of the physicians' best recommendations. And to some great degree, this is the way it should be, since one of our nation's most precious organs is being allocated. You owe it not only to yourself, but also to the one who died, the one who didn't get the organ, as well as to integrity of the system, to make the most of your lifesaving chance. Just today, as the pulmonary team was trying to get a blood-gas sample from me and couldn't nail the artery, they said, "You can refuse the test if you want." I had to say, "Try telling that to the transplant team." It is a little bit disconcerting, especially if you are one as dedicated to autonomy as I am, but here I just roll over and consent to the numerous tests and treatments. I remain demanding about knowing why they are doing what they are doing. And I have done more than one Medline search to double-check those best recommendations.
You simply can't miss a beat in the post-transplant treatment regimen. With CF, you can get away with skipping treatments for years, and even the top tier of compliant patients slack periodically—not exercising, forgetting inhalers, postponing a hospitalization. For transplant patients, it is a big deal to miss even one dose of cyclosporine antirejection medication over the course of your life. There is a flipside, however. After a big medical intervention in CF, like a course of intravenous antibiotics, it is usually just a matter of time before your lungs begin to decline again and you need another boost. Now, with the lung transplant, I am getting used to the idea that I should get stronger from here, that I will be in less pain, that my lungs will eventually settle into their maximal capacity. While this will take months, it will happen, barring setbacks. That is a wonder.
I have other strange adjustments to make. I wear a mask every time I leave my house, and will do so for three to six months. I generally forget I have it on, absorbed instead in expressing, for instance, wishes and wants to the stationers handling our wedding invitations. Most people do a good job ignoring the mask, though they probably think I have some dread condition I am protecting them from rather than considering that I may be protecting myself from their organisms. Kids are the real deal, though. While one child in the grocery store demanded to know why she too couldn't wear a mask, another at the mall seemed scared, asking her mom why I was wearing it. I tried to smile at the intimidated child, but of course she couldn't see the smile behind the mask and was probably more scared by what likely seemed a glare. Mea culpa.
I am dreading my first big sushi craving, as this delicacy has been barred from my diet forever. Also stripped are raw oysters, which I relished consuming for an entire season, swished with Guinness, in Galway, Ireland, during the early 1990s. And nary a vodka martini will pass my lips anytime soon. Mind you, I had no warning of transplant and thus no last supper. For now I can't eat any fresh vegetables, only cooked, and any meat that is even medium rare is out of bounds. This is all due to the paranoia I must adopt to prevent infection. The good news from my doctor today was that I am allowed fruit smoothies. And the silver lining, literally, is that we could keep our sweet gray cat Zoey. She used to bite me playfully, so now I am a bit standoffish as she learns the new barriers. The coup is that I can't go near the kitty litter, a task that has now been ceded permanently to Jeffrey. In fact, there is a litany of duties, from disinfecting to vacuuming that are now his domain. He doesn't elaborate on how he feels about this.. Let's just call it love.
---