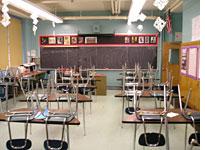 I feel unprepared for the week, so this morning I catch the early bus. Outside of school, I bump into my friend who was assaulted. Mr. S. looks shocked to see me so early—it's 7:35 a.m. I ask about the incident, and he tells me he can't say much; he's been advised to get a lawyer. Four years ago, he came to my school as one of the first Teaching Fellows. (The city's Teaching Fellows program was begun to help fill the many vacancies that existed in hard-to-staff schools like the one I teach in.) Out of five Fellows from that year, Mr. S is the only one still teaching. The other four lasted between two weeks and three months before quitting. I think the Fellows program learned from this experience because they don't seem to send teachers to schools like mine anymore.
I go to see the guidance counselor about my student who will be moving to special education. She tells me that the move is effective today. So, I ask, should I send her to the special-ed class? No, she informs me, I'll pick her up. She comes to remove her during the second period, giving the class the opportunity to "EWWWWWW" as the student leaves in shame. It's not exactly the way I would have liked to see her go.
With 20 minutes left before the homeroom bell, I find the assistant principal, the keeper of the keys, to try to get some books from the book room—no dice. The secretary apparently has the only key and she's running late so I'll have to wait. The assistant principal assures me that she'll look for the books sometime later. I don't have much confidence in that, but I thank her anyway. I ask if I can get the key to a different storage room for the digital projector, to show my class a brief video on Rome. That key is also sealed in the secretary's desk. It occurs to me that many problems in this school could be solved with a crowbar, but I keep the remark to myself.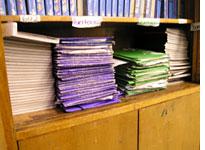 Monday is my least-favorite day. I teach my homeroom class first to third period, which means two periods of "Social Studies" and one of "Communication Arts," about 2 hours and 25 minutes with no break, then I line the students up and walk them to the lunchroom. I return to my room for my peanut-butter sandwich and apple, check e-mail, place their journals on their empty desks, and prepare the weekly vocabulary list. (I try to do most of my work at school so I don't have to bring much home.) Forty-five minutes later, I return to the cafeteria, line the kids up again, and lead them back to the classroom. I teach them for one more period of C.A., then I have another prep period, followed by a different group of kids for another two-period C.A. class, then my homeroom group again for "PM Homeroom." In addition, every Monday after dismissal I attend a "Professional Development" workshop that lasts from 2:40 until 3:30.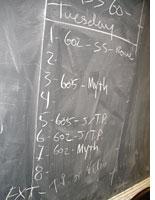 I dread this day, but like many things, it's never as bad as I expect it to be. First period, we began our unit on Rome. Some ears prick up at the word, "Gladiators." We also have a good discussion about why Latinos are called Latinos, tracing the term all the way back to Rome. We're momentarily sidetracked by a boy who asks, with a smirk: "Could the U.S. Army beat the Roman army?" Well, I'm not going to dismiss that question, so I reach into my bags of tricks and try to transform this "Batman vs. Superman" question into what teachers call "a teachable moment." I ask him to clarify: Does he mean the U.S. Army with all the weapons and technology of today? In that case, yes, the U.S. Army could probably beat anyone. If he means the U.S. Army using the weapons and technology of Roman times, then well, who knows, it could be a good fight. But, I suggest, let's see what the Roman army actually did do. … I'm disappointed when he calls out, "We'd just nuke 'em." He doesn't seem to get the point. But I am gratified by the frustrated groan of another student, a sound that says to me, I get his point, and I wish you would too.
"Medusa" is another idea that elicits some signs of interest. I have not yet received the anthologies I requested, so I have to read the story aloud from my copy, stopping a few times to ask questions like, "Why didn't King Acrisios just kill Danae?" The Read Aloud goes fairly well, but it is a bit long. After a page some kid groans, "When you gonna get to the Medusa Part?" By this time, third period, the kids are waking up, and my nerves are beginning to fray.
After lunch, the kids are wide awake. The class settles down, more or less, to write in their journals for 10 minutes. We "freewrite" every day. I don't read their journals—they're private. I suppose that many kids write about whatever they're thinking that day; some of them no doubt write curses and threats; some appear to be composing long poems or rap lyrics, or maybe they're transcribing them. While they write, I walk around the room. I notice that one girl is staring intently at something on the floor. I follow her gaze but see nothing remarkable. She looks at me and then points to her sneaker, gleaming new black and white Jordans. She asks me, "Do you have a tissue?" "For what?" She points at her sneaker with a look that says, "DUHHHH!" I'm perplexed. She hoists up her sneaker and points at what looks like a slight reddish discoloration on the side of the sole. A classmate produces a tissue. She meticulously cleans her sneaker, making a big show if it, and then, eventually content with her sneaker's return to immaculateness, writes in her journal. I wonder if she is writing about her sneakers.
During my second prep period, I have a conference with a student who explains to me that he is misbehaving because he is angry. I ask him if it would be OK if the next time I get angry, I am mean to him and his classmates. He agrees that that wouldn't be fair. I take it a step further: If you go to McDonald's, I ask him, and the girl at the fryer is angry with her boyfriend, is she allowed to spit in your fries? He scrunches his face in disgust, smiles slightly. Does my talk help? I don't know. The next two periods, he is so disruptive to the class that I have to put him into the hallway (something I have been repeatedly warned by administrators not to do) for 15 minutes.
At 2:40, after I dismiss my class for the day, I join my fellow teachers in the library for our weekly "Professional Development" workshop. I am handed a 20-page booklet that reproduces a PowerPoint presentation about a writing project that we are mandated by the newly created "Region" to complete. (The Region has swallowed up the smaller, older Community School Districts and is now telling us that every child must write a standards-based report incorporating research and multiple drafts, which will be displayed along with a scoring rubric created by the students themselves.) The presenter reads to us from the booklet for awhile, then we watch the PowerPoint presentation. Afterward, during a Q & A session, a young math teacher asks, "I have students who can't write. How can I be expected to do a writing project with them?" My principal, a true Board of Ed. veteran, tells him, "Look, if they could read, write and do math, what would they need us for? That's our job, to teach them."
---