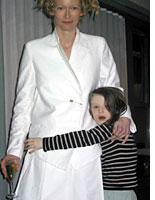 I can't remember waking up because I can't remember falling asleep. That is, the evening separating this morning from yesterday doesn't seem to have happened. I've had a "rest period" after seeing Tilda and the children but no actual rest; I feel as if I am walking through a forest of children's limbs, needs, and emotions. In short, I have fallen in love with Xavier and Honor in a way that hasn't seemed possible in quite a long time. Because what children make clear—in a way that adults no longer can, given the exigencies of accumulated experience—is how naked their need is, how naked all of our need is, for the essentials: food, protection, affection.
I was meant to meet Tilda over at Jodi Piekoff's. Jodi is a lawyer, a smart one, who represents both of us, as well as other people in the film and literary worlds. Jodi, Tilda, and I were meant to discuss various projects, and did before the children, accompanied by their nanny, Dana, arrived for lunch. Because we still had a few more things to talk over, the children made drawings while we chatted. One of the best reasons to meet at Jodi's office is that you can smoke.
After completing our discussion, we decided on the Mercer Kitchen for lunch, where Tilda was going to conduct another meeting with a production company that would like her to work with them on a project that she would direct. Tilda is a wonderful writer in addition to everything else—a formidable mind informs the famous visage, which I think is one of the reasons she is so compelling on film: Her face conveys the silent inner monologue that goes on as we speak and socialize. I had a doctor's appointment, which meant I could only stay for the pumpkin ravioli appetizer. On my way to the doctor, I walked through Washington Square Park. The air was pre-springish: chilly and clear and the sun is no longer struggling to stay awake past 3 p.m.
I had to pick up Tilda at the hotel at 7; the Paper magazine party being thrown in her honor was at Deitch Projects, over on Wooster Street. I barely had time to shower before I was back at the hotel with Tilda, the children cuddling me. Nothing else mattered, suddenly. I felt their two little heartbeats against my own as we sat in the tiny sitting room at the Tribeca Grand.
Tilda herself was sitting in a white robe, having her hair and makeup done. Because her hair was stripped for Constantine, the movie that she just made with Keanu Reeves in Los Angeles, it's now less red than honey blond. The hairdresser arranged it in loose ringlets around her beautiful amphibious face. Eventually Tilda put on a white suit with a gold arrow pin, which was a gift from her partner, the Scottish-born artist John Byrne, with whom she lives in northern Scotland.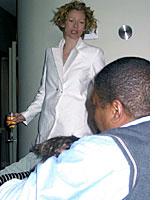 At 7:45, the publisher of Paper arrived to escort us to the event. We walked from the hotel, Tilda's tendrils blowing in the breeze. The party itself was a New York affair: friends and friends of friends whose careers had granted them a certain notoriety. There was Rufus Wainwright and Justin Bond, who performs as Kiki in the cabaret act Kiki and Herb. In addition, there was the design team of As Four, whose muse is Bjork. (They were featured recently in Vogue.) The German man from that design team—he resembles Vincent Gallo—came on to me, which was rather strange but not unusual: This is New York, and the possibility of being hit on by someone from the pages of a magazine is not especially rare.
It was particularly fine to run into Guy Trebay, who writes for the Times. Many years ago, we were friends when we both wrote for the Voice. Guy is a beautiful stylist—a throwback to the Joseph Mitchell school. I had always looked up to him, which, of course, created a kind of distance between us. I said: "Gigi"—which is what we called him—"now that so few people care about writing, maybe we have more in common." Tilda was aswirl in the admiration and attention of flashbulbs and the flashing smiles of her fans.
Photgraphs of Tilda Swinton © Adam Smith, 2004
---