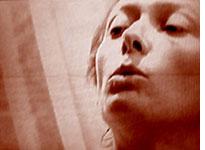 Tilda! She phones from JFK Airport, "Surrounded by children and luggage!" she explains. Besides being one of the most striking presences in contemporary film—she's a throwback to the golden age of Hollywood, when stars were different from you and me—Tilda has a beautiful voice: Margaret Sullavan by way of Wendy Hiller. Moments later, she rings from the car: "Darling, we're not at the Soho Grand, but the Tribeca Grand." I wonder what America means to her. (Tilda lives in Scotland, near Inverness.) I dress for the occasion: green khakis, green khaki jacket, black parka. The air is balmy, edging toward something colder and crisper. When I arrive in Tilda's suite of rooms, the children wrap themselves around me like ribbons around a maypole. They're beautiful: alabaster skin and dark, wild hair—a filmmaker's version of baby Kathy and Heathcliff. At 6 years old, they're nearly a foot and a half taller than the fabulous creatures that I met nearly two years ago.
We walk over to the Odeon for dinner; I carry Xavier on my shoulders. ("He's rather like Siddhartha, my boy is, isn't he?" Tilda asks.) At the table, Xavier (whom Tilda calls "Boy"; Honor she calls "Honey") sidles up to me and asks, "Hilton, may I have some private time with you?" We step outside to be boys together. We return to the restaurant, by which time Tilda, with her usual casual aplomb, has not only managed to serve dinner to the children—mac and cheese, calamari fritti, cranberry juice—but to propel conversation forward among the adults assembled. Her innate glamour is real, which is to say that she fortifies her star turn by living in the real, among her children, among her friends, dishing out the soup as the light plays across her face. She has a face that transforms light.
I first met Tilda at a theme night in a gay bar—"Beige," which is held at the Bowery Bar on Tuesday nights. We fell in together after she invited me the next night to a screening of her 2001 film, The Deep End, in which she plays a mother who is disturbed to discover that her son is having a gay affair. In the film, we follow Tilda as she enters the gay bar where her son's lover works; the bar is also called the Deep End. As the mother, Tilda is shocked to be in such an environment. I always laugh about this and say that it's her greatest bit of screen acting because we—the real Tilda and I—met in a gay bar. Movie-life and real-life often do not bear any resemblance to one another, but a star like Tilda is a link to both. After dinner, I walk the family back home. My cell phone rings. It's a friend, Thelma Golden, senior curator at the Studio Museum of Harlem, who's spotted the tribe walking down West Broadway. After I hang up, Tilda asks: "Who was that?" We've entered our state of possessiveness and curiosity about one another: the romance of the visitor and the native, the star and her muse.
Photograph of Tilda Swinton courtesy Darryl Turner, 2004.
---