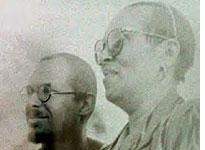 The morning work hours are the most lovely, and the most anxiety-producing. Refreshed by a day more or less spent in bed, I rise too early to be distracted by the telephone or e-mail. There's just me and those terrible words that don't exist yet, like a dream your mind is striving to have. The tension this necessary isolation generates in me is exhilarating and humbling. The work I am doing now is rather like being in the early stages of a love affair—it makes me tentative and shy. I guess you could call it a work of semi-fiction: a book that plays with journalism as specious truth and the fictive as a scrim through which one can talk about the truth. I've been working on it for a year and a half. Only two people have seen it: my editor and the photographer Adam Smith. Their encouragement has been real, which is to say they offer criticism meant to open up the book to the world, as opposed to letting it stay—as it has been—closed off in my head, a private torment and entertainment.
Halfway through the work day, I put on Annie Lennox's "Cold." It exactly explains my current romantic situation, which is as full of longing and absence as Annie's voice. As it happens, this is not an unusual place for me to be. But what is unusual—thank God for psychoanalysis or what my people call white voodoo—is that I can't really act on it, which is to say that whatever used to compel me to pursue the unattainable has grown duller and duller through examining the neurotic impulse that made me feel bereft in the first place. So, without attaching myself to the pursuit of the unattainable, I walk around in a flat emotional haze  as I see the true—or true to me—meaning of connection.
After work, I walk over to Om Yoga and take their lunchtime yoga class (50 minutes as opposed to an hour and 15 minutes). My actual lunchtime I spend at home. I make broccoli and quinoa and feel all the more superior for it. Certainly I feel fortified enough to meet the director Michael Almereyda over at the Bowery Bar for tea. Michael's Hamlet, with Ethan Hawke, is one of the best film adaptations of Shakespeare that we have. He is interested in directing Don't Explain, a screenplay I wrote with my friend Darryl Turner nearly four years ago now. We took a story Billie Holiday told in her moving autobiography, Lady Sings the Blues, and expanded on it. In the book, Holiday talks about becoming involved with Orson Welles at the time that he was preparing Citizen Kane. Holiday describes how she and Welles hung out together in the black sections of Los Angeles, and how she was threatened by officials at RKO—Welles' studio—who felt that being seen with a black woman would hurt his career. To all of that we added a lesbian love affair, which Welles describes Holiday as having in Barbara Leaming's biography, Orson Welles. The rest was alchemy.
Darryl and I had been commissioned to write the script by the producer Christine Vachon (Boys Don't Cry, Far From Heaven, etc). We were also meant to direct the film, but the funding never came together. Michael's enthusiasm for the script is infectious and sad: We'll have to work on shaping it to his vision, which is not entirely different from our own. But once we do, we'll have to accept that we're not directing the film. And that breaks the heart: Hope is the only currency artists understand. I wonder how this change will affect my partnership with Darryl. As collaborators, we have a kind of marriage. Would Michael's stepping in to the project be like having an affair with someone other than ourselves?
Photograph by Darryl Turner © 2004.
---