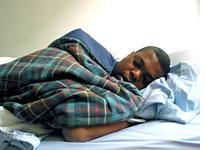 Immediately upon agreeing to do this, two phrases leapt to mind and stayed in my head: "That was the week that was," and "For a long time, I used to go to bed early." Clearly burdened by the past, I try, still, to move forward into the future, with, typically, sound bites from the dawn of technology (the late television commentator David Brinkley's weekly sign-off) and the end of French reason (Proust) swimming in my head. As it happens, I can't go to bed early, but I can stay in bed for a long time once I wake, as I'm doing now.
The week ahead is being shaped by visits with two friends—the actors Tilda Swinton and Troy Garity. Troy was recently nominated for a Golden Globe Award for best actor for his performance in A Soldier's Girl, but unfortunately he didn't win. In the film, Troy plays a soldier who falls in love with the lip-synching trannie Calpernia Addams and is ultimately beaten to death by his fellow soldiers for his gay-friendly love. (Once I asked Troy how he got through the gay transgender scenes, and he said, "Oh, I just pretended I was kissing Helen Reddy.") Aside from appearing in the Barbershop franchise as the white guy—there's always one around—A Soldier's Girl has put Troy on the map, and why not? He's a soulful beauty. 
Troy and Tilda will be in town (not together) for various events. Simultaneously elated and undone by their impending visit—Tilda's indefatigable wit and energy and Troy's smoldering intensity are beyond anything mere mortals are able to project—I order breakfast in from Joe Jr.'s on Sixth Avenue: dark rye toast and iced tea. I am trying to get through Down and Dirty Pictures, Peter Biskind's take on indie films, but find myself turning the pages with something approaching boredom and dread: I feel as if I've lived through the Miramax years without ever taking a meeting with Harvey. In the late '80s, I won an award to make a film through Apparatus Productions. Apparatus was the brainchild of Christine Vachon, Todd Haynes, and Barry Ellsworth, who all had been schoolmates at Brown. I had adapted the playwright Adrienne Kennedy's one-act play, A Movie Star Has To Star in Black and White. After submitting the script, I was granted an award, but the project stalled. Back then, Adrienne was a friend. She supported the project—that is, until I won the grant. I can't remember what the budget was, but she wanted it, as her fee. "Bill Cosby told me [my play] was my most valuable property!" she said. In any case, we couldn't move ahead on the film and so I got another secretarial job. I was a secretary until age 32, when Jonathan Van Meter hired me as an editor-at-large at Vibe.
Around the same time, I wrote a script with the director Tom Kalin. The film was called Swoon and was about the Leopold and Loeb case. When I suggested the idea to Tom, I was much taken with him. That relationship fell apart, and so did the idea of future collaborations. For a film to get made, one has to maintain a certain hypocrisy vis-à-vis love: You have to "love" all the participants. I draw the line when it comes to faking that, so I have yet to make a film. (I agree with Tony Kushner who said: "I love movies. But someone else should write scripts.") This is less a measure of my sensitivity than my ability to play but probably not work well with others.
Back to the Biskind: It'll be interesting to talk about the book with Tilda, who is the queen of the indies. (She worked with the late British-born director Derek Jarman for eight years. Together they made Caravaggio, The Last of England, and a segment in Aria, the last being my favorite.) Tilda rings in from L.A. around 10 a.m., having just wrapped her star turn in Keanu Reeves' latest film, Constantine. She arrives tomorrow with her 6-year-old fraternal twins, Xavier and Honor. Paper magazine is throwing her a party; she's their February cover girl.
Photograph by Adam Smith © 2004.
---