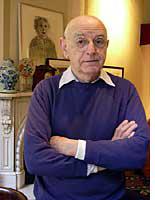 Duane Michals is the fifth, and the last but not the least of my Slate diaries. I consider him the jewel in the crown—not only because he's a very famous photographer, but above all because I admire his work.
He and I have met frequently over the last 15 years; we used to share the same printer, the great Igor Bakht. Unfortunately, Igor now works from his house in Queens, and lately I've done much less black-and-white photography. This morning, I was feeling overconfident as I left for Duane's—I thought I had everything under control. Fortunately a last-minute second thought urged me to check my Nikon Coolpix 2000, and, to my horror, I saw that the memory card was used up. I imagined myself in front of Duane, starting to photograph his living room and realizing my camera had no memory. I had to go and buy a new one in a hurry, but everything ended well; my honor was safe.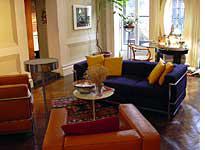 For 38 years, Duane Michals has been living in the same beautiful 19th-century townhouse, slightly to the west of Gramercy Park. He does not have a studio. ("I hate studios!" he says.) "I love this neighborhood! My bank, my gym, my cinemas, my bakery are one block from me, with 20 restaurants nearby! I live a very private life! Although I live in New York, I never go to openings or parties! The place where I live is important. It's one's nest, and if you live in a hostile world, it's nice to have a nest."
Duane's nest is certainly charming. The space was redesigned by the architect Frederick Gorree, with respect for all its original character—fireplaces and beautiful wood floors. The living room has huge mirrors on one side and huge windows opposite them. The furniture—armchairs and straight chairs—are mostly by Le Corbusier. The beautiful glass breakfast table was designed by Gorree. On the walls are drawings by Lucian Freud and Paul Klee, prints by Gauguin and Morandi. A big drawing by David Hockney stands above the fireplace. "I am in the process of buying a very beautiful print by Braque," he says. "I dislike contemporary art; I call it amusement-park art!" He goes on: "I also do not like contemporary photography—all this giant photography. It's faux art, photography pretending to be art! The people who interest me are not photographers but artists—Magritte, Balthus, De Chirico. Here are my sources." I have heard this before; it sounds very much like Henri Cartier-Bresson talking.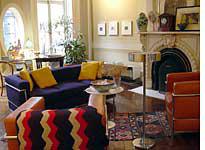 "I call myself an expressionist. I write with photography and tell stories with photographs. I am more interested in what people feel than in the way they look. I am fascinated by all things invisible, and I am trying to express it."
Duane Michals came to photography by accident. He was 26 years old in 1958 when he went to Russia and borrowed an Argus C3 camera. The experience changed his life. "Fortunately I knew nothing about photography," he says. He currently has more than 20 books in print, has had exhibitions all over the world, and has received many awards. His last exhibition, "The House I Once Called Home," with text in verse by him, was at the Pace/MacGill Gallery last fall, and his A Tribute to Cavafy is just being published by the Limited Edition Club.
His next project is about quantum theory. It all started with French Vogue a few years ago, when Joan Juliet Buck, the then-editor in chief, called him and asked him to illustrate quantum theory in a special issue. "Since then, I have expanded on it," he says. Quantum and Metaphysic will be published next spring by the Galerie Clara Maria Sels in Düsseldorf.
"What separates me from other photographers," sums up Duane, "is that they find a signature photograph and they use it over and over. I like to solve new problems."
---