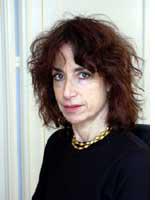 Today my assignment is to photograph the living room of the writer Judith Thurman, who lives uptown on the Upper East Side. I arrived at her apartment too early—and it seems to me that there is nothing worse than being too early to someone's home!—so I walked around the block to kill the 15 minutes before our appointment. I usually go to the corner grocery or make a quick phone call in a telephone booth to my answering machine. It gives me the feeling of being in a movie and affords me a chance to reflect on how much I enjoy New York.
Right on the dot, I ring the doorbell of Judith's Italianate-style house (which was renovated in the '30s, to neoclassical style). "A house is very important to me," she tells me. "I've always had good real estate karma. Even when I did not have much money, the places I lived were always interesting—and I was always obsessive with my decor!"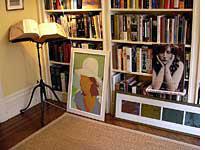 Judith is well-known for her two very successful biographies: Isak Dinesen: The Life of a Storyteller, a best seller that won the National Book Award for biography in 1983 and served as a basis for Sydney Pollack's Out of Africa (on which she served as associate producer); and, more recently (1999), Secrets of the Flesh: A Life of Colette, which also won several awards. Both biographies were translated into 12 languages. Judith has also written for numerous publications and has been a staff writer at The New Yorker for the past three years, where her focus is on cultural criticism and fashion.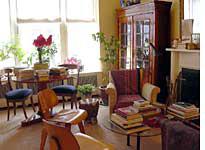 Her living room, which she describes as her favorite room ("This is the place where I read"), is of modest dimensions and possesses, at first glance, all the classical elements of "bourgeois" good taste: plenty of light through well-proportioned bay windows; an entire wall lined from floor to ceiling by bookshelves (filled with books); an elegant mirror mounted over the fireplace; furniture of good reputation. But it also reflects its owner's keen eye and taste for beautiful things—against the windows stands a ravishing original Biedermeier round table ("The only expensive piece of furniture I bought, with the spoils of Out of Africa") flanked by two Biedermeier chairs (copies) that she found at the flea market. Near the fireplace, against the wall, is a small lit de repos, a replica of the one in the famous painting of Mme. Recamier. Judith found it in the Village in the basement of the then-antique store of Pierre Deux. ("The feet were broken, and I glued them together myself!") The two modern chairs in front of the coffee table facing the fireplace are by Charles Eames. ("Inherited from my uncle who worked with Frank Lloyd Wright!")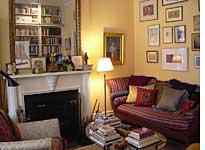 The room, which breathes an atmosphere of coziness and intimacy—it must be lovely to read near the fireplace during the fall or winter—also projects a quiet beauty and perfection, much like the personality of Judith herself. One feels one does not want to disturb this. I ask her if she ever wanted to write fiction. She answers, "I have never written fiction because I always needed to earn a living, and nonfiction is what I do best. You also need a kind of freedom to write fiction, and I don't have it at the moment. It took me seven years to write the book on Isak Dinesen and eight to write the book on Colette!"
Yes, a perfectionist.
---