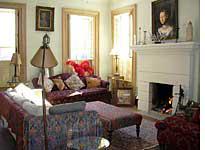 Today I am off to Brooklyn to photograph the living room of the actress and entertainer Nell Campbell, who is currently appearing on Broadway as Lina Darling in the musical Nine, based on the Fellini film 8 ½. New York is still covered with snow, and of course I start to worry about how to get to Brooklyn. I hate the subway, so I have to take a cab. I study a map to see where Nell lives and ultimately give up and decide to call her for better directions. I look around for her telephone number for a few moments, finally uncover it, and dial her number. OK, it does not seem too difficult to get there. I pick up my gear, which seems strangely light, and get halfway down the stairs before I realize that I've forgotten my tripod. I head back up, get it, and at last I'm on my way.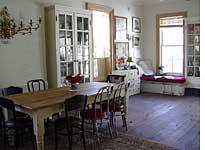 When I met Nell in New York in the '90s at an Oscar party given by a mutual friend, the writer Gini Alhadeff, I had no idea that she was Nell of the club by the same name. That night we were all betting on who would win or lose at the great contest of American movies, and I thought Nell was extremely witty.
It's sweet for Nell to have accepted this intrusion into her home so early in the day. She was performing until late in the evening last night and has another performance this evening. Dressed in slacks and a T-shirt and looking rather girlish, she welcomes me to the door of her beautiful brownstone with a "Hi, sweetie!" We enter into a splendid room that extends from one side of the house to the other and includes sitting, dining, and reading areas, as well as a kitchen. The Living Room—the real thing.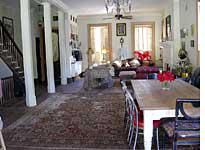 "Do you want a coffee?" (Today, I accept.) "Milk? Toast? Big cup? Small cup?" I install my miniature Nikon on my tripod and start shooting around the room.
Nell lights a fire in the fireplace under a poster she bought at the Met—a portrait of a woman from the 17th century, maybe—and has magically transformed into a painting. We sit down with our cups in front of the fire. Nell, who is resting on the sofa with her cat Molly, starts to question me about myself. I answer somewhat mechanically and realize, after a while, that she is the one leading the interview. We laugh about it.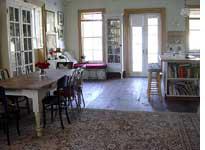 I resume questioning. "Growing up in Sydney," Nell tells me (she is Australian), "I knew I wanted to be an actress—since the age of 3, darling. My mother said I was entertaining people from the pram. I studied dance and theater, and in the '70s I moved to London where I was in several shows, The Rocky Horror Picture Show among them. After 14 years, I moved to New York, where I opened my own nightclub—Nell's—and sold it after seven years, just before the birth of my daughter. I opened two more restaurants—Kiosque, on the Upper East Side, and E&O, downtown—and sold those, too. I had my daughter, bought this house. I worked a year for Talk magazine, interviewing people. I renovated the house. Being in Nine has been wonderful and exhausting—five nights a week and three matinees. I still want to perform, maybe do a movie or TV show, but now I also want to see my friends, stay at home, be with my daughter. I am domestic; I love to cook for friends. I never order takeout! I'd rather go to a restaurant. I love to be in the kitchen cooking and be among my guests at the same time. My living room is absolutely the place where I live!"
I look around, and I can understand. It's an ideal space. I sense that Nell wants me to go—she's tired and declines to be photographed. I understand and don't insist. She's ordered a cab for me. It waits outside.
---