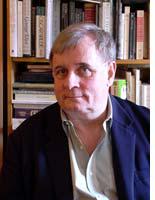 In the late 1990s, my life as a photographer—at that time I did portraits and reportage—changed. The New Yorker magazine asked me to photograph the living rooms of 18 famous New York City personalities, which I did with a Polaroid camera. This essay eventually became my first book, New York Living Rooms.
These photographs were portraits of people, though people were never present. They were portraits of my subjects through the rooms in which they lived. The photographs were direct and free of any artifice; I had minimal equipment: camera, film, and tripod. If the available light was dim, I just extended the exposure and sometimes used lamps around the room. In 2002, I did a second book in the same style and with the same equipment—Paris Living Rooms. The next project I am hoping to pursue is L.A. Living Rooms.
As a conservative photographer and maybe a coward, I guess, I have postponed entering the world of digital photography—until now, that is. Incidentally, I still (for good or bad reasons) do not have a computer. This diary, in which, over the course of a week, I will photograph two writers, an actress, a photographer, and an artist, is my first foray into digital photography.
Whatever the results, I am, I must admit, thrilled by the fact that my equipment is really minimal: a Nikon Cool Pix 2000 camera, not bigger than a cigarette box, and a tripod. I have the delicious feeling that my camera is invisible, silent (it does not make any noise), a bit like my pen—the perfect object for a voyeur.
This Sunday, I awoke at 7 a.m.—very early for me. I am always nervous before any assignment. Suddenly, I worry. Will the equipment work? Maybe I should have gotten a backup digital camera? What if? I feel I've forgotten everything. Fortunately, today the sky is blue and the sun bright. New York lies covered in snow, but the blizzard (tempest!) is over, which I interpret as a good omen.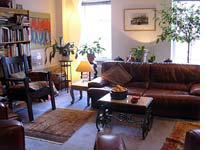 My first victim is the living room of my friend, the writer Edmund White, who lives near me in Chelsea. In the 1980s, when he lived in Paris, we collaborated on a lot of stories together: one on West Berlin just before the fall of the Wall, on the cities of Marseille and Lyons, Pina Bausch and her company, French writers, etc. … I loved working with Edmund, who, after only a few months in Paris, spoke French fluently, is curious about everything, and, like me, works very fast.
Edmund, who has written 16 books, eight novels among them—the most famous being A Boy's Own Story and The Flaneur—has lately been touring the country for his most recent book: Fanny: A Fiction. He divides his time between New York City and Princeton, where he is the head of the creative writing program (whose other writers include Joyce Carol Oates, Toni Morrison, Paul Muldoon, etc.). He is presently writing his memoirs, titled My Lives, which are arranged according to subject: his father, his mother, his friends, his Europe, his women, his shrinks. (Part of it is now in Granta.)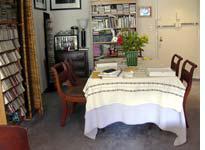 After carefully negotiating the icy streets of Chelsea, I reach his building. He welcomes me and proposes a coffee, which I decline, being anxious to start. Edmund shares his apartment with his "paramour" (as he says), the writer Michael Carroll.
"I've been quite a nomad until now!" he said, "always renting apartments, moving; I did not care! Twenty-two years in New York, 16 years in Paris, two years in Providence, one year in Princeton, and now back in New York. This is the first apartment I've owned—this is my home. My living room is a place for entertaining—I love to cook for friends—but it is also a place where I listen to music, which I do all day long, except now because the record player is broken, and where I write on the dining table. This is the essential room in our apartment … and when it becomes too chaotic, Michael puts everything back in order!"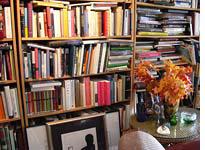 I look around. Michael has obviously put everything in order. The room is neat and cozy and quite modest: a set of leather arm chairs brought back from France, small tables, lots of lamps, green plants, paintings, photographs of friends (Louis Settner, Carole Munder), and countless books and compact discs. Like Edmund, it is totally unpretentious.
"I guess I have become bourgeois!" he says laughingly.
While I'm there, the telephone rings constantly: friends from New York, Paris … Edmund is extremely popular and social. Like his living room, which has an air of detachment, his life seems easy. I mean, it seems easy for him to move, to travel, to meet new friends, to produce books … but is it?
Returning home, plowing again through the snow and cold, I realize that I left in his living room a booklet crucial for my work. I call him right away—no answer. He is already out.
---