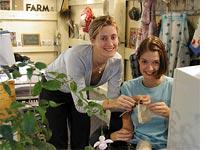 Why are women buying small farms in record numbers? Why did I buy my 5 acres almost 20 years ago?
I call it the 4-H urge: hearth and home, handiwork to hogs. Raised by a clan of domestic Mormon women, I was enrolled in 4-H from the cradle. I stuck with handiwork and hogs for the same reason most women come to it for the first time: We're nesters. We daydream about finding and bringing home the perfect twig to make the perfect nest. In fact, when we don't make time to build a home, we can be driven utterly neurotic without ever knowing why.
I contend there's a farm-girl in all of us. In response to yesterday's Slate "Diary," I've received a dozen e-mail inquiries about our Pay Dirt Farm School and several letters from women already working a piece of land and hanging on.
"Two years ago, I purchased a near-dying, rundown orchard and farm house," one woman writes. "My friends and family all thought I was nuts! Some still do! But I am here today and doing my best to learn the land and figure out what this is all about."
About five years ago, I turned my idea for "cultivating farmers" into an official IRS-registered 501(c)3 nonprofit school. Students learn to farm by doing with us whatever needs done around here. We've kept track of our 22 students. All but one has stuck with it in some fashion. Three have their own small farms now. One young woman, who had never grown a plant in her life, lived here with us for eight months. During her first week, I asked her several times to run down and fork some carrots for our lunch. It took us a while to put two and two together—carrots with tiny prick marks and bent kitchenware. She didn't know about spading forks and was digging carrots with kitchen forks, seriously questioning whether or not she wanted to do such work for the rest of her life. For graduation, we gave her a spading fork. Last I heard she was farming in Alaska.
Training new farmers has been good training for me. I've learned how to condense and compile information needed to grow anything, from heirloom flowers to goats and chickens to garlic scapes (the serpentlike green seed stalk that appears in June on hardneck varieties of garlic—it has good flavor without too much bite and makes a delicious pesto) and bath sponges (a loofah sponge is a gourdlike vegetable that you can grow). And since I can bring only so many people to my farm, I'm going to cover a good cross-section of these necessary skills in my farm life books.
There's an Associated Press story about me that came out Saturday, three days ago. It's showing up in newspapers around the West, so we're seeing a spike in orders, specifically for our "get acquainted sampler," which includes a variety of foods we make on the farm. Our phones are ringing today. That's always good, though it will make life busy for my friend Cindylou. Working out of her home in Moscow, Cindylou helps me respond to letters and e-mails. We also have an off-premises phone extension at her house, and she and her husband, Aaron, help us answer calls and take care of some wholesale accounts. At 5 p.m. every weekday, she and I head to the loft of my barn where we spend an hour toning our muscles and catching up on what has happened throughout the day. It's a business meeting with exercise, so we accomplish two things at once.
After our meeting, I went to check in on Sarah, who has been helping me design my MaryJanesFarm magazine for the last two years and is my webmaster. Last week, Sarah moved into one of my bunkhouses because she and her live-in boyfriend might be coming apart. With her heart about to burst, Sarah decided it was time to learn to knit. Taylor, a new employee with a background in graphic design, just learned herself and has been giving Sarah a hand.
What Sarah is knitting is worthy of mention. We have a knitting project out here that we pass around. Whenever someone feels a bit unraveled, they grab it and knit a row or two. Using No. 2 needles and cotton yarn, we're making leper bandages that are 3 inches wide and about 4 feet long. When they're done we send them off to a humanitarian aid address. It's a good beginner project because a mistake now and then doesn't affect how the bandages work.
When I found her, Sarah had been knitting for three hours nonstop. Knitting is great therapy when you find yourself undone. That's how it is with farm-girl handiwork and chores. They can rescue us.
---