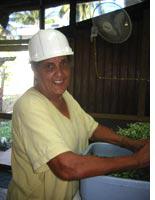 Locals say the beach where we practice yoga is where Columbus landed when he "discovered" Puerto Rico in 1493. In the quiet of the predawn light, it's easy to imagine the island as a pristine paradise. No ear-splitting advertisements for products or the voices of politicians blaring from massive speakers as vans slowly drive by. No carcasses of abandoned cars in fields or on the side of the road. Just the sound of waves and crowing roosters. This morning, when I got to the yoga house, Carmelina was already there, practicing in the dark. She comes early because she starts work at 7 a.m. No one can believe this strong woman (who is over 6 feet tall in the hard hat she's always wearing) is 77 years old. Besides doing backbreaking grounds-keeping at the institute, she cares for an 18-acre farm all by herself. She told us it was going to rain today. The sky looked perfectly clear.
Walking toward the greenhouse after yoga, I was stopped by two policemen in an SUV. They wanted to know if I'd seen a boat full of Dominicans who had been reportedly trying to land here. I identify with the neighboring islanders, and Columbus, for that matter—people who are trying to go somewhere they think is better, or discover something new.
Back home, while I was writing my Diary entry, it started to rain, just as Carmelina had predicted. I tried to ignore it and focus on my deadline, but Tom called me to come outside and look. The rain was coming down so hard that the sky was white with raindrops. We stood there for a moment in awe. Then the lightening hit. And thunder you could feel through the floor, rumbling like an earthquake.
The rain had knocked out our satellite Internet connection, and I started freaking out. Just as I finished the day's entry and saved the file, lightening flashed. Somehow, my file got corrupted. Staring at a screen full of incomprehensible characters interspersed with a few random words, I panicked. This was exactly the way I used to feel on a daily basis when I was a journalist up against a deadline. The air felt charged with static, literally, and my mind felt jumbled with stray thoughts bouncing around looking for connections. It was awful. I love journalism, but I don't want to live with that kind of pressure.
Working in the greenhouse is so different: Getting dirt under my fingernails, listening to the fan humming overhead, sweating because the temperature is almost always in the 80s or 90s, feeling the wheat berries in my hands, hearing the tap tap tap of the wheat falling into the tray as I sprinkle it through my fingers. Every day there are tasks to complete, but once they're done, there's no need to think about them again until the next day.
Because of the computer fiasco, we were late getting to the institute for dinner. We've learned to never get to meals late, because the good stuff goes quickly. And tonight was a special treat: Leigh, the partner of cookbook author Rhio, made his famous raw lasagna, plus Leo prepared raw tabouleh and two kinds of guacamole. The evening was originally going to be a small dinner party, but it morphed into an all-institute event. Though we were only 20 minutes late, all that was left was one small serving of lasagna. We split it. It was unbelievably delicious. But we were still hungry, of course. We looked around at the others eating: "Wow, David, you're so lucky, you got a full plate," Tom said to one of our fellow institute employees.
Tom and I glanced at each other, and I nodded toward the door. We headed for Pizza Hut.
The first time we went off the diet, we were in Old San Juan, where we found a great vegetarian place. Plain brown rice never tasted so good. After this (really awful) slip, I'm trying to be easier on myself. It wasn't a sin. It was just some greasy pizza. At least it wasn't a hit of ecstasy or a gram of coke or a night of doing my best to obliterate the present.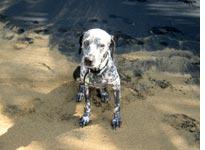 We just adopted a dog, who still has big nipples from nursing her puppies. The dog, in turn, found an abandoned kitten that she treats like her own puppy, licking and cleaning him. They joined Aleicester the city cat, who we brought here from Brooklyn. We are trying to get them all on raw food, too—meat, of course. The kitten is the only one who likes it.
I don't know if I can be a raw foodist forever, but right now it feels right.
---