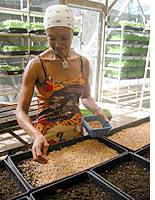 After yoga class this morning, Amelia (a student from Montana) and I did handstands and headstands, like 40-something-year-old kids. She taught me how to walk on my hands.
For breakfast, I drank two and a half pint glasses of watermelon juice. I then planted some wheat grass trays with Judith. I first met Judith, who lives in Manhattan, in the summer, when she was here for a month with her terminally ill aunt. She's now back for another three months. I asked Judith if she felt anger or resentment from friends. People do get bothered, she said. They wonder how she can get away with this. They think she has a trust fund or something. (She doesn't.) We talked about how everything we do is a choice, whether it's what we eat, where we live, or how much money we decide we need to survive.
At 9:30 a.m., I went out to the coconut shack in the garden and opened 12 orange-yellow coconuts, pouring their sweet water into a stainless steel pail I took to the kitchen. This became the 10 a.m. snack. Though I grew up in Southern California, I never had a coconut directly from a tree until a trip to Kauai six years ago. Here, we drink a lot of young coconut water, because it's full of vitamins, minerals, and amino acids, so I've learned how to identify good coconuts: the mild, green ones that grow larger than your head and the small pale yellow ones whose water sometimes starts to get fizzy and tastes like sweet coconut soda. I can open a coconut in as few as six whacks of the machete. Pros can do it in one or two.
Tom and I ate lunch at the institute—a big salad of sprouts and greens with some almond pâté (soaked and skinned crushed almonds seasoned with some carrots and red pepper and the dark green part of scallions). Ann Wigmore thought that onions, garlic, and spices were medicine and not to be eaten regularly, so the dark green part of the scallion is as exciting as seasoning gets around here. I hung around the institute until 2, when I had a colonic. When I was a student, our teachers encouraged us to do daily enemas to make sure our bodies were eliminating all the toxins our cells were dumping due to the cleansing diet. This sounded extreme to me, but I decided to go along. A beautiful 21-year-old student who was getting ready to leave the institute came to dinner one day, absolutely radiating. She was gushing about how wonderful her colonic had been. "What's the difference between a colonic and an enema?" I asked her. "It's like an orgasm you have from really good sex, compared to an orgasm from masturbating," she said.
Yesterday I had my 13th colonic. Katherine, the colon hydrotherapist, told me she used to hate her life, working as a management consultant for clients that included a cigarette maker and a pharmaceutical company. She recalled one board meeting in which the drug executives discussed the best way to create the perception that their drugs were necessary, as well as how to quash competition from alternative remedies. Three years ago, she quit her job and began studying to be a naturopath, a doctor of natural medicine. A few months ago, I was thinking of training to be a colon hydrotherapist. ("You have a very spiritual colon," one of the directors of the institute told me.) Sometimes, being here seems insane to me, and I keep thinking of how my money is running out. I wonder if I should go back to New York and get a job. But then I think that maybe there's something I haven't thought of that I'm now preparing myself for, and when I find it, I'll know.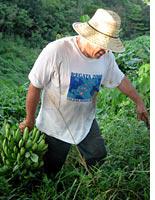 When we got home, we saw the white van belonging to our landlord, Luis, parked at the end of the long driveway near our house. Seeing Luis always makes me apprehensive, because you never know what mood he'll be in. Usually he brings up something involving machetes or physical violence or large shipments of drugs that have been confiscated. He admitted to us once—after we moved in—that he went to jail in the States for stabbing a man. Luis goes to church now. Some people would be heartened by that, but I'm afraid of people who hear Jesus talk to them, especially the way Jesus talks to Luis. Apparently, when Luis first moved here to the farm, he was hungry and had no money, so he prayed. Jesus told Luis to eat some small roots growing on the land. Luis scoffed. "That's shit. I don't want to eat that," he told Jesus. The Jesus Luis talks to has anger management issues, at least to hear Luis tell it. "Would I give you shit?" Jesus yelled at him. Today, Luis brought us a long stalk with almost 100 bananas he had just harvested from our farm. There are another 20 bunches just as ripe, ready for harvest. Maybe Jesus likes us, too.
---