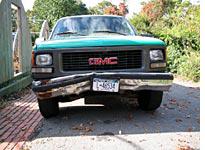 As we were driving to Staten Island from Manhattan, John Tweddle noted another endearing feature of Parks truck No. 8103. (The first is its crooked smile, the result of a fender bender.)
Gesturing toward the hole at his feet, John said, "There's a sightline to the street, so you can see what you're driving over."
As we drove along the Brooklyn-Queens Expressway I told John, sole gardener for the 14 acres of Manhattan's Carl Schurz Park, that I hoped the Staten Island greenhouse would have a plant tough enough to withstand the pigeon depredation at Albano Park.
"I have a Trapezoid of Death," I said, telling him about the dozens of plants sacrificed to the pigeons, "a bed of doom."
"Only one?" replied John.
The two of us continue a sort of darkly comic riff in the style of Eddie Izzard, except ours is rooted in park daily life. Izzard is the British comic and actor, incidentally a transvestite, who causes audiences to bark with laughter because, or although, his punch lines often end with the word "death" or "dead." (The Church of England as he sees it, for example, offers as alternatives "cake or death.") Our dark topics include inconsiderate dog owners, plants we like that fail, and plants we don't like that turn brutish, people who steal plants.
Neither John nor I is a cross-dresser. Well, actually, I am. Olive work pants, scary shades, dark blue work shirt or parks staff T-shirt, tool belt with Felco pruners in holster, cool Japanese knife in sheath. I have had people approaching from the back say, "Hey, buddy" to me.
"Remember," my Washington, D.C., park mentor Patrick Thevenard used to say, trying to make me bolder with plants, "you are the one with the sharp steel tools."
After the thrilling sweep of the Verrazano-Narrows Bridge, the bit of Staten Island we saw on the way to the Parks Department's Silver Lake greenhouse was architecturally drab. But the greenhouse is an oasis—well watered, with palms. Inside the light was bright but soft, the air moist, and Peter Dietz, a twice-a-week volunteer, was rooting cuttings of creeping euonymus. The plants will be ready to go in the spring. 
"I relax completely here," he said, "I don't think of anything."
Joe Gobin, the ground-cover maven I'd hoped to consult, wasn't there. But I took some flats of Peter's year-old crop of euonymus to try out in the pigeon-beaten park. (Euonymus is so aggressive a plant that gardeners sometimes refer to it as a thug. Worth a try.)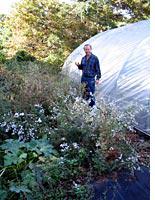 John and I were giddily appreciative of every little plant we saw—a flat of velvety, wine-red coleus cuttings, a 6-inch maple seedling, weedy asters. Gardeners are likely to get rapturous about leaf texture and stem color, and we must remind ourselves that most of the public really likes yellow daffodils and red tulips and pink roses.
Back in Manhattan. I returned truck No. 8103 to its home just as the dashboard service light began flashing. The afternoon's task was to finish planting tulips (some red) and crocuses at the edge of the handball court at Albano. A completely pleasant job, except for the rocks and the trash and my dismay at how dusty and dry the soil was. Disturbing the background peace: a couple of alcoholic conversations. Confrontational, banal, repetitive, all talking and no listening. Reminding me of Robert Novak & Co. on Washington, D.C., talk shows. Both groups could use a bartender.
My space ran out before the tulip bulbs did. Hey, how about putting the remaining tulips in with the euonymus in the Trapezoid of Death? Cayenne pepper over everything. If they come up and bloom unscathed, fine. If they come up and are destroyed then every park-goer will weep with pity and rise up in righteous anger and swear to obey the sign on the gate and never feed pigeons again. (One frequent Albano visitor regularly proffers half of his lunch to the pigeons, including salad with dressing and cake with frosting. Much is left by the pigeons for the rats.) In fact they might decide to support me in serving the birds various poisonous plants.
Passing through to check on Bellevue as the sun was just going down was a return to reality after the Staten Island vacation. The park is ringed by institutions serving the walking wounded—the Veterans Hospital three blocks south, a men's shelter two blocks north, and Bellevue Hospital and New York University Hospital a block east.
On the cheery side, only three bulbs had been unearthed in the playground daffodil site since I put down squirrel-discouraging pepper and paprika. On the less cheery side a dark-haired man with a disturbing lurch, a medallion hanging on a thick gold chain, and two front teeth missing came over to talk.
"You know me," he said.
"I'm sorry, I don't think so," I said.
"Look at this face," he said. "Look at it. You've worked in this park 20 years."
I told him I'd worked in the park for three months.
"Look at this face," he repeated, coming close.
"If you don't know me, you've lost your brain," he said. "You've got no brain. Someone stole your brain. Who stole your brain? Bloomberg or Bush?"
Time to go home and watch the Cubs.
---