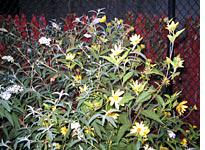 I worked a half-day Saturday, watering and cleaning up one of the six Manhattan parks I tend as a New York City Parks Department gardener. The park, known as Sutton/54 (Sutton Place between 53rd and 54th Streets), missed its usual weekday watering last week because I taught two horticulture classes in a downtown park where I also work—Bellevue South. Parks Commissioner Adrian Benepe has decided, to his credit, that everyone in the department should know what it takes to keep plants and trees alive.
So 40 park workers from payroll and recreation and capital projects listened while I said that you have to have good soil and enough water before you plant or stuff will die. Bellevue South has lousy soil and no gardener; I added it to my duties two months ago because the sight of its dying trees was getting to me. The Parks Department office workers dug 40 bags of cow manure and 20 bags of pine bark mini-nuggets into the dry, hard, pale earth before planting 500 daffodil bulbs. ("Salome," white with an apricot trumpet).
During the class, I gave out Reese's Peanut Butter Cups or Tootsie Pops for asking a good question, uncovering an earthworm, or finding a bottle cap that was not from a Colt 45 bottle. (Colt 45 caps were more common than earthworms.) By adding cow manure, I told them, we might encourage worms to stay, in fact to settle down and raise a family. (Recently, when I went into one of my pro-worm raves my friend Becky said, "Sorry, I just can't warm up to a creature I can't make eye contact with.")
While I was downtown preaching the importance of watering, the shrubs uptown were in distress. Suspecting this, I swung by Sutton/54 on my Saturday bike ride. There nine beautiful Viburnum plicatum ("Possibly the most elegant of flowering shrubs," writes my hero Michael Dirr in his Manual of Woody Landscape Plants) were wilting. The plants weren't just slowing down for winter; this was a cry for help. In a couple of years, given attentive watering and enough extra organic material to keep the soil decent, these shrubs will have horizontal branches covered with flat bright white flowers. Someone once said that gardening is the slowest of the performing arts.
"Chance of showers" is not enough to count on. They need, "Rain, heavy at times" or a hose six inches from their roots. God does not water enough, especially for plants in deep city parks in the shadow of buildings.
A common reaction people have on hearing about my job is to say, "How sweet! You're following your bliss!" They think gardening is restful; you get to spend all day outside with flowers.
But park work is different from home gardening; as public is to private. I had amateur gardening experience from our big home garden in San Francisco (tree ferns, fuchsias, Japanese maples, plum trees) and then a small garden in Washington, D.C. (crepe myrtle, wisteria, trumpet vines, dogwood). Moving toward becoming a pro, I worked as an apprentice with a terrific garden designer in Washington (Patrick Thevenard) and when my husband and I moved to New York took a year of night classes for a horticulture certificate from the Brooklyn Botanic Garden.
To get really basic, park gardening requires a lot more schlepping. To water Sutton/54 I rolled the hose reel, with 200 feet of hose, from a park house six blocks away. I keep another 100 feet of hose in a garage just north of the park. The extra hose doesn't fit on the reel, and I need it to reach the north end of the park. The whole deal has to be hooked up to a stubborn in-ground plumbing fixture that turns very slowly and only with the help of the vise grip I carry in my back pocket. Park plumbers will soon be turning the water off. There are only four Parks Department plumbers in Manhattan; they have to start now, working their way through all the parks, turning the water off so that all the pipes are clear before the first freeze.
The big difference, of course, is that anybody can come into the park. Which is great, and the essence of democracy, as Frederick Law Olmsted told us. For park admission there is no invitation needed, no entrance requirement, no dog management course, no sobriety test. More on all this later. When a parks gardener returns to a project, he or she is often met with some kind of not-so-great surprise. Here's what's lurking for Monday. One of my horticulture students last week, a nice young woman from payroll, worried that squirrels would dig up the bulbs. Ah, said I, daffodil bulbs are poisonous to squirrels.
"But," she said, "How do they know?"
It turned out to be a very good question.
The squirrels watched with interest as we softened and enriched the soil. The next day, about a third of the bulbs were above ground. Unearthed, sniffed, tossed to the side. Inexcusably, the beasts then failed to put the bulbs back in the ground. I replanted, re-watered the bed, and re-mulched to discourage the little darlings. Tomorrow I'll go to Bellevue South and see what happened over the weekend. This is of pressing interest because there's a delivery of 2,000 bulbs on the way for planting by volunteers next weekend.
---