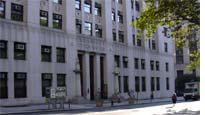 As an anthropologist working for the New York City Department of Health and Mental Hygiene (or DOHMH), much of my time is spent conversing with people about how certain health issues impact their lives. Today, for example, I will journey to the Bronx and speak with young men who have sex with men (MSM) about their sexual behavior, particularly about their use (and nonuse) of that ever-so-popular item, the latex condom. (We use the term MSM instead of homosexual because many of these men are not "gay-identified"—they don't consider themselves to be gay.) Increasing rates of syphilis among MSM in New York City suggest that the safe-sex messages advocating "a condom every time" that emerged in the early days of the HIV epidemic, and continue to be circulated, no longer carry the same sense of urgency they once did. In light of this, I am conducting a study on sexual behavior with the DOHMH Bureau of STD Control; we're trying to determine what in fact is going on regarding safe-sex practices. The hours I have spent trawling through MSM Internet chat rooms, and my numerous conversations with MSM around the city, indicate that there are many reasons and situations that determine why men do and do not use condoms. (More on this tomorrow.)
In general, the qualitative information I gather is used in conjunction with the surveys and other quantitative data routinely gathered by the DOHMH. The numbers tell how many, but they do not tell why. In order to be responsive to the health needs of New Yorkers, the DOHMH needs to know why, and in what context, certain issues exist. This is where I come in.
I am one of only two anthropologists working at the DOHMH, which has a staff of 6,000. It is not common to have a qualitative researcher working at a department of public health. Public health departments are most fluent in the language of numbers and generally use that data to determine health-action agendas. I work in a highly quantitative bureau of DOHMH called Epidemiology Services. I often feel that my colleagues (who are great) speak another language, despite the fact that I suffered through a psychologically painful three-day statistics training when I started my job (and still don't know what a "proc freq" is). Yet so far neither side wants to back out of this unusual joint venture of words and numbers.
Naturally, since the DOHMH is a city agency, there are some things about working here that are a challenge. For example, my office, which is nestled in a corner between TriBeCa and Chinatown, did not have heat the first four months I was on the job. (I started in January.) At least once a day, all of the toilets in the bathroom refuse to flush for an indeterminate period of time. I stare out my window at a "park" that offers more featherless pigeons and cat-calling construction workers than grass, and I also spend a lot of time underground, schlepping around the city to the nether regions of Manhattan and the outer boroughs.
I know that is all very shallow and superficial, but, as a context person, I think it bears mentioning, especially because it is in great contradiction to the many creature comforts offered by my former job as a program officer for a large international health non governmental organization. There, my office temperature was toasty in the winter and temperate in the summer; I had a beautiful view of the East River; and my frequent travels involved far-flung and exotic destinations like Haiti, Guyana, and Brazil.
Yet despite those fringe benefits, a super group of colleagues, and the opportunity to work on interesting projects related to the prevention of HIV, sexually transmitted infections, and reproductive rights more generally, I wasn't sure that the programs I was implementing were making people's lives any better. I couldn't be sure about this because I was unable to talk to the program recipients with any frequency; they were in Haiti, Guyana, and Brazil, etc., and I usually was not.
My natural tendency is to observe and ask questions, and my anthropological training has only reinforced this. I felt like I needed to be in a professional environment where these skills and interests would be put to use in a way that improved the quality of some people's lives. So with this in mind and with mixed feelings, I decided I needed to leave the great NGO and find a job where I could listen to the people who would be impacted by health initiatives. And here I am.
Now I do a lot of listening on a wide range of topics, and I need only a MetroCard to reach far-flung and eclectic neighborhoods peopled with individuals who share their health dilemmas and life struggles with me, as well as their suggestions for improving the services and programs that will ultimately affect them. Let's see what the young men have to say today. In any case, I am sure that, as always, this will be a very interesting day.
---