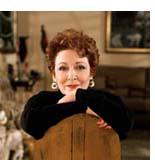 Get "Dear Prudence" delivered to your inbox each week; click hereto sign up.Please send your questions for publication to prudence@slate.com. (Questions may be edited.)
Note: Prudie has been astonished by the number of people who've written to say they were unhappy she apologized for saying that, in some circumstances, brides who requested cash should not be censured. The surprising outpouring of support was not only … well, surprising, but interesting. The times they may be a-changing, and perhaps etiquette, as well—who knows? See for yourself.
I just read your apology for your (wonderful) advice regarding the Bride-To-Be question. I'm sorry to see you apologizing because I absolutely loved your advice. My boyfriend agreed it was awesome, and he asked me to save the poem to stick in our invitations, should we decide to get married. We both thought it was brilliant. Keep up the good work.
—Juell, adoringly
I agree with you completely in your response to the bride wanting to request financial gifts versus store-bought ones. In fact, on www.theknot.com, a Web site for bridal registries and related wedding information, a couple can set up in their gift registry a way for guests to contribute toward a specific goal. Willing participants can make gifts in $25 increments. The site then transfers the money to a designated account for the couple, and they are notified of the gift. This does seem to begin to address and reflect the desires of the modern couple. Thanks for keeping up with the times.
—Jodie H.
It seems you received a lot of flak for saying that it is OK to ask for money as a wedding gift. I find it perfectly acceptable. I live in Winnipeg, Manitoba, Canada, and here we have something called a presentation wedding. If the bride and groom are having a presentation wedding, it is known to all that they are requesting money instead of gifts. At the reception there will usually be a table near the entrance with some fancy type of "box" for the guests to put their envelopes in. These days a lot of people are already living together and have the toaster, bath towels, etc. Also, many people are on their second marriages. I do not understand why people think it is tacky. Here it is the normal thing.
—RN
I think it is perfectly OK to ask for money instead of gifts at a wedding celebration. I'd say that the gift registry custom has already brought the bride and groom's expectation of gifts out of the closet. How is it less greedy to register at Pottery Barn and then TELL your guests what to give you? Society has deemed this acceptable, however, because who wants their mother-in-law choosing a china pattern for them?
—Dona W., San Francisco
Regarding the Great Wedding Cash Controversy, I was astonished to see you back down from your opinion. Regardless of whether people agree, they are writing in for YOUR opinion, and that was it! Please reconsider making etiquette questions taboo in your column. I commend your forthrightness and courage (yes, courage) in always giving your true opinion.
—I Am What I Am
I read your column weekly and write you from California. It was kind of you to apologize to those who thought you gave bad advice about a couple asking their guests to provide money at a wedding, but I think you gave good advice for their situation. In my culture (Mexican American), there are dollar dances at weddings where the guests pin cash to the bride and groom's clothes just before taking them for a spin on the dance floor. This allows guests to contribute a little to the couple's new life together. Asking in advance might be in poor taste for some, but not for people who are understanding and more casual about their lives in general.
—A Fan Who Wants People To Treat Each Other Better
For what it's worth, I hope you've put the wet noodle away. As much as I disagreed with the advice, it is, after all, your column. And given the scenario as the bride described it, there was nothing wrong with your wanting to side with her. (I happen to think that traipsing around the department store looking for presents on the bride's "list" isn't that much better … but that's just me.)
—A Satisfied Reader
We included a card in our invitations that said, "The couple is not registered, and gifts are not necessary; however, friends of the newlyweds will initiate a 'Best Wishes' tree at the reception for cards or money." We're buying a house and adding on, so our friends know we live at the Home Depot and Wal-Mart.
—Tulsa
Good thing times have changed. Most ethnic traditions include monetary gifts at a wedding. In fact, any other type of gift is out of the norm. "Physical" gifts are usually presented by the family IN ADDITION to a monetary gift. I come from an upper middle-class, well-educated family, and we have never gone to a wedding that has not been this way. Seeing as we live in a multicultural society, I suspect that etiquette needs to conform to our new lifestyles in this new millennium.
—Best Regards,
Tanya
I just want you to know that I have NEVER given anything but a monetary gift at a wedding. I was born and raised in Brooklyn, N.Y., and that's the way it's done. Gifts are left for the shower, and money is for the wedding. I don't know about requests for cash, but where I come from, it's an unspoken rule.
—Been There
With all the rules and regulations we already have in this life, why do people make it even more difficult by putting honest people down because their honesty doesn't fit in with someone's idea of proper etiquette? Is there really any such thing anymore? Doesn't today's etiquette depend on whom it involves, in what country, and in what part of that country, rather than someone's opinion as stated in a book? I want you to know that I love the advice you give people, and I appreciate you for the honest opinions and feelings you express.
—An Admirer
I am SO SORRY that most of your readers were up in arms over the advice you gave me and my fiance regarding the money versus gifts issue. It was not my intention to start a controversy. Regardless of what the masses may think, the two of us felt that you gave sound advice, and we plan to follow it. So they think it's "tacky" to ask for money? Well, we think it's worse to make people spend precious time getting gifts we don't need or want. Assure your readers that they don't have to worry about (gasp!) writing a check because we are not inviting them to our wedding!!
—Sincerely,
The Bride-To-Be
And so, dear readers, nothing is simple, is it? To add to the kerfuffle, Prudie managed to offend Italian Americans with her mention of The Sopranos. Albeit the show is a favorite of many people, the fact remains that the Sopranos are gangsters. Or as one correspondent put it: "For God's sake don't add insult to injury by coyly referring to Italian Americans as 'members of the Soprano family, so to speak.' Mafia criminals represent an infinitesimal percentage of the Italian American population, and most of us deeply resent that broad-brush characterization." La prego di scusarmi.
It was also in the heat of the moment that Prudie foreswore all future etiquette questions. As quite a few of you pointed out, what is etiquette, after all, if not manners?
—Prudie, bemusedly
---